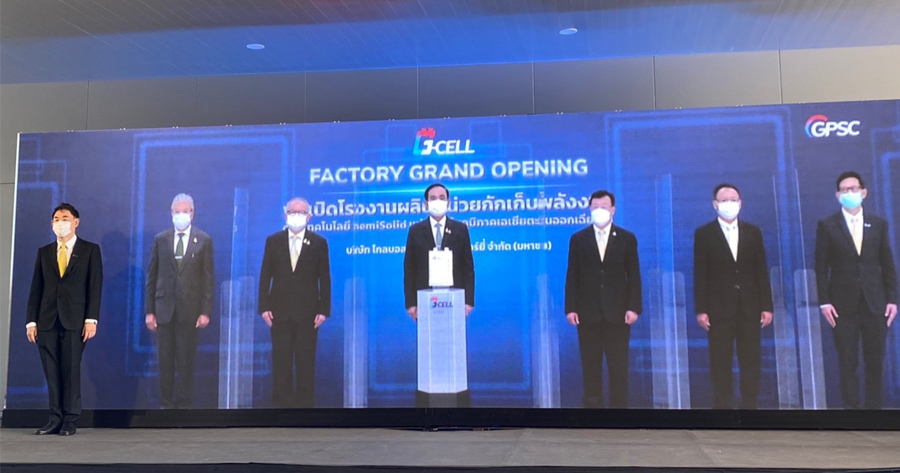 GPSC Kicks Off Operations at Its ASEAN's First SemiSolid Energy Storage Unit Factory
GPSC's energy storage unit factory starts operations, solidifying the group's position as a leader in total energy management solutions and ASEAN's first SemiSolid battery producer.
GPSC kicks off operations at its ASEAN's first SemiSolid energy storage unit factory, which uses technology that is not only safe but is also reliable and environmentally friendly. Playing a major role in driving PTT Group's energy innovation, GPSC is ready to become the leader in battery technology and total energy management solutions. The company also aims to enhance its renewable energy power generation capacity to supply power plants, large industrial factories, and SMEs as well as further develop its production plan for electric vehicle batteries.
Today (19 July 2021) Global Power Synergy Public Company Limited (GPSC) unveiled its G-Cell energy storage unit factory with a total initial capacity of 30 MWh (megawatt-hours), the first in South East Asia that employs the SemiSolid technology. 
Prime Minister and Minister of Defence, General Prayut Chan-o-cha graciously presided over the opening ceremony of the facility, which is located in Map Ta Phut Industrial Estate in Rayong Province. Also in attendance were Mr. Supattanapong Punmeechaow, Deputy Prime Minister and Minister of Energy, Mr. Dissatat Hotrakit, Secretary General to the Prime Minister, Dr. Tosaporn Sirisamphan, Chairman of the Board of Directors of PTT Public Company Limited, Mr. Auttapol Rerkpiboon, President and Chief Executive Officer of PTT Public Company Limited, Mr. Pailin Chuchottaworn, Chairman of the Board of Directors of Global Power Synergy Public Company Limited, Mr. Worawat Pitayasiri, President and Chief Executive Officer of Global Power Synergy Public Company Limited and other executive members. 
Mr. Worawat Pitayasiri, President and Chief Executive Officer of GPSC said that the company is prepared to support government policy to achieve net zero greenhouse gas emission, promote the electric vehicle industry, and reduce the renewable energy gap with the SemiSolid battery production technology developed by 24M Technologies Incorporation or 24M, a US-registered company. GPSC has been granted license to manufacture and sell the technology, starting with the production of LFP (Lithium-Ion Phosphate) G-Cells, which are not only highly safe and durable but also easily recyclable, environmentally friendly which are suitable for a wide range of applications. The plant now has an initial capacity of 30 MWh per year, and is able to expand the production capacity up to 100 MWh per year. Expansion plan to a 1-GWh (gigawatt-hour) facility is under study and in the process of further investment planning. 
"The project will ensure energy efficiency readiness for the future S-Curve business especially the electric vehicle industry, as well as for the rise in the generation and use of renewable energy and the development of smart cities, etc., which will increase Thailand's competitive advantage and enhance the livelihood of Thai people as per government policy. We are also considering building a gigawatt-scale battery plant, which will pave the way for the company to become a leading service provider of a battery & energy storage system and the nation's leading energy management solution provider," said Mr. Worawat. 
The current facility covers three levels of batteries and energy storage system products which are 1. G-Cell, a basic battery pouch cell 2. G-Pack, or battery pouch cells assembled into a battery module and a battery pack and incorporate with a battery management system (BMS) for light-duty and heavy-duty mobility applications such as EV buses, boats, Tuk Tuks, compact cars and motorbikes as well as the stationary energy storage system manufacturing industry and 3. G-Box, a ready-to-use Uninterruptible Power Supply unit (UPS) and an Energy Storage System (ESS) with a capacity between 10-1,000 kWh. IoT (Internet of Things), AI (Artificial Intelligence) and Block-Chain technology could be also employed in creating service platforms that effectively meet customers' various demands. 
"Our broad range of key customers include PTT group, clean energy power plants, large industries, small and medium entrepreneurs, businesses whose products require batteries. Initially, the focus will be on manufacturers and users of energy storage systems (ESS) and small and large electric vehicles which are effectively compatible with our LFP (Lithium Ion Phosphate) G-Cells. As for passenger electric vehicles, an industry with a potential for dramatic growth in Thailand, which aims to have electric vehicles account for 30% of its automotive production by 2030, may require NMC (Lithium Nickel Manganese Cobalt Oxide) batteries. GPSC can import products with the same technology for our customers from Anhui Axxiva New Energy Technology Co., Ltd. (AXXIVA), a company that we have invested in," added Mr. Worawat. 
G-Cell batteries manufactured by GPSC employ an innovative manufacturing platform. The SemiSolid battery cells are highly safe and can effectively prevent short-circuiting in the cells where unit cells are covered with a special insulation film. With the SemiSolid platform, G-Cells are also environmentally friendly and more easily recyclable than conventional Lithium-Ion batteries. Therefore, customers can rest assured that GPSC's G-Pack and G-Box will effectively address their needs.