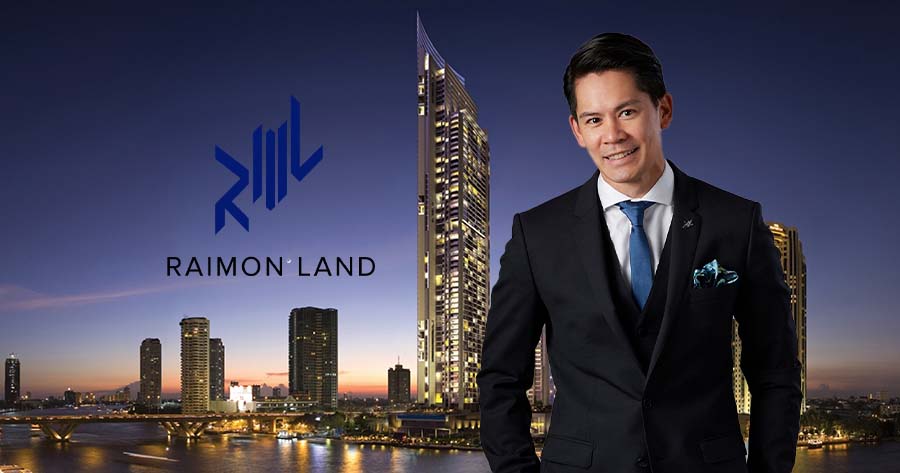 RML Unveils 139% Growth in 1H21 Profit with Plan to Open 3 Ultra Luxury Projects in 2H21
RML unveiled performance for 1H21 profit grew 138.5% with total revenue of 2,008.7 million baht, aiming at launching 3 new ultra luxury projects in 2H21.
RML announces operational results for the first half of 2021. Profit grew 138.5% with total revenue of Baht 2,008.7 million. Backlog stood at Baht 5,655.1 million. In the second half of 2021, sales will be focused on luxury condominiums located on prime locations such as The Estelle Phrom Phong and TAIT Sathorn 12. Three new ultra luxury projects will be launched.
Mr.Korn Narongdej, Chief Executive Officer of Raimon Land Public Co., Ltd. (RML), Thailand's leading luxury property developer, said, "Regarding the operational results for the first half of 2021, the company achieved total revenue of Baht 2,008.7 million compared to the same period last year of Baht 1,049.4 million, a year-on-year increase of Baht 959.3 million or 91.4% growth. Gross Profit Margin picked up from 9.3% last year and soared to 24.9% on the same period this year; with a net profit of Baht 104 million which increased from a net loss of Baht 269.9 million last year, a year-on-year increase of Baht 373.9 million or 138.5% growth.
For the operational results during quarter 2/2021, RML achieved total revenue of Baht 409.5 million, down 34.6% or Baht 216.3 million from the previous year's result of Baht 625.8 million. On the other hand, Gross Profit Margin significantly improved from 7.8% to 25.8%, resulting in a reduction of net loss from Baht 130.4 million in the same period last year to Baht 34.3 million this current quarter.
Pre-sales during the first half of 2021 recorded Baht 1,469.1 million, a decrease of 21.9% or Baht 412.1 million from the same period last year of Baht 1,881.2 million. As on the 30th of June 2021, the company had backlogs of Baht 5,655.1 million which include presale backlogs from The Lofts Silom   and the ready-to-transfer properties such as The River, The Lofts Asoke, The Diplomat 39 and others.
The operational results on the first half of the year achieved both revenue and profit growth, bolstered by sale promotion and presale backlog transaction from The Lofts Silom and The River. The company also concluded old projects which offered special discounts in the past years, resulting in better profit margin in this quarter. Meanwhile, revenue growth for the quarter 2/2021 had declined due to fewer units being available for sale because of closed deals from completed projects such as The River, The Lofts Asoke and others. The aggravating COVID-19 situation and implementation of lockdown measures in Q2 were also contributing factors that slowed down clients' decision to purchase.
For the overview of the real estate market in the second half of the year, the company anticipates a continual impact from the COVID-19 situation which consistently exacerbates, reflected from sluggish purchasing power of the majority of the population. Moreover, the measures to close down construction camps and limit movement of construction workers have delayed the launches of several projects.
However, the situation may recover after most people are vaccinated, and it could bring back clients' confidence to purchase and attract more international clients. The luxury condominium market in the central district continues to show strong potential and high demand, despite constraint of supplied units. The company foresees demand from those looking for residential units and long-term investment, therefore the luxury condominium market may improve largely from the highly-affluent target segment.
In the latter half of 2021, RML continued with construction of ultra luxury condominiums and inaugurated two properties for sale including The Estelle Phrom Phong (45% to completion) and TAIT Sathorn 12 (21% to completion). The company is also proceeding with construction of One City Centre or OCC office building which is a joint-investment with Mitsubishi Estate Asia (47% to completion).
Furthermore, the company plans to unveil three new horizontal and vertical developments worth Baht 20,000 million including a project at Sukhumvit 38, another project at central Sukhumvit and the Ocean Front Beach project in Phuket. The company continues to monitor the market condition and government's measures to adapt its business plan to align with the situation.