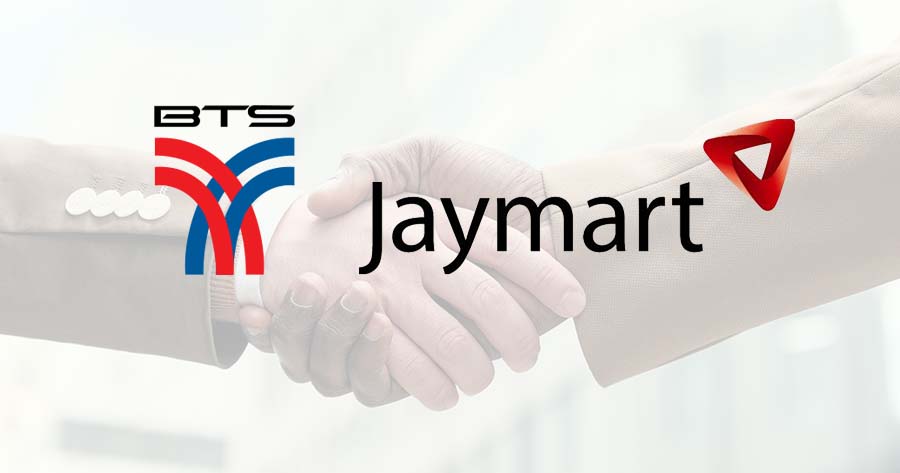 Does Multiplying Synergies Between Two Power Houses Have a Greater Impact on the S Curve?
BTS's affiliates and JMART's recent transactions likely to book higher exponential growth for JMART's existing business units
Earlier last week speculation grew as Kaohoon first reported VGI PLC. (VGI) and U City PLC. (U) which are affiliates of BTS Group Holdings PLC. (BTS)  to acquire stakes in Jay Mart PLC (JMART) in a private placement. Putting sand over the news, a public statement later came forward from JMART with the transaction details.
VGI to acquire 15% of JMART while in a separate transaction U City to acquire 9.90%. Although VGI and U City are affiliates of BTS Group, however the holding group in the past has been utterly creative in strategically "fitting into the blocks" and transforming its strategic partner's business model into a powerhouse of exponential growth.
BTS's business model has an unique advantage, in loose terms it is a vibrant city within a city. But this city rather stands firm in the sky and is supported by pillars. Over the years, its management was quick in identifying channels to expand its footprint not only in the sky rather inland as well within the vicinity of its stations. As a matter of fact, the company follows a business model- Move, Mix and Match. Model Move- it refers to rail and other mode of transportation segments, Mix model focuses on businesses in media and big data which leverages data cross segments under its roof. In the Match model the company focuses on strategic alliance to unlock value in companies that have high competency in terms of product portfolio but are undervalued.
The holding group has a solid history of engaging in series of M&A, seed funding and private placements in public companies as well as engaged in strategic partnerships with private companies. According to Capital IQ, in the last five years alone it has involved in 15 transactions valuing at 1.91 billion baht with big street names both within the country and outside in various industries such as finance, real estate, logistics, technology and advertising and more.

S Curve Strategies
On a high-level basis, JMART could strategically place its business units into the business blocks of various business units of BTS.  
VGI although widely known for its advertising segment, however over the years it has developed itself into a powerhouse of big data. Its subsidiaries Rabbit card, payment and reward platform along with Kerry and AEON feeds insightful data into its system. JMART could leverage big data from VGI for its concern JMT which houses insurance and debt collection and tracking business units. JMART also operates its own big data unit- J Ventures which analyses consumer data extending to consumer financial data as well as develop sophisticated fin tech solutions for cross business units. Technological know-hows, expertise and possible data sharing across both VGI and J Ventures could lead to greater efficiency in both companies.
Rabbit payment system is one of the pioneers in the country in terms of mobile payment solution and has a wide coverage in the market. J Venture's digital coin unit – JREPO is a DeFi lending pool platform that lends out fiat money with digital coins as collateral. An integration of JREPO to the Rabbit ecosystem would be a game changer in terms of allowing consumers to use digital coins to pay for products and services using Rabbit payment system. Collateralized coins in JREPO would be able to support liquidity in the system. This would further enhance the use case of the Rabbit ecosystem.
Possibilities could also come forward with JMART's business unit – KB J Capital which focuses on personal loans could collaborate with Rabbit to expand its loan portfolio.  
Alongside Kerry's wide network of distribution, JMART could benefit from strengthening its Jaymart Mobile and Singer's distribution network. Additionally, it would reduce gross margins on books. Nonetheless VGI could expand its advertisement solutions across Jas Asset's commercial properties.
BTS's alliance with Sansiri and Ananda unlocked the potential of developing condominium projects across BTS lines. Saving commute time adds to the growing consciousness on work-life balance and the market for living along the BTS or MRT line keeps expanding. Jas Asset and U City could collaborate to explore possibilities in developing condominiums projects for the mid income class segment and commercial projects along the BTS line. This would also facilitate pushing in Singer's appliances to the condominium projects further expanding the market for the appliance manufacturer. It is important to note that on a separate transaction U City acquired 24.90 % of Singer.
Lastly, both Jaymart Mobile and Singer could also leverage the BTS platform to launch new stores which could expand its market as well as increase touch points with customers by multifold.  
However, it is only time and cooperation between the two powerhouses that could unlock multitude of business collaborations and book exponential growth for individual business units of both the companies.