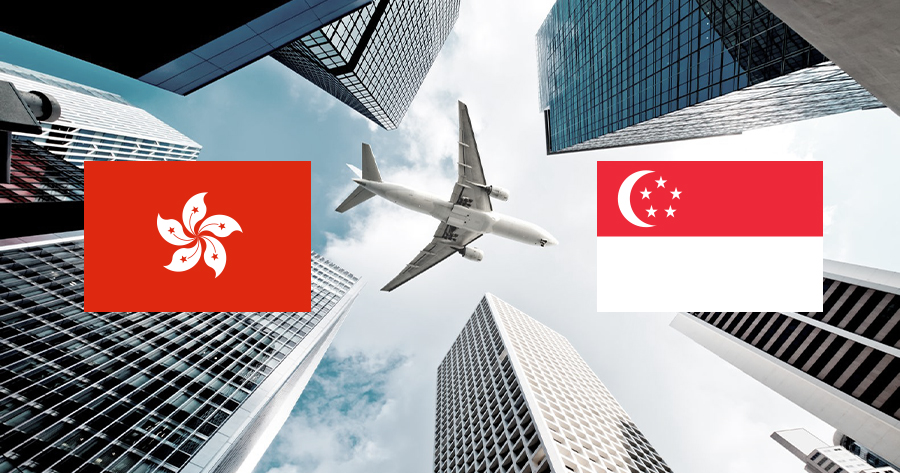 HK-SG Introduce No-Quarantine Travel Bubble as Internet Search for Flight Soars 400%!
HK-SG Introduce No-Quarantine Travel Bubble as Internet Search for Flight Soars 400%!
Internet searches for flights surged 400% after Hong Kong and Singapore reached an agreement to launch a bubble for general travel soon without a requirement for a 14-day quarantine.
Amid the coronavirus outbreak that infection rates seem to pick up the pace faster than before, countries with low to none local transmission would immediately jump on the plane only to realize that designated countries were in travel restrictions.
Iceland's borders have remained open to other EU and Schengen states throughout the COVID-19 pandemic, but travellers must follow the restriction which includes 5-6 days of quarantine. Meanwhile, most of the countries in Europe are either in a lockdown or quarantine restrictions.
Thailand's special tourist visa (STV) allowed travellers from low infection-rate countries, but with a 14-day quarantine.
Which is why within 24 hours after the agreement to launch a bubble for general travel between Hong Kong and Singapore, internet search for Hong Kong – Singapore in Expedia jumped by 400%.
Expedia Group senior director of Asia government and corporate affairs Ang Choo Pin said searches to Singapore on Expedia.com.hk soared by 400% following the announcement of the Singapore-Hong Kong travel bubble. Mr Ang said that "this is a healthy indication that there's a strong appetite, eagerness and trust among our consumers to travel again", adding that Singapore has "consistently remained one of the top destinations among Hong Kong travellers over the years".
The preliminary plan for Hong Kong – Singapore travel involves travellers having negative test results for the coronavirus, with no restrictions on the purpose of travel and their itinerary will not be controlled. More importantly, travellers will be granted a quarantine-free bubble.
Airlines are waiting to see the plan unveiled in the coming weeks as they are seeking to avoid further plummet during the pandemic.
According to the South China Morning Post, the media had checked the ticket prices on last Thursday immediately after the deal was agreed and indicated that Cathay Pacific offered a round-trip, economy class trip leaving Hong Kong in December beginning at HK$2,097, while a similar ticket from Singapore Airlines was priced at HK$1,947.
However, the fare jumped on Friday, as Cathay was offering the same ticket on the same date for HK$3,297, while Singapore Airlines was selling theirs for HK$2,397.
As for businesses related to tourism in Thailand, Maybank Kim Eng had a positive view on Thai hotels, expecting all Thai hoteliers under its coverage made core losses for 3Q20, although improved QoQ.
Maybank estimated CENTEL's losses narrowed sharply to THB233m from THB458m in 2Q20 due to improvement in both the hotel and restaurant businesses.
MINT'ss losses should have also lessened to THB6b in 3Q20 from THB7.1b in 2Q20 owing to the strong improvement in occupancy QoQ, especially in Europe.
Both ERW and AWC's losses also narrowed slightly QoQ due to their large hotel exposure in Thailand (92% of revenue contribution and 60% respectively), although they continued to be affected by the shutdown.
In terms of gearing, Maybank expected they all should pass their debt covenants except ERW who could see its net D/E rise to 2.6x, higher than the 2.5x covenant at end of 3Q20. However, ERW has obtained a temporary waiver from its banks and Maybank did not expect a capital call.
KGI Securities still had a "Neutral" view on Thai transportation stocks, and expected airline companies to continue to have slim revenues in 2H20 and their quarterly earnings are expected to remain poor. Further, KGI did not expect strong improvement in the industry during 2020-21 as the security company had not seen an exact timeframe for when international flights would resume normal operations.
KGI also thought that revenue from domestic travelers would not help drive earnings while there are no international flights into or out of Thailand. KGI remained pessimistic about the air-transport segment, but think that the survivors from this crisis should be Asia Aviation (AAV) and Bangkok Airways (BA) as they look stronger than Thai Airways International (THAI) and Nok Airlines (NOK). KGI believed that the return to normal for airline operators would be seen in 2023.
On Monday, October 19, 2020, global just recorded 40-million infections on Monday along with more than 1.18 million deaths.
According to the data compiled by Reuters, it took 32 days to go from 30 million global cases to 40 million, compared with the 38 days it took to get from 20 to 30 million, the 44 days from 10 to 20 million, and the three months it took to reach 10 million cases from when the first cases were reported in Wuhan, China, in early January 2020.