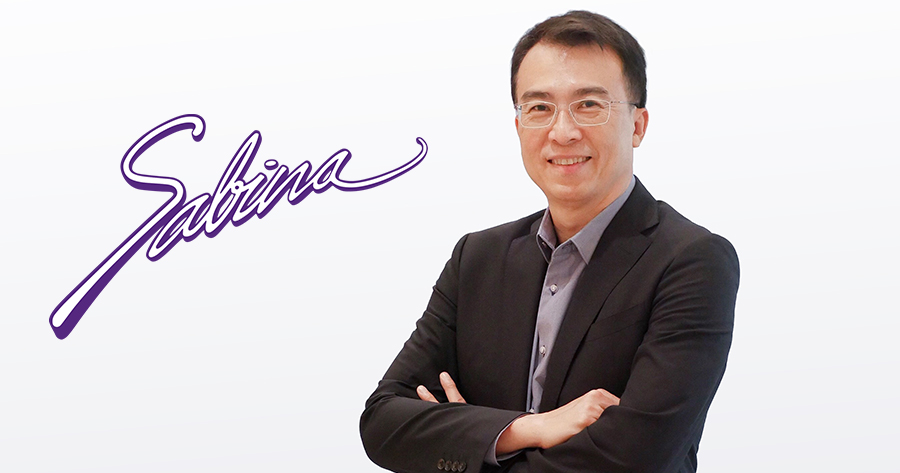 SABINA Aims for 15% Record-High Growth of ฿3.4Bn in 2021, Targeting 20% Expansion in NSR
SABINA aims for 15% record-high growth of 3.4 billion in 2021 after posting 2.9 billion of revenue last year owing to successful pandemic response, dividend of 0.80 baht per share to be paid
Sabina Public Company Limited (SABINA) stated that the company's 2021 sales goal is to hit a new high of 3.4 billion baht, a 15% YoY increase, following its announcement of the 2020 financial statements in which SABINA brought in a total revenue of 2.9 billion baht, a 11.6% YoY decline that still exceeding expectations, thanks to SABINA's timely handling of the COVID-19 crisis and its switch to online marketing to compensate for retail sales. Consequently, revenue from the non-store retailing (NSR) channel jumped by 65% and SABINA will further boost the NSR channel's growth, targeting another 20% sales growth in this year. Exports earnings rose by 50% in line with the solid expansion of Vietnam's economy.
SABINA's core strategies for this year are to accelerate cost control, sell products at reasonable prices, and maintain gross profit margin in the range of 47-50%. SABINA declared a 2020 dividend payment of 0.80 baht per share.
Mr. Bunchai Punturaumporn, CEO of SABINA, manufacturer and distributor of SABINA lingerie, revealed that SABINA set its 2021 sales growth target at 15% year on year. It is forecasted that this year, SABINA will rake in about 3.4 billion baht of revenue, an all-time high surpassing SABINA's 2019 total revenue of 3.295 billion baht before being affected by the COVID-19 outbreak, causing the 2019 performance to drop year on year. Total revenue stood at 2.913 billion baht or a 11.6% decrease, net profit stood at 276.8 million baht or a 33.0% decrease, and gross profit margin stood at 47.4% or a 23.1% decrease.
"Although our 2020 performance declined compared with last year's, it was less steep than estimated because the key factor that reduced our revenue and net profit was the COVID-19 pandemic which started since the end of 1Q/2020. As a result, the sales from the retail channel, SABINA's main channel, were adversely affected by the temporary countrywide closure of malls before encountering another wave at the end of the year which led to the closure of malls in maximum and strict control zones," said Mr. Bunchai.
However, we adjusted our strategy by refocusing on online marketing as well as launching marketing campaigns continuously. At the same time, we put effort in cutting production costs and adjusting our production line to make cloth face masks during the first outbreak so we managed to maintain our performance in the part of net profit, even though it's lower than the 2019 performance," he added.
In 2020, revenue from the retail channel was up by 22.3% year on year while revenue from the non-store retailing (NSR) channel rose by 65.2%. Revenue from exporting SABINA lingerie to CLMV countries dropped by 7.9% and revenue from European customers' OEM orders fell by 7.5%.
Nevertheless, considering the proportions of revenues from each sales channel with the total revenue, it is evident that in addition to enjoying a large sales growth, the NSR channel's revenue proportion per total revenue climbed from 10% to 19% year on year while the retail channel's proportion slumped from 79% to 69%. Export revenue improved from 2% to 3% and OEM revenue remained at 9%.
SABINA's CEO added that based on the changed revenue structure, the NSR revenue's proportion increased in alignment with the total sales from this channel which soared by 65%, reflecting the effectiveness of SABINA's strategic shift toward further reinforcing this already robust channel. This was a key factor that enabled SABINA to maintain its net profit margin.
SABINA's Board of Directors approved a 2020 dividend payment at the rate of 0.80 baht per share, but given that an interim dividend had already been paid at the rate of 0.35 baht per share, SABINA will pay an extra dividend at the rate of 0.45 baht per share. The record date is 7 May and the payment date is 21 May 2021.
For 2021, SABINA continues to penetrate the online market. Since the beginning of the year, SABINA announced its organizational restructuring to combine its online and offline channels, which is projected to bolster the agility and speed of sales management. At the same time, SABINA will still offer products at reasonable prices for consumers, given how the COVID-19 crisis shrunk the economic growth rate and weakened purchasing power.
The sales growth target for revenue from the NSR channel is set at 20%, 15% for revenue from the retail channel, 15% for revenue from OEM, and 50% for revenue from exporting SABINA goods to CLMV countries in line with Vietnam's strong economic growth, plus the total sales from the Philippines as a key conducive factor.
"This year's growth target will be under the condition that the COVID-19 situation improve following the progress of vaccine production and widespread distribution without a new outbreak or any mutation, combined with the government's supporting measures to stimulate consumption, no radical political strife, including the recovery of the ASEAN economy in time with the global economy. SABINA has another goal to maintain the gross profit margin at 47-50% by cutting production costs. In this regard, we believe that the rising trend of the baht's appreciation will play a big role in reducing the costs of importing SABINA goods produced abroad and helping our gross profit margin rebound to the expected range in this year," the CEO of SABINA said.