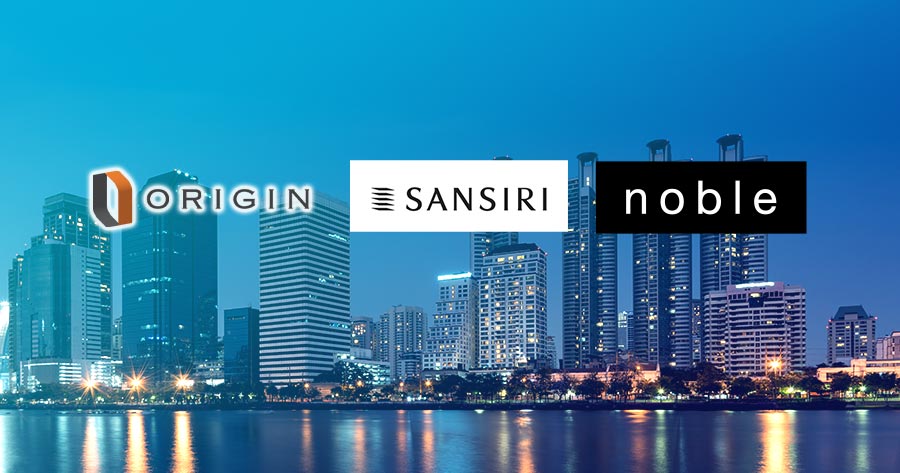 Breaking Down Impact of Long-Term Visa to HNWI Foreigners on the Thai Residential Sector
Developers with ready inventory and brand residences are to benefit most in the medium-long term
In an effort to revive the economy the cabinet on Tuesday approved major revisions to the existing immigration policy in an effort to attract high net worth individuals (HNWI). The target group includes HNWI, HNWI retirees, remote workers and skilled talents to boost the country's smart electronics and robotics industry.
Authorities project to attract more than a million individuals with the matching profile looking to stay in Thailand over the long term. Under this ambitious program individuals along with their spouse will be issued a 10-year visa.
Government expects the program to generate 1 trillion baht to the economy from 2022 to 2026. As part of the application process further 800 billion baht are expected to be added in the form of investment and 270 billion baht in tax revenue.
The decade old 4:1 Thai-foreign employee ratio is expected to be reduced. While long term visa holders would also enjoy exemption from reporting to immigration every 90 days.  
Other benefits which include work permits, maintaining the same tax rate as Thai nationals. Additionally, in an unexpected move the government is also considering increasing the foreigner's cap on ownership of land and property for these visa groups.
The targeted HNWI(s) would have to invest at least 16.5 million baht in Thai government bonds or in real estate to qualify for the visa. Part of the classifying criteria includes annual income of US$ 80,000 for the past two years while ownership of minimum asset of US$1 million.
While affluent retirees must invest US$250,000 in Thai government bonds in the form of FDI or invest in real estate. The retirees must also have a minimum annual income source of US$40,000.
Digital nomads and highly skilled professionals are also qualified under the program. Highly skilled professionals however are lured to only work as industry experts in government's targeted industries.
Impact assessment on the residential sector in the medium-long term
Annually foreign buyers account for 15-20% of the housing market in Thailand. Earlier cabinet signaled on making amendments to the existing cap limit of 49% foreign ownership in a condominium. If the quota is increased demand for condominiums are likely to see a boost besides opening the path for developers to match foreigners demand for units in certain areas.
Jitra Amornthum – Senior Executive Vice President of Finansia Syrus Securities commented developers with ready inventory will benefit the most from both the revisions of long-term visa and foreigner's ownership quota revision. Foreigner's usually do not want to wait until completion of land development while buying a condo in Thailand.
According to her Noble Development (NOBLE), Sansiri Plc. (SIRI) and Origin Property Plc. (ORI) has a sound inventory level and is well positioned among foreigners. These three developers would be ready to meet demand in foreigner's preferred areas once the regulations are passed.
Chinese, Hongkongers and South Koreas are primary buyers of condos in Thailand. Foreigners account for 30% of Noble's revenue while Sansiri's pie is roughly less than 30%.
In terms of market positioning demand for properties mostly comes from Chinese, Hong Kong and South Korean customers. Noble's and Sansiri have a long standing reputation among foreigners in the property market. While Noble's customers are primarily Chinese, Sansiri caters to Chinese, Hongkongers and South Korean customer base.
Jitra further noted, Origin is very creative in building projects around Eastern Economic Corridor (EEC) and most projects are sold out and bought by mostly Japanese customers.
However, once the laws are amended and foreigners are allowed to own land, would further boost demand for townhouses and detached houses since the targeted group will posses long term visa The latter property types are prime segment of revenue for the developers.
Demand for Brand Residences Spurred Amid the Pandemic:
A report by Knight Frank's states ultra-high net worth individuals (UHNWI) population will increase by 22% in the next five year despite the pandemic. Although the pandemic affected the overall real estate sector, the branded residence market showed resilience strongly supported by UHNWI globally.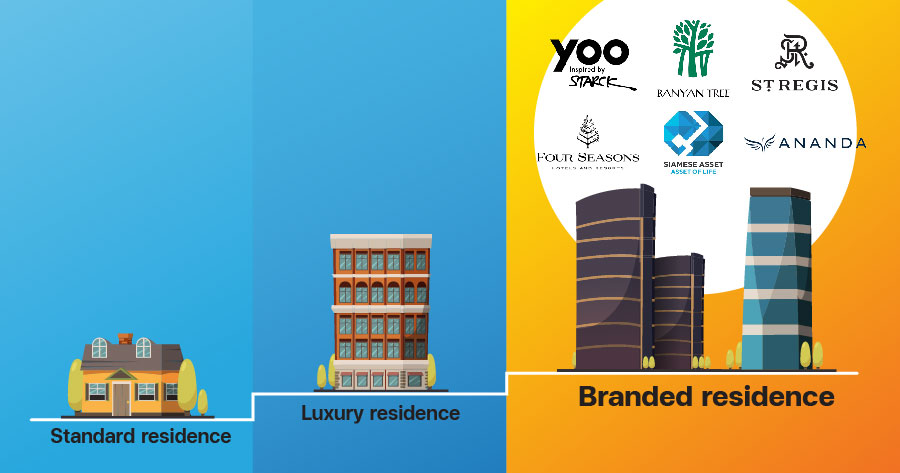 According to Savills 2019 Branded Residence Report, Thailand ranks 3rd most important market in the world. Phuket holds 4th position globally followed by Bangkok in 5th position as top destination for the branded residence industry.
Hotel branded residences of 4,300 are in the pipeline in 30 projects as of 2020 which is substantially higher than any market in Asia.
Demand remains strong in Central CBD and Sukhumvit areas with upcoming large portion of low-rise serviced apartments located along the Sukhumvit Road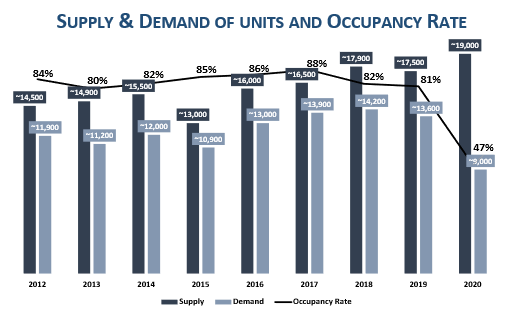 Brand residences in Bangkok and Phuket are sold with a higher price premium within a range between 40 – 49%, which is the second highest globally. This allows faster realization of cash flow at the development stage.
Major Thai developers including Saniri, Ananda (ANAN) and Siamese Asset Plc. (SA) have entered the service apartment market in an effort to increase channels of their revenue.
Domestic demand for ultra-luxurious residences are spurred by HNWI which although being in small fractions in the country, holds as much as 67.6% of the country's wealth, according to SCB Julius Baer Wealth Report Thailand 2019.
Given the target group belonging to HNWI or UHNWI demand for these branded residences are expected to multiply. Since indivisuals belonging to this income class seeks for convenience of living  with luxury and sense of pride which branded residences exactly target to.