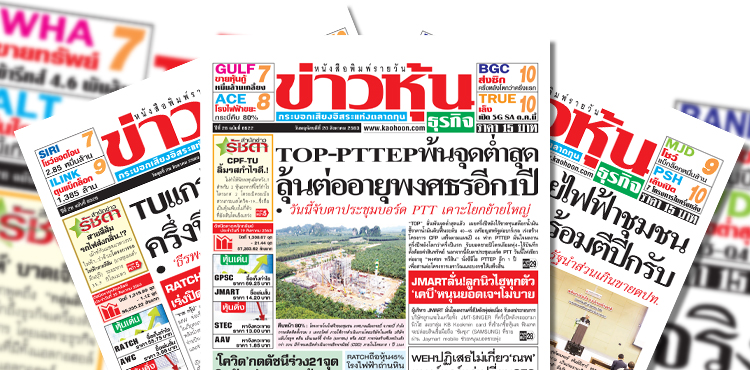 Kaohoon's Top News on July 13, 2021
Top news from "Kaohoon Turakij Newspaper" to start the trading day on July 13, 2021.
– PTT Global Chemical Public Company Limited (PTTGC) invested 148 billion baht in acquiring the global leader in specialty coating resins and crosslinkers business, Allnex Holding GmbH, which is highly fits to the company's growth strategy with the aim to diversify the company's business toward specialties arena, specifically to increase profit contribution from and capture growth opportunities in High Value Business (HVB), which matches the global megatrend. 
Additionally, PTTGC stated that the company has sufficient sources of funds from the company's cash on hand and the debt financing capacity from the loan from PTT Public Company Limited (PTT) in the amount of 73 billion baht.
Analysts have a positive outlook on PTTGC over the Allnex Holding GmbH acquisition, seeing long-term and sustainable growth for the company. Thus recommended a "BUY" rating with the highest target price of 80 baht. 
– WICE Logistics (WICE) expects to achieve a new high for earnings in 2Q21 as a result of strong growth in logistics volume. Whereas major shareholders cut their holdings to Mr. Pongsak Thummathoucharee and Mr. Kitisak Champatippong by 45 million shares, or 6.90% of the total issued shares.
Meanwhile, Addtech Hub (ADD) revealed that two of its largest shareholders are preparing to do a big lot transaction in order to expand the institutional investor base and hence liquidity. Revenue is expected to increase by 50% this year.
– Asia Plus Securities (ASPS) forecast 4 medical device plays, including WINMED, SMD, TM and BIZ to enjoy positive sentiment from Rapid-Antigen test approval. Meanwhile, the Health Ministry's announcement of a mix-and-match of a Chinese Sinovac vaccine and an AstraZeneca shot boosted Thai stock market sentiment. In late July, Thonburi Healthcare Group (THG) partnered with the government to import mRNA-based "BioEnTech" vaccines and "Novavax."
– Capital Nomura Securities (CNS) suggests investors to monitor five finance stocks: MTC, SAWAD, TIDLOR, THANI, and MICRO, as they are expected to surge amid lockdown fears, citing 19% loan profit growth and collateral that can be sold at auction. CNS recommends a "BUY" rating on TIDLOR and MICRO with a target price of 53 baht and 12.20 baht, respectively.
– AP (Thailand) (AP) revealed that its performance in the first half of the year had reached a new high with record presales and ownership transfer as a result of high demand in low-rise residents. The ownership transfer in the first half of the year is estimated to be at over 20,000 million baht, while its presales reached 17,817 million baht. As at 31 June 2021, the company had a backlog worth 40,552 million baht to support its long-term growth over the next three years. AP expects to move strongly forward with 26 projects worth 33,440 million baht in the second half of 2021.
– Yesterday (July 12), Charoen Pokphand Foods (CPF) slumped 3.81% as its subsidiary, CPP, reported a decline in first-half net earnings. Analysts are concerned about this issue since it has the potential to reduce CPF's 2Q21 earnings to 4,830 million baht, a 20% fall, as a result of biological asset losses. Net income for 2H21 is expected to be 11,772 million baht, down 3%. Thus, analysts lowered the target price by 11% to 31 baht, but maintained a "Speculative-Buy" rating.