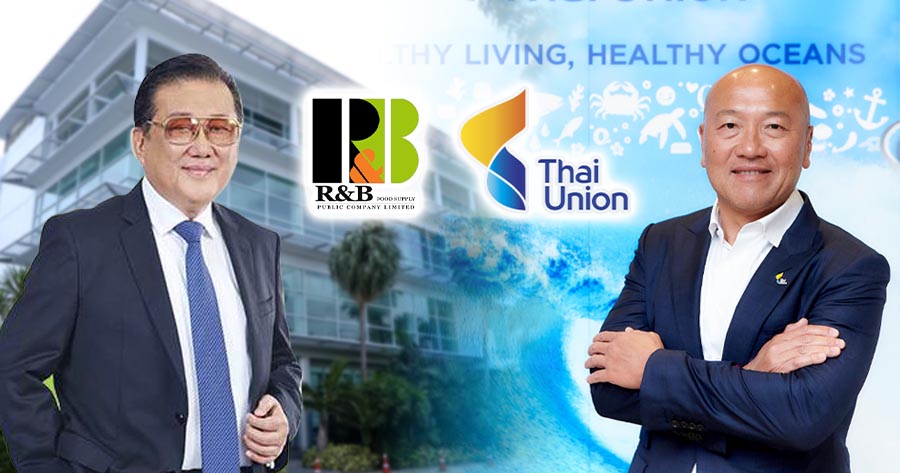 Potentials of Thai Union as it Solidifies Footprint in the Functional Nutrition Space
Greater possibilities unlocked as Thai Union acquires minority investment in R&B Food Supply
Thai Union Plc. (SET: TU) earlier announced minority investment in R&B Food Supply PLC (SET: RBF) acquiring a 10% stake in the company. The transaction is reported to be valued at approximately THB 3.00 billion acquiring 200 million shares, which implies a buying price of THB 15.00 per share. Based on the closing price on September 17, the transaction was finalized roughly at a discount of 25%.
Global seafood leader TU's mainstream revenue segments include ambient seafood, frozen or chilled seafood and pet food along with other value-added segments supporting the core product portfolio. Amidst the COVID-19 pandemic, the management of TU laid out broader strategies targeting post-pandemic market trends under the unified vision of "healthy living, healthy oceans". The strategy is to maximize utilization of tuna and other seafood's by-products, in an effort to enter functional nutrition space. The strategy also goes with the group's zero waste policy.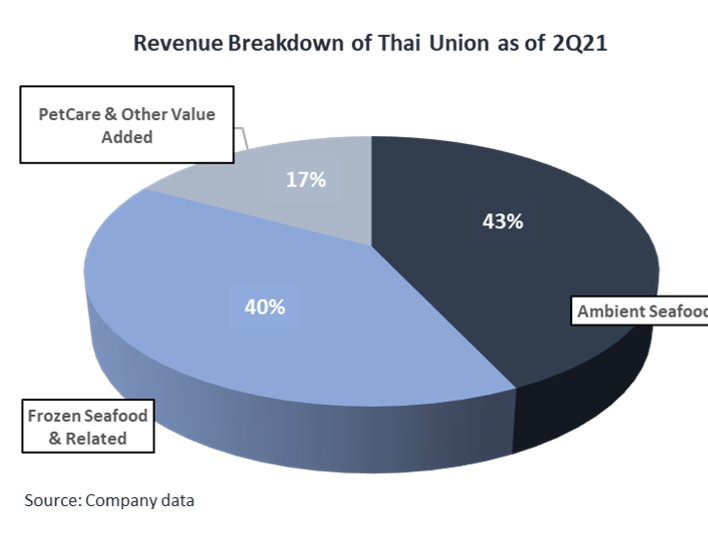 Accordingly, its management aligning with the broader strategy engaged in series of strategic collaborations, joint ventures (JV) and seed funding with various startups in the "food innovation" space. TU's management is known to form strategic partnerships with leaders in a given sector which allows both parties to leverage business networks at mutual benefit.
Thai Union Ingredient, Thai Union Lifesciences and Thai Union Alternative Protein in combination are strategic business units targeted to the upcoming projects under the company's unified vision. TU Ingredients focuses on the extraction of essential oil from seafood particularly tuna and caters to business-to-business (B2B) clients. It partnered with Clover Corporation, a leading tuna oil encapsulate and synergy is formed given TU being leading tuna oil producer. The minority investment allowed TU to extend product portfolio, customer base and geographical reach.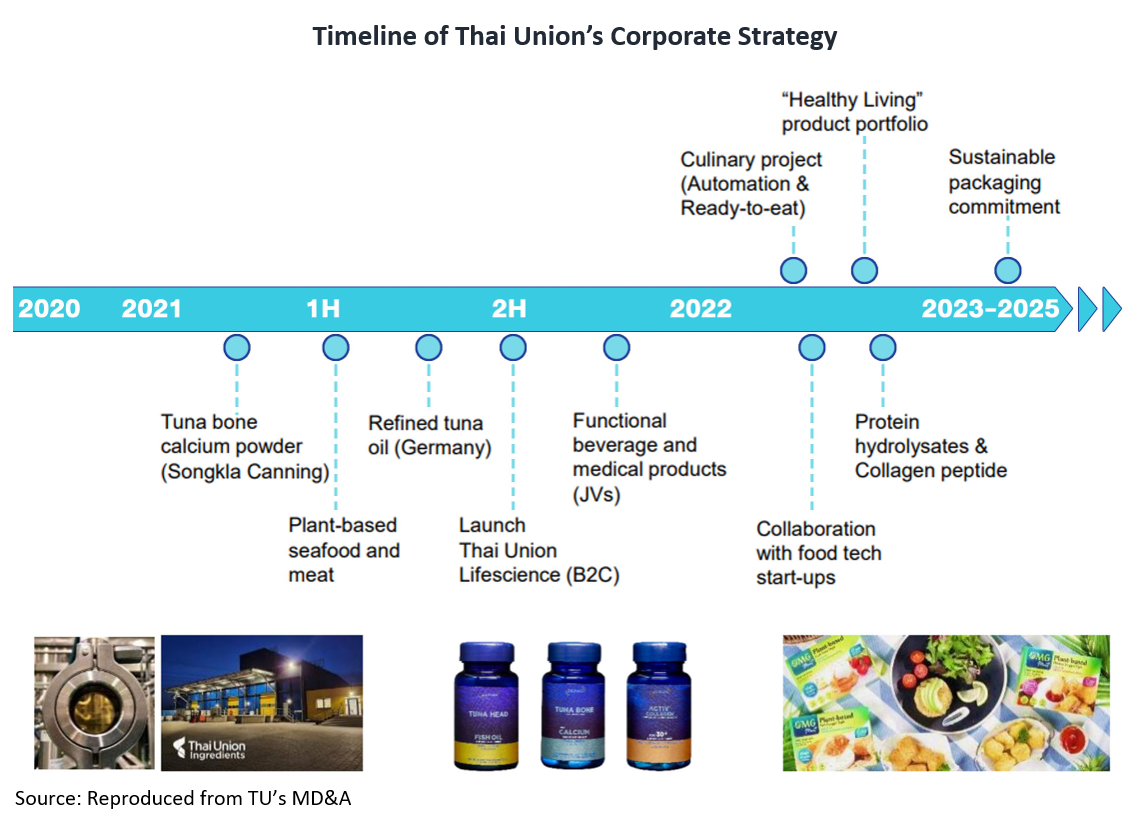 Thai Union Lifesciences recently launched ZEAVITA dietary supplements (collagen, calcium and fish oil) for business-to-consumer (B2C). Additionally collaborating with Interpharma the company plans to offer a broad spectrum of supplements and medical foods to hospitals.
Additionally, the joint venture with Thai Beverage PLC -ThaiBev (SGX: Y92) opened door for the seafood giant to enter the functional beverage market.
As plant-based proteins gains momentum at both global and local arena, Thai Union Alternative Protein unit plans to expand manufacturing capacity to cater to alternative plant-based protein business under the brand OMG plant-based meat. The project is launched this year in collaboration with few global FMCGs. The project would also cater to TU's ambition of entering ready-to-eat product line both in the global and domestic market.
Petcare product segment is also expected to introduce functional nutrition products for pets infused with tuna oil.
The management has planned CAPEX of THB 6.00 billion for 2021 and beyond.
Mapping the dots together
Management of RBF disclosed the company will develop innovative food ingredients and expand international sales leveraging the business network of TU. Currently, RFB has a strong presence domestically and in Vietnam and India. The partnership is expected to strengthen RBF's position in the U.S and European markets. 
TU is RBF's client for 15 years however the business volume was not substantial. Due to this strategic partnership, it is expected the business volume will grow marginally. Although RBF might sell its products to TU at a slightly lower price however higher sales volume would outweigh the price reduction.  
RBF's management did not include any concrete detail on possible synergies. However, analyzing the business portfolio of both companies shows lucrative business opportunities for both.
Consumers are increasingly becoming conscious of a healthier diet. However, due to the imbalance between work-life balance, it is clear consumers are shifting towards "alternative diets". TU accordingly laid out a corporate strategy on expanding to healthier and nutritional products space.  
RBF has license from cultivation to production of hemp products. Possibilities weigh higher in the means of this partnership that TU would leverage RBF's expertise on hemp cultivation. TU might develop hemp-infused functional drinks and dietary supplements using its existing infrastructure. 
Sourcing hemp oil under its unit – Thai Union Ingredients would facilitate opportunity to supply hemp oil to its existing suppliers globally. This equally adds value to RBF strengthening its customer base in the U.S. and Europe.  
TU Lifesciences recently launched dietary supplements catering to both B2C and B2B channels. Since RBF has sound exposure to sourcing and processing herbal ingredients, TU might explore expanding its product portfolio to herbal supplements both domestically and internationally. It is worth noting, RBF has a long-standing history of catering to clients in the dietary supplement and pharmaceuticals space. 
In terms of market opportunity, the global herbal supplement market is expected to grow to USD 57.48 billion in 2023 with a CAGR of 4.5% (base year 2015), according to Euromonitor. The Thai herbal supplement market on the other hand is expected to grow to USD 0.7 billion in 2023 with a CAGR of 14.0%. 
TU already stepped foot in the ready-to-eat food and alternative protein market, which adds to the demand for RBF's food additives/flavoring. It is expected RBF to see the most upside in sales in this segment catering to ready-to-eat food and exiting processed food segments under TU. 
In terms of Petcare products, both companies are expected to work together to add value to the TU's petcare business. 
Summing up in numbers
The effect of this transaction is expected to have minimal effect on the TU's balance sheet. It's debt-to-equity ratio at the end of 2Q21 stood at 0.98x and expected to rise between the range of 1.0-1.1x which is well between the company's target level.
Kasikorn Securities reiterated an outperform rating for both TU and RBF with target price of THB 26.90 and THB 22.00 respectively.