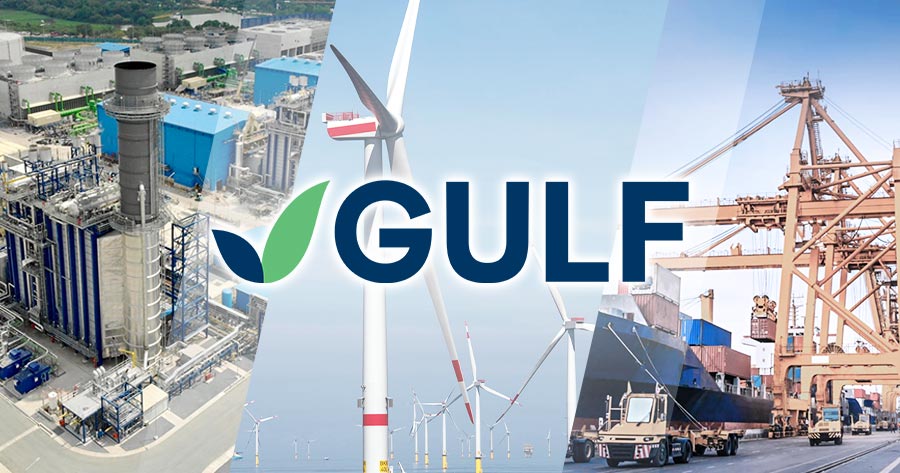 Gulf: Uphill Ride to Exponential Growth and Becoming Key Regional Leader
Intensified diversification to sustainable power generation, infrastructure and footprint in digital infrastructure business
Gulf Energy Development (GULF TB) in a joint venture with leading companies in the SET 50 index, BTS Group (BTS TB), Ratch Group (RATCH TB) along with Sino Thai Engineering and Construction (STEC TB) entered into a Public Private Partnership (PPP) with Department of Highway to operate Bang Pa-In – Nakhon Ratchasima M6 and Bang Yai – Kanchanaburi M81 intercity motorway project.
BGSR 6 Co. Ltd.  and BGSR 81 Co. Ltd. would independently oversee the two projects. Gulf and BTS holds equity interest of 40% individually and STEC and RATCH holding 10% separately.
The M6 motorway stretches for 196 kilometers and M81 is distanced 96 kilometers. Budget for the two projects combined is set to 39 billion baht.
The projects are to be run in two phases, in phase 1 the design and construction of system works (toll plaza, traffic and control system) would be implemented. Phase 1 will commence by December this year after handover of the sites by Department of Highway.
Phase 2 of the projects includes operation and maintenance (including tool collection) for a contract period of 30 years.
The intercity routes are expected to be open to public early 2024.
Earlier according to a regulatory filing, Gulf announced singing of Memorandum of Understanding (MOU) with Singapore Telecommunications Limited (Singtel) to jointly establish data center in Thailand.
It is notable to highlight, these developments by Gulf shows firm commitment of the management to diversify from its core business operations as well as leverage its current expertise into infrastructure and technology businesses.
Over the past few years Gulf delivered solid revenue growth even though growth dropped to 9.28% in 2020, factoring in business disruptions amid pandemic and adoption of new accounting standard. In terms of profitability return on equity for 2020 was in line with industry average of 8.36% although return on invested capital of 4.08% went bit off relative to peers.
Committed to growth the management has set capital expenditure (CAPEX) budget of 31 billion baht for 2021-2025 to be allocated with into power projects both onshore and offshore, infrastructure and investments in strategic acquisitions.
Gulf's businesses are divided into five segments – power generation (gas powered and renewable energy), gas, infrastructure projects and digital infrastructure.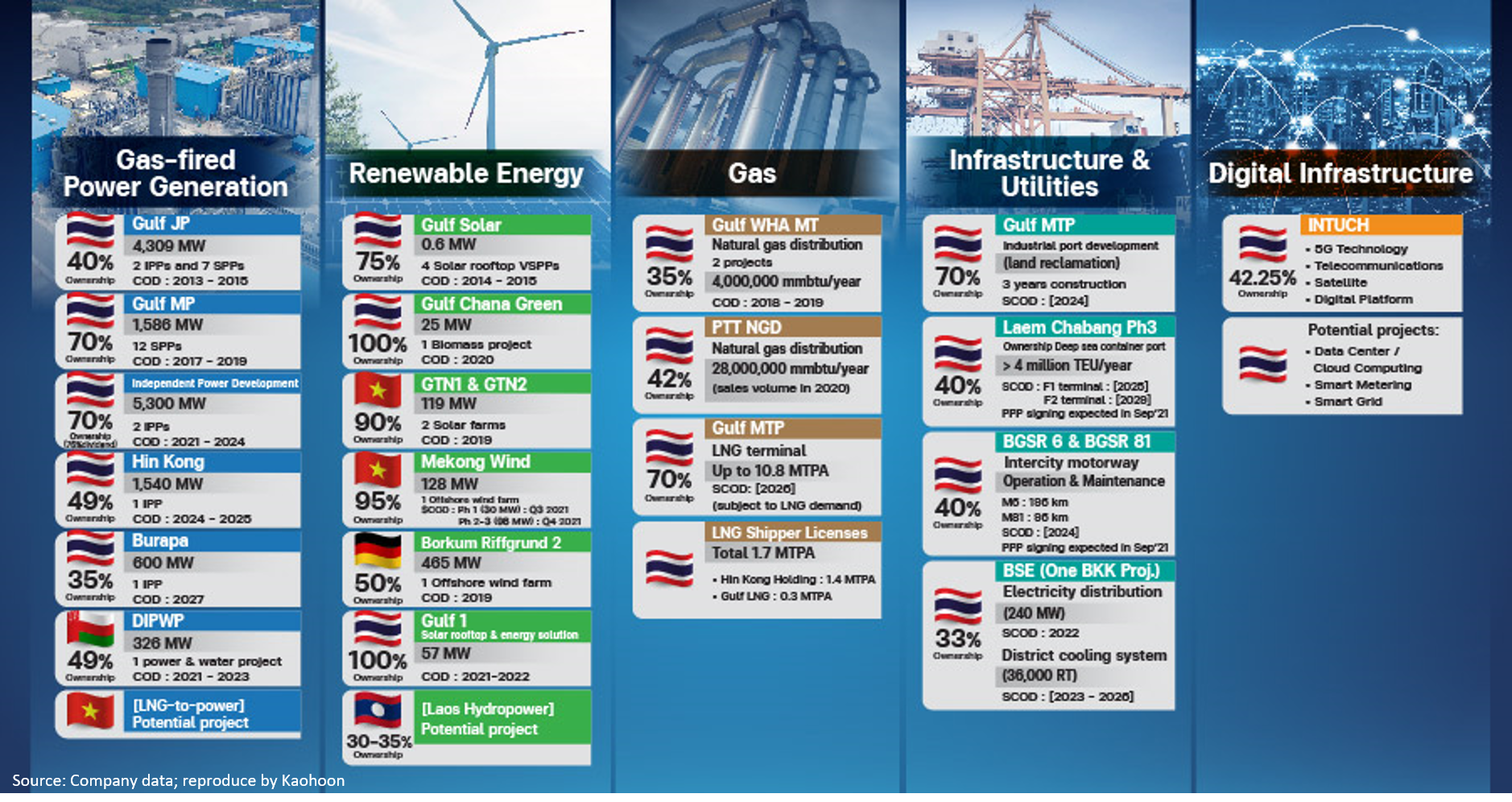 Power generation business is the cash cow for the firm, contributing 83.8% of revenue as of second quarter 2021. The segment includes both gas powered electricity generation and from renewable energy. The business model is managed under the structure of independent power projects (IPP) and small power producer (SPP).
Sales of 87% accounts to Electricity Generation Authority of Thailand (EGAT) under committed power purchase agreement (PPA) of 25- years and industrial users accounts for 13% with 15- years of long-term agreements.
Gross installed capacity is expected to reach 8,017 MW by the end of the 2021 with the target of 14,455MW (CAGR 103%) by the end of 2027. Power projects stretches to 36 projects in 4 countries with 29 projects in operation.
LNG-to power project in Vietnam is expected to see pace with bidding process due by fourth quarter of this year. Prime Minister office said to have sent revised PDP8 draft to the Vietnam's Ministry of Industry and Trade (MOIT).
The power project in Oman with the capacity of 326 MW is expected to be launched by 2023 under committed PPA of 25 years with provision to five-year renewal.
Management eyes to reduce exposure to gas power generation below 70% and increase renewables by more than 30% by 2030. Renewable energy projects both in Thailand and aboard has installed capacity of 609.2 MW with capacity under construction of 184 MW.
Renewable energy exposure includes solar, biomass and wind projects in Thailand, Vietnam and Germany.
Planned hydropower project in Laos PDR with capacity of 2,366 MW is awaiting approval from Energy Regulatory Commission (ERC). Energy generated from the project would be imported back to Thailand.
In an effort to expand energy business, Gulf entered in natural gas distribution business through Gulf WHA MT supplying 4.00 mmbtu gas annually to industrial users in Thailand's western seaboard.
Most notable project includes PTT NGD a joint venture with PTT Pcl. (PTT TB) which focuses on pipeline construction and supply of natural gas nationwide. The JV project buys natural gas at wholesale price form PTT and supplies 28 mmbtu natural gas annually at retail price to 250 industrial customers.
Gulf MTP a joint venture between Gulf with 70% equity interest and PTT Tank Terminal Co. Ltd holding 30% ,holds the right to develop and operate LNG terminal Map Ta Phut Industrial Port Development Project in Rayong province. The LNG port will have the capacity of 10.8 million tonnes per annum and expected to commence operations in phases starting 2024.
Gulf also holds LNG shipper license with which the company supplies 0.3 million tonnes of LNG annually to 19 of its SPPs, substantially reducing cost of power production.
Hin Kong Power Holding another strategic joint venture between Gulf with equity interest of 49% and 51% by Ratch holds its own LNG shipping license allowing lower cost of production.
Gulf together with PTT and China Harbor Engineering with equity interest of 40%, 30% and 30% respectively holds contract to design, build and operate Laem Chabang deep sea container port. PPP of the project is expected to be signed in September this year according to the company's MD&A. Once completed the port will have capacity of more 4 million TEU annually.
Intensifying effort to increase exposure to infrastructure sector, the company also holds contract to supply 240 MW of electricity and chilled water-cooling system of 36,000 RT to One Bangkok (multi facility community) project. One Bangkok is located in the heart of Bangkok in Pathum Wan district and one of the iconic infrastructural project in the city.
The company's holds 42.25% in Intouch Holdings PCL. (INTUCH TB) which besides bringing in stable divided of 1.5 billion baht also would facilitate potential synergies including development of technological advancement in its power business such as smart meters and smart grid system.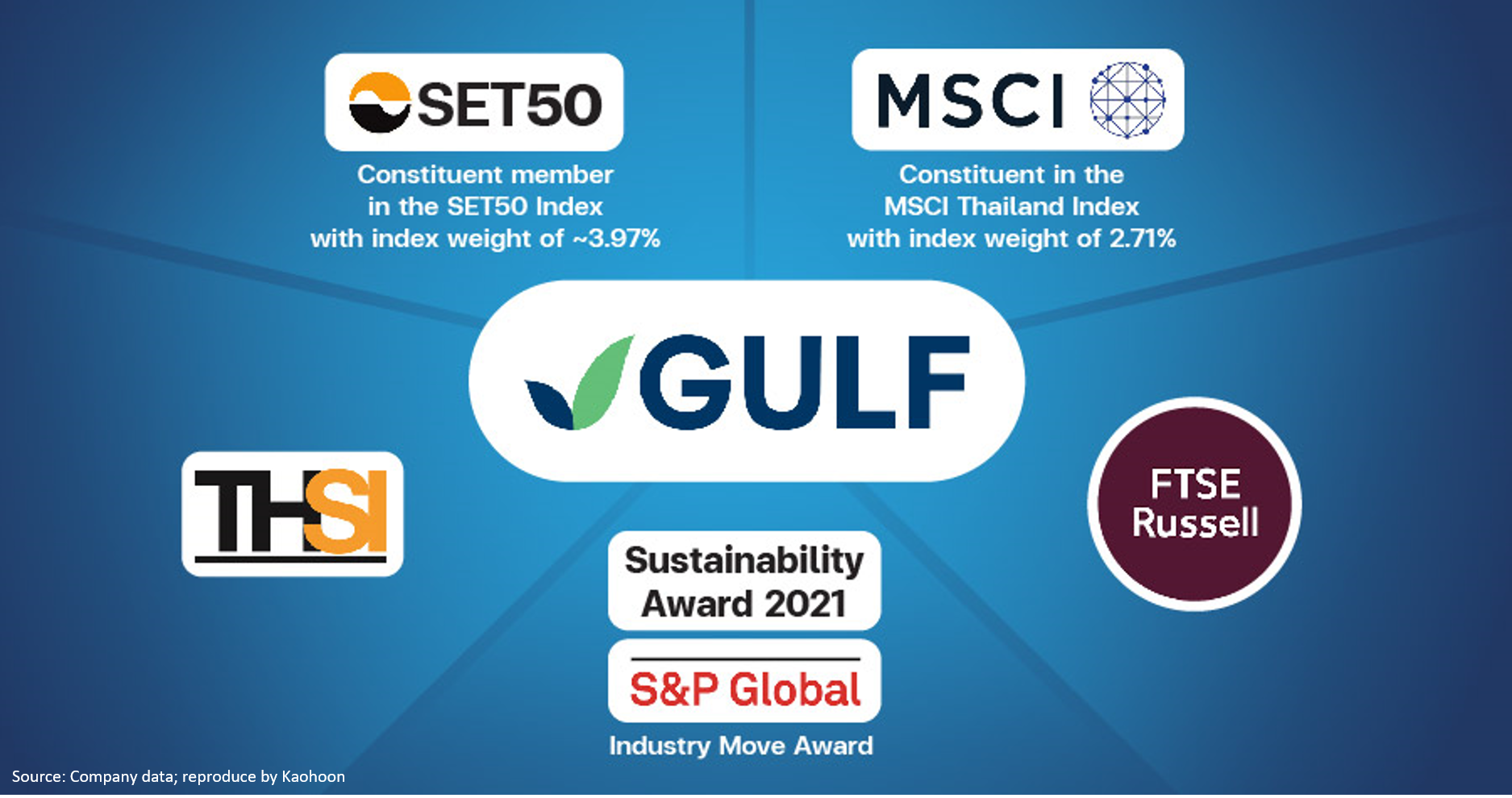 Strategic business expansion increased the company market capitalization by multifold since its IPO lead its equity to be listed as constituents in SET 50 index, MSCI Thailand Index and FTSE Global Equity Index series.  As part of being a good corporate citizen, Gulf is also a part of Thailand Sustainability Investment Index and recently award Industry Mover Award in The Sustainability Year 2021 by S&P Global.
Under the rationale of recognizing mega projects in the pipeline over the years, the company is set to deliver strong growth in the long term. Its stock surged over 32.3 % over the past one year. Dividend payout ratio for 2020 was 88% with 0.38 baht per share. A deep look in the company's business portfolio gives insight of its potential to be a key regional industry leader.