Thai Airways International Public Company Limited (THAI) has reported its yearly consolidated financial statement of 2019 through the Stock Exchange of Thailand as follows;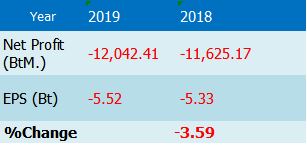 THAI reported a net loss in 2019 at 12,042 million baht, increased by 3.59% from a net loss of 11,625 million baht in 2018.
For the year 2019, total revenues decreased by THB 15,454 million (7.7%) from the same period last year due to a plummet of passenger traffic and excess baggage revenue.
Total expenses were THB 196,470 million, lower than the previous year by THB 12,088 million (5.8%). The main reason was due to the reduced fuel cost by THB 5,421 million (9.0%) due to 8.2% decrease in average jet fuel prices. Non-fuel operating expense decreased from the previous year by THB 6,580 million (4.6%). The main reason was due to the adjustment of vacation compensation expenses, annual holidays which were not used within 3 years as stipulated by the company regulations, which were recognized as expenses in the financial statements for the year 2015-2018 for a total of approximately THB 1,261 million, changing in the estimate residual value of aircraft and spare engines from 10% to 6% resulting increase of depreciation by recording the impact of aircraft that have been fully depreciated for 20 years in the year 2018 in the amount of THB 1,279 million while other operating expenses declined due to the reduction of traffic production resulted in THAI and its subsidiaries reported operating losses of THB 12,424 million, more loss than last year by THB 3,366 million (37.2%).
In 2019, THAI recognized additional compensation according to State Enterprise Labor Relations Committee announcement at an estimated service compensation in the amount of THB 2,689 million.
Aircraft maintenance and overhaul costs totaled THB 19,322 million, decreased by THB 766 million (3.8%) mainly from the lower overhaul cost in Life Limited Part of TRENT800 engines. However, the appreciation of Thai Baht against US Dollar benefited the lower such costs. Meanwhile, impairment loss of assets and aircraft was THB 634 million, a decrease of THB 2,825 million (81.7%)
Other income was THB 3,766 million, increased by THB 231 million (6.5%) mainly due to the adjustment item: passenger airport tax liability which is a part of ticket fare collected from passenger before 2016 was adjusted to be other revenue since no obligation for refunding to the airports in each country based on assumptions from past data that have not been charged for more than 3 years since the day had recorded this liability. The details indicated in Note 4.1 to the Financial Statement.
The total active aircraft was 103 aircrafts as of December 31, 2019 (including 20 Airbus A320-200 under ThaiSmile's operations) which equaled the number of aircraft as of December 31, 2018. As of December 31, 2019, THAI had the aircraft held for sale total 15 aircraft comprised of 3 Airbus A340-500, 6 Airbus A340-600, 1 Airbus A300-600, 4 Boeing B737-400, and 1 Boeing B747-400.
From various negative factors and the intense competition situation affecting the overall performance of THAI. THAI, therefore, reviewed both the external environment of the aviation: industry, market conditions, and competition, and internal environment by creating a second phase of the transformation plan by proceeding in parallel with the implementation of the master plan, consisting of 3 approaches which are;
1) Increasing revenue by implementing personalized customer strategy aims to focus on creating ancillary revenue as well as accelerating digital marketing operations by using big Data and data analytic tools for market analysis to increase more Online channels.
2) Costs control and reduction focus on unnecessary expense, voluntarily reduction of the remuneration of Executives and the Board of Directors, and so forth.
3) Improving operational efficiency, such as effective fleet management by expediting the conclusion of aircraft acquisition plans that are appropriate for business operations including controlling and tracking the plan for selling grounded aircraft and assets in accordance with the aircraft selling plan. THAI also prepares for a long-term plan to reduce debt aims to decrease debt to equity ratio in order to reduce the risk of the financial status.
THAI is also going to improve its organizational structure to be more efficient and suitable for business operations and completely fill personnel in significant positions to ensure that all operations are closely supervised