The Siam Commercial Bank Public Company Limited (SCB) has reported its yearly consolidated financial statement of 2020 through the Stock Exchange of Thailand as follows;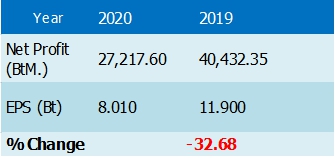 SCB recorded a net profit of 27,217 million baht in 2020, decreased 32.68%. The decrease was mainly due to higher provision amid severe economic headwinds and significant operating challenges stemming from the COVID-19 pandemic.
However, pre-provision operating profit grew 12% YoY to 80.4 billion baht (excluding the one-time gain on sale of shares in SCB Life recorded in the previous year), mainly the result of resilient non-interest income growth and effective operating cost control.
Net interest income fell by 3% yoy to 96.9 billion baht, largely due to the impact of lower interest rates from multiple rate cuts in the first half of the year. Total loans grew by 7% YoY with higher loan demand from corporate customers and extension of soft loans to business customers.
Non-interest income increased 12% YoY to 47.9 billion baht (excluding the one-time gain on sale of shares in SCB Life last year). Given the gradual resumption of economic activities following the easing of restrictions at the end of June 2020, revenue from bancassurance and wealth management businesses continued its growth momentum.
Expenses declined 9% YoY to 64.3 billion baht largely from the bank's effective cost control measures. As a result, the cost-to-income ratio improved to 44% in 2020, compared to 49% in the previous year (excluding one-time items in 2019). To strengthen the balance sheet against the potential economic impact of the COVID-19 pandemic, SCB set aside provisions of 46.6 billion baht, a 29% increase YoY.
Non-performing loan (NPL) ratio rose to 3.68% at the end of 2020 from 3.41% at the end of 2019, largely from qualitative loan downgrades of customers severely affected by the pandemic. Nonetheless, NPL coverage remained at a high level of 141% and the bank's capital adequacy ratio remained strong at 18.2%.
Arthid Nanthawithaya, Chairman of the Executive Committee and CEO, stated: "Although last year's net profit was weighed down by high provisions, our core business performance demonstrated a high degree of resilience with a strong capital position. Since the start of the pandemic, the bank assisted more than one million customers by offering a variety of targeted relief programs. As customers successfully graduated from the program in the second half of the year, loans under the relief program declined significantly to 402 billion baht or 18% of total loans at the end of the year. The newwave of the pandemic currently in Thailand added to the uncertainties of economic recovery in 2021, despite the upcoming rollout of COVID-19 vaccines. Therefore, the bank remains committed to helping our affected customers during this difficult time and continues our efforts to reshape our business model towards creating new technology-driven businesses, generating additional revenue from the bancassurance and wealth management businesses, and deepening our digital transformation."