Growing amid crisis with 2021 revenues at 46,130 million baht, lowest net debt-equity ratio at 0.71, and net profit reaching 4,225 million baht
Well-equipped to operate in the 'new world' with 3 strategies: create Independent Responsible Leaders, create Innovation-driven Culture, and create Everything Digital
Building on success in 2021 with 147 projects worth 121,890 million baht under development across Thailand for projected revenues of Bht 43,100 million and projected pre-sales of 35,500 million baht
Mr. Anuphong Assavabhokhin, Chief Executive Officer, AP Thailand Public Company Limited (AP), said, "AP Thailand enters its 30th year of operation with EMPOWER LIVING as the main purpose for its existence, playing a vital role as a creator and provider of products and services that empower customers as well as stakeholders of AP Thailand to live and enjoy life on their own terms."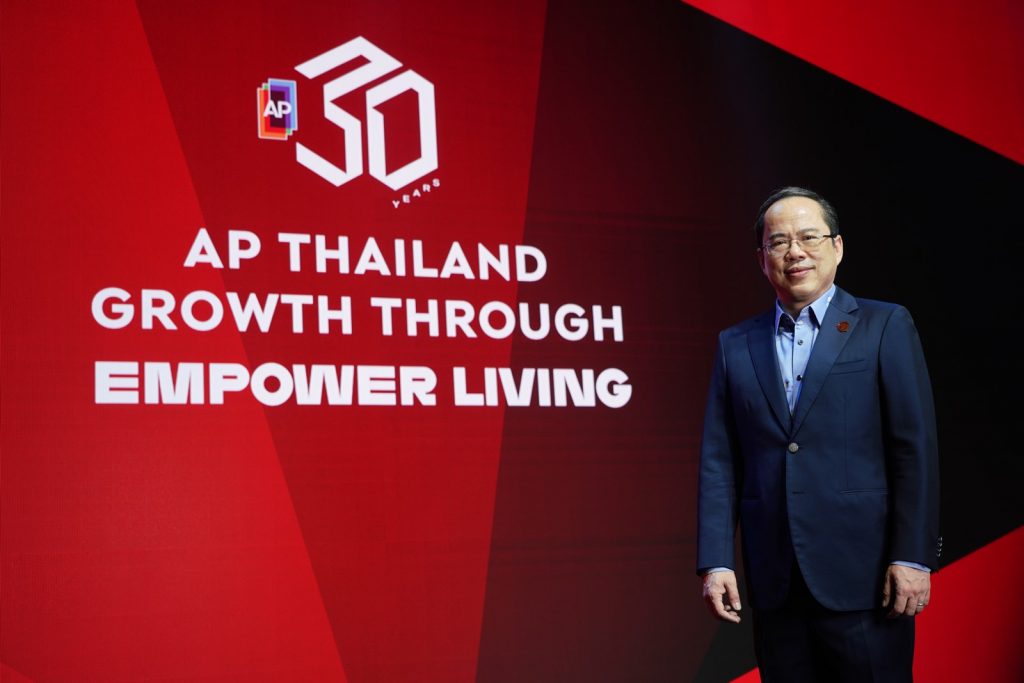 He said, "Using EMPOWER LIVING as our guiding business principle, we have formed a very strong foundation for the company's success. The year 2020 offered proof that the company is a property industry thought-leader, with our exceptional business growth. Revenues from low-rise products, condominiums (100% JV) and other businesses totaled 46,130 million baht, up a record 42% on the previous year.
Net profit for the year leaped 38% from the previous year to 4,225 million baht. And our net debt-to-equity ratio is as low as 0.71x. This exceptional performance reflects AP's ability to carefully and effectively manage its internal affairs, product portfolio and cash-flow amid the current crisis."
Mr. Anuphong said, "The COVID-19 pandemic is an example of unpredictability in the new business paradigm, with its surprise arrival and uncertain end. It makes operating a business much more challenging, and traditional business models will no longer provide the answer for surviving in the future. As a part of this, AP Thailand will implement three important strategies to strengthen our ability to work in a world with ever-changing rules and to reinforce our position as a property sector innovator."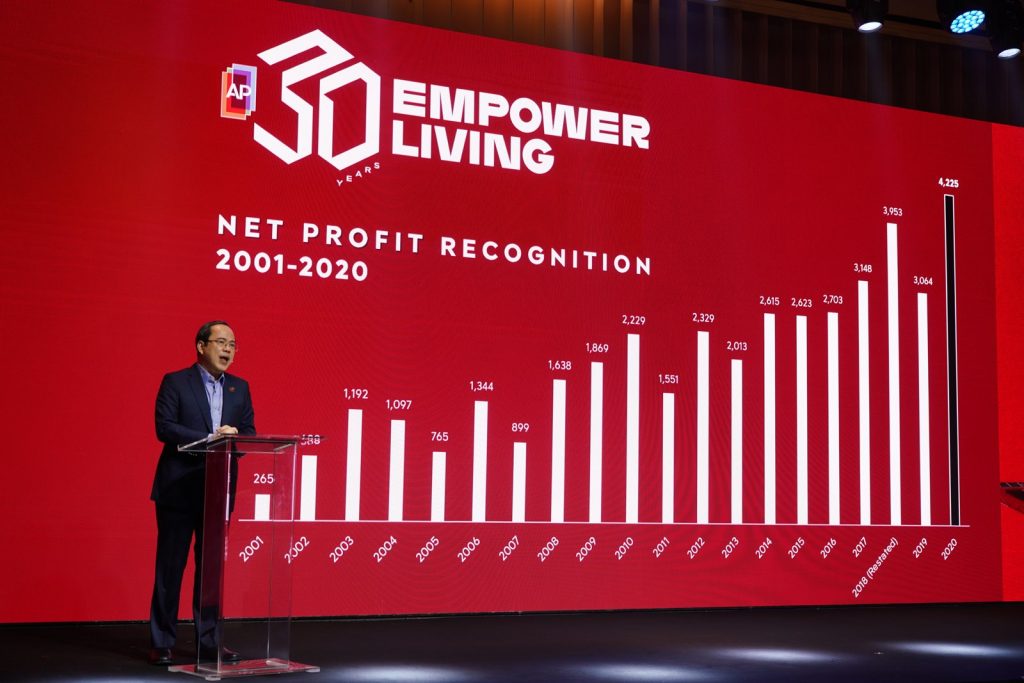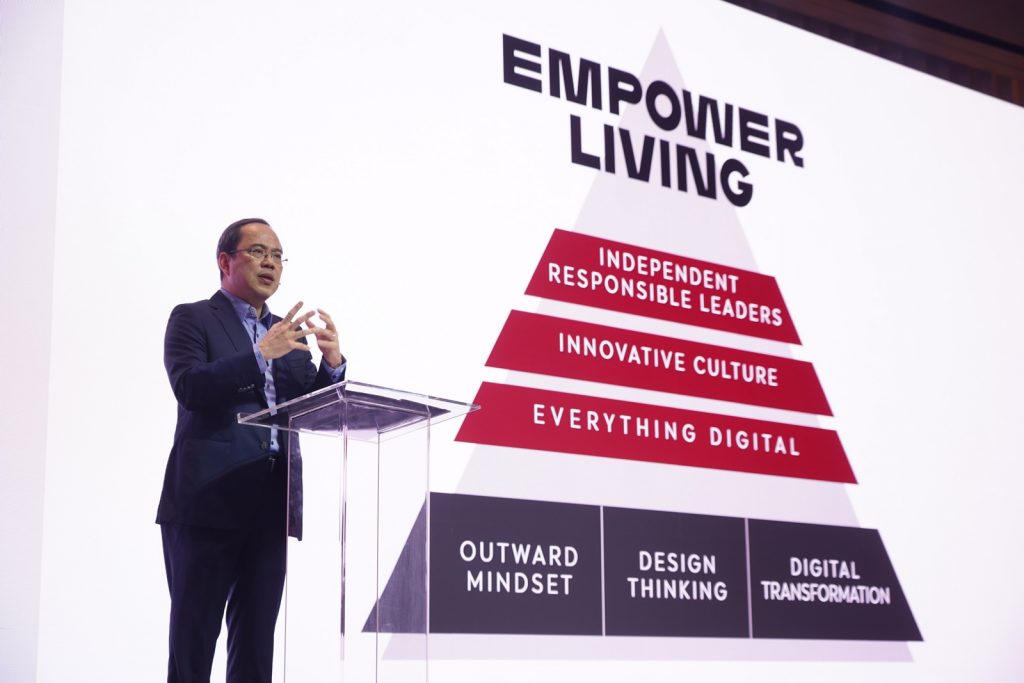 He explained AP Thailand's three strategies to be:
1) "CREATE INDEPENDENT, RESPONSIBLE LEADERS. That means our organization must be super flexible during a time of great change to ensure a competitive edge. Our leader's in the new world must be independent and responsible, with a focus on 'customer needs' rather than 'company requirements' or 'organizational constraints'. We believe that by giving the power to make independent decisions to those working close to customers directly, it will allow our organization to deliver on evolving customer needs faster and better than concentrating decision-making power in a few people in the organization.
2) "INNOVATION-DRIVEN CULTURE. So that every AP staff member can create and provide the support that enables people to live on their own terms, everyone in our organization – no matter in what role they act or what responsibility they hold – must be a part of the drive to innovate. So, we are building an innovation-driven culture and cultivating in every employee a DESIGN THINKING thought system that focuses on finding the unmet needs of customers to make new things happen. Innovation is not just about 'dreaming up big, new things, but the most valuable innovations are ones that meet the unmet needs of customers, regardless of how large or small they might be.
3) "MAKE EVERYTHING DIGITAL. Another strategy to drive our organization forward is holistic digital management of our work with customers, business associates and employees. It forms the foundation that enables two other strategies. Quick decision making in response to customer needs and creating innovations require speedy and accurate information to identify the exact unmet needs of customers in order to deliver 'living experiences' through our products and services with convenience and speed."
The three strategies will form an important foundation to ensure the company is well prepared at a time of rapid growth. In 2021, AP Thailand will have 147 projects worth over 121,890 million baht under development around the country. A total of 34 new projects worth around 43,000 million baht will be launched this year, 30 of which are low-rise projects worth around 28,800 million baht, and 4 condominium projects worth around 14,200 million baht, which are expected to be ready for launch in the second half of the year.
There are 113 projects worth around 78,890 million baht that are now being sold across all locations in Bangkok and the provinces. For 2021, the company targets 43,100 million baht in revenues (100% JV included) and projects pre-sales of 35,500 million baht.
Mr. Anuphong said, "The arrival of vaccines is good news and gives us all hope. However, there is a long way to go to recovery. We need to be wary of a ripple effect that will lead to protracted issues. Another watch-out is the fact that the paradigms under which we all worked and conducted business will have changed and we must be ready for the challenges posed by all of these ongoing changes. However, if our more than 2,000 staff members can work with these strategies and implement them with deep understanding of their implications, I am certain that AP Thailand will distinguish itself as an organisation that enables people to live life on their own terms, consistent with our purpose to EMPOWER LIVIING."
Securities analysts have cited AP as "a hero in the face of the crisis" as the company is a market leader based on sales and the launch of new projects, its robust growth in low-rise sales and in the transfers of newly-completed condominiums during the first nine months of 2020.