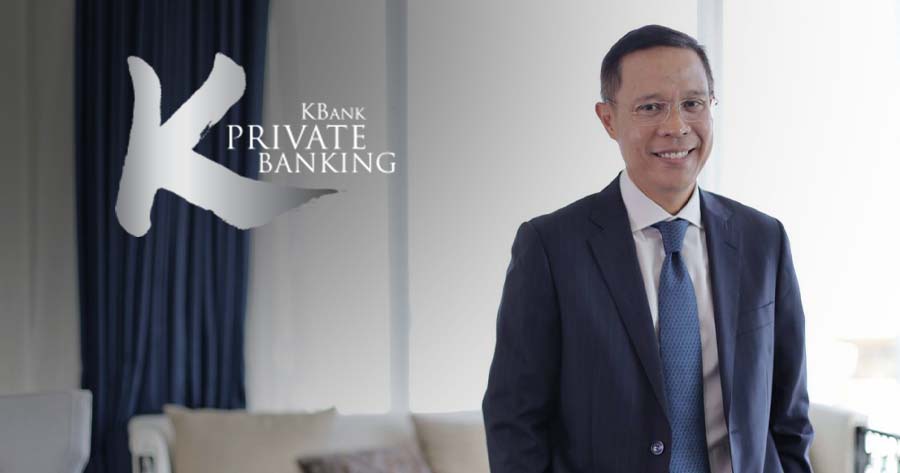 KBank Private Banking Highlights 3 Investment Plans to Capture U.S. Infrastructure Trends
KBank Private Banking highlights three investment opportunities to capture growth from infrastructure development in response to the US's economic recovery plan.
KBank Private Banking highlights K-GINFRA, K-HIT and K-CLIMATE as investment opportunities to capture growth from infrastructure development in response to the US's economic recovery plan.
KBank Private Banking sees a positive trend from significant investment opportunities, after the announcement of the US President Joe Biden's Infrastructure Plan, through K-GINFRA (K Global Infrastructure Equity Fund), K-HIT (K Global High Impact Thematic Equity Fund) and K-CLIMATE (K Climate Transition Fund).
One of the major drivers of the US post-pandemic economic recovery is President Joe Biden's Infrastructure Plan. The agreed new spending package of USD 579 billion (approximately THB 19 trillion) covers a broad-based of infrastructure development, from bridges, roads, transportaion systems, airports, electric vehicles, water management and broadband internet network. The US Senate also passed the bill for the investment budget valued at USD 1.2 trillion (approximately THB 39 trillion) over eight years.
Mr. Jirawat Supornpaibul, Private Banking Group Head, KASIKORNBANK said, "As a result of the investment plan, certain businesses will emerge as winners. The significant investment capital for various major infrastructure projects will not only drive demands for cement and steels but also other types of services in the supply chain, from construction technology production, distribution and development companies, energy transmission businesses and communications solution providers. K-GINFRA, which invests in Morgan Stanley Investment Funds Global Infrastructure, Class Z (USD) and has over 40% investment in the US, will gain great benefits from this investment plan.
Top companies in K-GINFRA (K Global Infrastructure Equity Fund) include:
Crown Castle International, a US-based provider of communications infrastructure with the network of 40,000 cell towers and 80,000-mile fiber optics.
American Tower Corp, a telecommunications service provider, and owner and operator of wireless communications infrastructure and more than 20,000 communication resource centers
Vinci, a construction engineering company with specialization in large infrastructure projects e.g. highways, tunnels, airports, bridges and energy pipelines
National Grid, an electricity and gas facility business, providing services on power generation and natural gas transmission system in the North East.
Enbridge, an energy transmission company, focusing on crude oil and natural gas transmission with over 5,000-kilometer oil pipelines in Canada and the US.
KBank Private Banking also recommends investment strategies in the mega trends through K-HIT (K Global High Impact Thematic Equity Fund). Currently, the theme of businesses expected to benefit from the US infrastructure investment has been positioned in the portfolio with approximately 15%. The fund also has flexibility in adjusting the investment position if more opportunities arise in the future.
Another investment strategy for today's investor, K-HIT comes with the adaptability and is well-positioned to benefit from the global long-term trends due to its investment in the new economy theme and related businesses in the supply chain, which are likely to experience growth after Biden's Plan. The largest investment in facilities for electric vehicles (EV), the plan aims to build a national network of 500,000 charging stations and will propel EV technology development. Also positioned to gain advantages is companies with expertise in sourcing materials or equipment for EV facilities e.g. software installation companies and EV part manufacturing businesses.
Examples of companies in the infrastructure investment theme in K-HIT include:
AngloAmerica, a leading global mining company and the world's largest platinum producer, which has recently invested in the development of hydrogen filling stations for fuel cell electric vehicles (FCEVs) to stimulate the production of platinum fuel cell, important auto parts for EVs.
Teck, a leading diversified resource company with activities in mining, smelting, and refining, which is positioned to benefit from Biden's green technology and infrastructure investment plan, and demand for copper, an important material for EVs, solar cells and wind turbines.
Martin Marietta, a leading US supplier of building materials for commercial buildings, roads and bridges, projected to grow from increasing demand in raw materials for the construction.
Skanska, one of the world's leading construction and project development companies which will continue to rise after COVID-19 caused a downturn in the construction market, particularly commercial and residential building construction sectors.
Hydro, one of the largest suppliers of aluminum which has shifted its focus to sustainability by initiating renewable energy projects and supporting the manufacturing of lightweight batteries for hybrid vehicles, which are expanding rapidly around the world, particularly in Europe.
In addition to K-GINFRA and K-HIT, another fund that will benefit from the infrastructure plan is K-CLIMATE, which aims to invest in various funds worldwide and has a common goal of mitigating environmental issues and the impacts of climate change. Biden's Infrastructure Plan also requires enormous amounts of construction materials, which must be low-carbon materials produced by companies that commit to minimizing carbon emissions embodied in their manufacturing processes and can obtain high-quality construction materials. The fund itself has a proportion of investment in relevant industries, such as building material manufacturers and utility sectors.
Examples of companies in K-CLIMATE Transition Fund include:
Holcim, a global leader in building materials and solutions with four business categories: cement, ready mix concrete, solutions, and products. The company has provided services focusing on building individual homes and developing various important infrastructure projects that are resilient and sustainable.
Carrier Global Corporation, a global leader in the design of heating systems, ventilation systems, air conditioners, and refrigeration solutions, gaining consumer's trust with its number one position in global sales.
Autodesk, a leading software company in 3D design for infrastructure and civil engineering
Cummins Inc., a global leader in energy technology, specializes in fuels and alternative energy, power generator, and related components and technologies, which generated over USD 19.8 billion in revenue in 2020.
Since the beginning of 2021, K –GINFRA, K-HIT and K-CLIMATE has yielded returns +11.4%, +11.7%, and +10.6% consecutively (as of 7 July 2021).
Bipartisan Infrastructure Framework
Key parts of infrastructure deal between White House, group of senators
| | |
| --- | --- |
| Items | Amount (Billion USD) |
| Roads, Bridges, major projects | 109 |
| Public transit | 49 |
| Passenger and Freight Rail | 66 |
| EV Infrastructure | 7.5 |
| Electronic buses/transit | 7.5 |
| Airports | 25 |
| Water infrastructure | 55 |
| Broadband infrastructure | 65 |
| Environmental remediation | 21 |
| Power infrastructure incl. grid authority | 73 |
| Other | 101 |
| Total  | 579  |