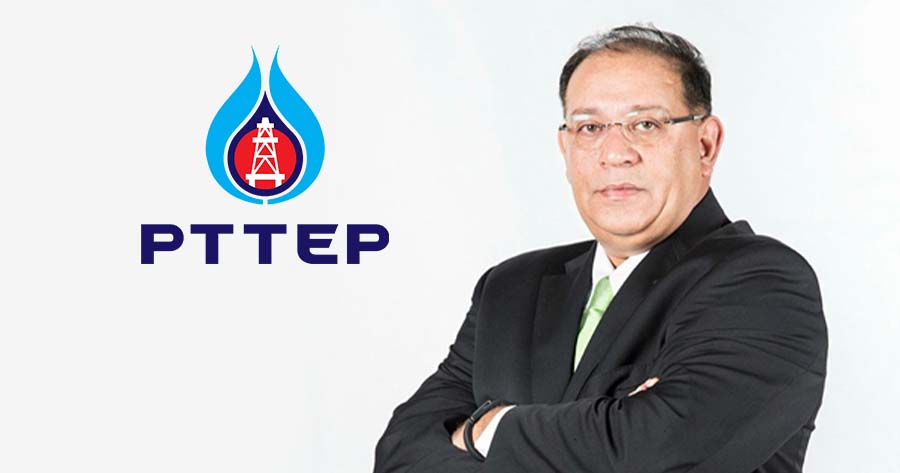 Montri Rawanchaikul Will Strengthen PTTEP's Business as the New CEO
Starting from October 1, 2021, Montri Rawanchaikul will drive PTTEP as the new CEO.
PTT Exploration and Production Public Company Limited (PTTEP) announced that the company's Board of Directors Meeting No. 13/2564/503 held on August 20, 2021 resolved to appoint Mr. Montri Rawanchaikul, President, to be Chief Executive Officer (CEO) and Director of PTTEP in replacement of Mr. Phongsthorn Thavisin who will end his roles on September 30, 2021. The appointment of the new CEO and Director will be effective from October 1, 2021 onwards.
Information and Vision of New Director and Chief Executive Officer
Mr. Montri Rawanchaikul
Director and Chief Executive Officer
Age: 57 Years
Starting date of the Position: October 1, 2021
Education:
Master of Applied Science (Exploration Geophysics), University of New South Wales, Australia
Bachelor of Science (Physics), Chiang Mai University
Useful Past Experiences for PTTEP:
Oct 2020 – Present President
Oct 2020 – Jan 2021 President & Acting Executive Vice President, Production Asset Group
Jan – Sep 2020 Executive Vice President, Production Asset Group
Oct 2017 – Dec 2019 Executive Vice President, Strategy and Business Development Group
Nov 2017 – Sep 2018 Executive Vice President, Strategy and Business Development Group and Acting Senior Vice President, New Business Unit, and additional assigned as Project Champion, Spend Smart
Oct 2016 – Sep 2017 Acting Executive Vice President, Strategy and BusinessDevelopment Group
Sep – Oct 2016 Senior Vice President, International Asset
Jul – Aug 2016 Senior Vice President, attached to Production Asset and Operations Support Group
Jan 2015 – Jul 2016 Senior Vice President, Australia Asset and seconded as General Manager, PTTEP Australasia Limited
Jul 2013 – Nov 2014 Deputy CEO, PTTEP Australasia
Nov 2009 – Jun 2013 General Manager PTTEP Oman
Jun 2005 – May 2009 General Manager PTTEP Iran
Vision for managing the company's business:
Strengthen the petroleum exploration and production business to ensure sustainable development for national energy security to overcome challenges of Digital Disruption and Energy Transition by focusing on Environmental, Social and Governance (ESG)
Become major natural gas producer in Southeast Asia, fully explore and rapidly develop newly discovered fields to increase production and continuously grow the Middle East joint venture portfolio
Drive Carbon Capture Utilization and Storage (CCUS) to reduce Greenhouse Gas emission and lay the foundation for Net Zero Carbon Emission target
Expand new business investment through "Cautious Diversified Player" strategy investing in Gas to Power, Renewable and Chain of Future Energy by leading on technology and innovation for commercial and competitive advantage
Develop agile organization through digital transformation and knowledge management to make decisions based on data, reduce unit cost, and adopt new culture for readiness to embrace changes for sustainable development, and become a boundaryless organization
Vision in performing duties that comply with Good Corporate Governance of PTTEP:
Drive PTTEP for sustainable development, advocate good corporate governance, business risks management and compliance on financial and investment, be a transparent organization to build trust and maintain PTTEP reputation for all stakeholders
Outstanding Success and value-added to PTTEP:
Awarded Bongkot and Erawan PSC in 2019
Applied PTTEP's competitive advantage and experience to formulate and advocate "Coming Home Strategy"
Expanded PTTEP Portfolio in Malaysia through the acquisition of Murphy Oil Malaysia and executed exploration campaign to discover new commercial petroleum resources in Malaysia
Built Middle East Hub in UAE and Oman for a future E&P growth portfolio
Training:
Leadership Development Program III (LDP III) by PTT Leadership and Learning Institute
The Executive Program in Energy Literacy for a Sustainable Future, Class 11, by Thailand Energy Academy
The Corporate Governance: Regulation and Disclosure Training by The Thai Institute of Directors Association
Leadership Development Program II (LDP II) by PTT Leadership and Learning Institute
EP LEAD III Leadership Development Program by IMD
Currently, Mr. Rawanchaikul holds 52,050 shares (0.001311 %) of PTTEP.