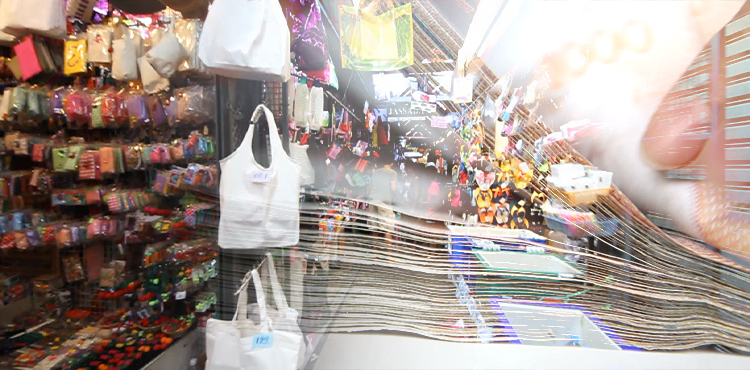 Kasikorn Recommends 13 Stocks to Benefit from "Shop Dee Mee Kuen"
Kasikorn Recommends 13 Stocks to Benefit from "Shop Dee Mee Kuen"
Cabinet approved "Shop Dee Mee Kuen" program (Shop and Payback) for the purpose of stimulating domestic spending and helping entrepreneurs, along with encouraging local productions.  
The scheme will offer tax deduction for the taxpayers up to 30,000 baht when purchasing goods or services (excluding alcohol beverages, cigarettes, lottery tickets, accommodations and plane tickets) from VAT registered businesses and will run from October 23, 2020 to December 30, 2020.  
Therefore, it was expected that this campaign will stimulate public consumption in the retailing sector during the last quarter of this year.
Kasikorn Research Centre stated the "Shop Dee Mee Kuen" program would benefit people who have an income of more than 500,000 baht a year or at least 42,000 baht a month. According to a survey of consumer's behavior, over 70% of people who are interested in participating in the said campaign are anyone earning more than 500,000 baht a year. 
Meanwhile the majority of people with an income less than 500,000 baht a year are worrying about purchasing power in the near future, and they are low-rate taxpayers, therefore no need for more tax deduction.
Kasikorn assessed retailing entrepreneurs, particularly department stores and E-market places, will be benefited from the shop and payback scheme as well. Foods, IT equipment such as smartphones and smartwatches, and necessities are expected to be consumer's target.  
Pointing out HMPRO, GLOBAL, CRC, KYE, DOHOME, COM7, SYNEX, JMART, SVOA, SIS, CPW, SPVI and IT to benefit from the government measures.
Home Product Center Public Company Limited (HMPRO) is the retail business in home improvement segment by selling goods and providing complete range of services relating to construction, refurbishment, addition, renovation, improvement of buildings, houses, and residencial places through One Stop Shopping Home Center under the trade name of HomePro which is the Company's trademark.
Siam Global House Public Company Limited (GLOBAL) operates a one-stop shopping home center, which offers construction material, home decorative products, tools and equipment used in construction, home improvement, and household and gardening decoration in modern trade warehouse style. Additionally, the Company implemented a drive-through system to increase ease of access and convenience for customers.
Central Retail Corporation Public Company Limited (CRC) operates a multi-format, multi-category retailing platform in Thailand, Italy, and Vietnam. Also a pioneer in omni-channel retailing in Thailand, complementing retail store networks and merchandise offerings with leading positions among store-based retailers in online traffic.
Kang Yong Electric Public Company Limited (KYE) is the manufacturer of Mitsubishi Electric brand of electrical home appliances such as refrigerators, electric fan, ventilating fan and water pump. The Company, with technical licensing by her joint-venture partner, Mitsubishi Electric Corporation, Japan, has customers both domestics and overseas.
Dohome Public Company Limited (DOHOME) is the wholesaler, retailer and service provider of construction materials and home decoration products.
Com7 Public Company Limited (COM7) distributes IT products such as laptops, desktop computers, mobile phones, tablets, related accessories and product repair services. COM7 distributes IT products via its own branches which are retail stores in leading department stores, shopping malls, and hypermarkets covering Bangkok and upcountry provinces.
Synnex (Thailand) Public Company Limited (SYNEX) distributes computers, computer peripherals, software, IT system, and computer consumables of over 50 world-recognized brands while the Company's customer base includes countrywide computer retailers and wholesalers, local-branded computer manufacturers, department stores, superstores, and stationary shops, and etc.
Jay Mart Public Company Limited (JMART) operates retailing and wholesaling business for mobile phone and related products under all major brands from phone manufacturers and network operators. 
SVOA Public Company Limited (SVOA) is a distributor of computer products and services including hardware, accessories, and licensed software from international suppliers and from its own brand SVOA and also exports its own products to several countries. Moreover, the company has consulting services and IT project business which provides mainframe computer installation and supplies quality computers and accessories targeting government sector, private sector, and educational institutions.
SIS Distribution (Thailand) Public Company Limited (SIS) is trading in computer, software, peripherals, smartphone and office automation equipment in Thailand. The Company is the distributor of leading IT product manufacturers such as Asus, Acer, Brother, Dell, Hewlett Packard Enterprise, HP Inc, Lenovo, Samsung, Vmware, Wiko, etc.
Copperwired Public Company Limited (CPW) is the retailer of digital lifestyle products and Apple products. The company is one of the authorized resellers of Apple products and provides service center to offer after sales services for all Apple products through its retail shop as follows; 1. The store selling digital lifestyle products operates under the name ".life". 2. Apple brand shops selling Apple products consist of "iStudio by copperwired" "Ai-" and "U-Store by copperwired" and 3. Repair and service center for Apple products operates under the name "iServe".
S P V I Public Company Limited (SPVI) is one of the authorized resellers of Apple products which comprise of Apple computer, iOS devices and Apple accessories. The Company is also a distributor of Non-Apple products which can be used with Apple products in order to accommodate customer's needs. Moreover, the Company provides service centers to offer after sales services for all Apple products which operate under the name "iCenter"
IT City Public Company Limited (IT) is the retail superstore chain selling computers, tablets, peripherals, smartphones and other related IT products and smartphones under the trade name "IT CITY" . The Company was spun off from SVOA.