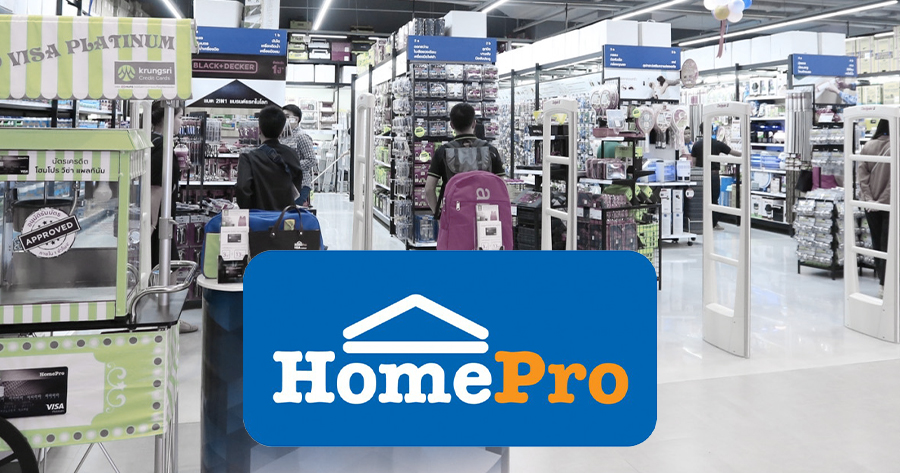 Five Analysts Cut HMPRO's 2021 Earnings Forecast on Store Closures amid Covid Lockdown
HMPRO fell ฿0.50/share or 3.85% to ฿12.50/share, five analysts unanimously downgraded their 2021 earnings forecasts and target prices, but a "BUY" rating remains. 
The share price of Home Product Center Public Company Limited (HMPRO) fell ฿0.50/share or 3.85% to ฿12.50/share in the afternoon session on Friday, August 6, with a trading value of 609 million baht. 
With improper Covid control measures and insufficient effective vaccines, Thailand has been forced to enter another so-called partial lockdown, as well as a night curfew in 29 provinces, including Bangkok and the second epicenter Samut Sakron, for at least two weeks. Residents in the dark-red zones are requested to stay at home between 9:00 p.m. – 4:00 a.m.
Furthermore, "unnecessary" businesses are required to temporarily shut down, with just a few exceptions. As a result, HMPRO, a one-stop shopping home center, has had to close 39 stores, including 29 in the Covid-19 dark-red zone that closed in-store services, the other red zone stores that closed home appliances and other departments, three MegaHome stores, and seven locations in Malaysia, according to an analyst meeting yesterday (August 5) held by HMPRO. 
Five analysts, including Asia Wealth Securities (AWS), KGI Securities (KGI), Krungsri Securities (KSS), KTBST Securities (KTBST), and LH Securities (LH), unanimously downgraded their profit forecasts and target prices for HMPRO for the fiscal year ending in 2021, but a "BUY" recommendation remains. 
KGI Securities (KGI) stated that current uncertainty has dulled HMPRO's earnings outlook for the second half of this year. The company's store locations would give it leverage when the situation returns to normal. KGI de-rate the assigned PER, putting its new end-2022 target price at 15.00 baht (from 17.80 baht). Despite HMPRO achieving a solid SSSG of 13.7% in 2Q21, it will be a challenge for the company to keep it above zero in 3Q21. 
This would be due to i) weak sentiment, as the Consumer Confidence Index (CCI) hit a 273-month low at 37.3 in June 2021, and ii) temporary store closures from partial lockdown measures. Even though HMPRO continues to utilize its e-commerce channels, this segment only accounts for 6.4% of total sales in 2Q21 (vs 5.9% in 1Q21 and 9.0% in 2Q20). Moreover, the sales mix from e-commerce channels is still weighted toward electrical appliances, which normally are low-margin products.  
HMPRO faces risks from an extension to the temporary store closures and an expansion to the number of stores closed after the government announced lockdowns in 29 provinces (extend to the end of August). 
Based on the recent measures, around 66% of the company's stores in the HomePro format are located in the lockdown areas. Following KGI's revision on HMPRO's SSSG, gross margin, and SG&A, KGI has revised down its 2021-2022 earnings forecasts by an average of 9%. While HMPRO's store locations (47% in Central and 14% in South Thailand) would give it leverage when the economy recovers, this would also add more pressure if there is a further delay in the recovery. 
Krungsri Securities (KSS) said that the latest lockdown has lasted longer than anticipated (expect reopening in mid-September). Coupled with forced store closures, KSS cut 2021-2023 profit by 22%/10%/9%to 4.6 billion baht/6.0 billion baht/6.8 billion baht. KSS's major move was slashing 2021 SSSg to -7% from +2%, in anticipation of a sharp drop in SSSG in 2H due to store closures, and limited recovery in 4Q21.
KSS also cut the target price of HMPRO to 16.50 baht following the earnings downgrade. The overhang triggered by the current Covid-19 situation i.e. risk of more store closures and earnings downgrades. 
However, KSS maintains a BUY rating for HMPRO because their strategic store locations would allow them to capture the anticipated recovery in the tourism and services sectors in Bangkok and key tourist provinces, which contributed up to 70% of group revenues pre-pandemic. 
KTBST Securities (KTBST) lowered target price on HMPRO to 13.00 baht from 15.00 baht and 2021 PER to 32.0x, which is its 5-yr average level, following earnings forecast downgrade. From an analyst meeting yesterday (August 5), HMPRO anticipated a weaker 2H21 earnings performance YoY as same-store sales have declined by double digits and the company will increase its liquidity by tapping a short-term loan of 2.0-4.0 billion baht with an interest rate below 1%, as well as a plan to open a new store in Bangna in 4Q21. 
KTBST downgraded 2021 net profit forecast by 8% to 5.38 billion baht, which still represents a +4% increase YoY, as it revised down revenue forecast by 7% to 60.7 billion baht to reflect the suspension in 39 stores. KTBST expects 4Q21 earnings to improve should the Covid-19 outbreak ease in September.
| | | |
| --- | --- | --- |
| Analysts | Recommendation | Target Price |
| Asia Wealth | BUY | 16.50 Baht |
| KGI | BUY | 15.00 Baht |
| Krungsri | BUY | 16.50 Baht |
| KTBST | HOLD | 13.00 Baht |
| LH | BUY | 13.00 Baht |