The announcement from Thomson Reuters Corp (TRI) was made earlier this week that the company will be downsizing in the next two years. The layoff is one of the greatest fear for all employees in the firm. There will definitely be a cut, but not knowing which list your name has been put on will drive you crazy at some point.
Thomson Reuters Corp said that it will cut its workforce by 12% in the next two years, axing 3,200 jobs, as part of a plan to streamline the business and reduce costs. The news came after the company completed the sale of a 55% stake in its Financial & Risk unit to private equity firm Blackstone Group LP. Moreover, the reduction of offices around the world by 30% to 133 locations by 2020 will be made as well.
Thomson Reuters aims to grow annual sales by 3.5% to 4.5% by 2020, excluding the impact of any acquisitions. Chief Executive Officer Jim Smith said that the plans are to cross-sell more products to existing customers and to attract new customers. The company will also cut the number of products it sells.
He said, "We're going to simplify the company in every way that we can, working on sales effectiveness and on ways to make it easier both for our customers to do business with us and for our frontline troops to navigate inside the organization."
Following the Blackstone deal, about 43% of Thomson Reuters revenues come from its legal business, with 23% of sales coming from corporate clients and 15% of sales coming from its tax business, while Reuters News accounts for only 6% of sales.
Shares in Thomson Reuters rose as much as 3.7% on Tuesday, hitting an all-time high as investors see that good plans had been laid, while the cost would be reduced.
The layoff had triggered a lot of netizens and possibly Reuters' employees to comment on the company, but maybe now is the right time for Reuters to restructure…..before it is too late.
Thomson Reuters Corp revenues between 2015-2017 were $11.25 billion, $11.16 billion, $11.33 billion, respectively, while the net income accounted for $1.25 billion, $3.09 billion, $1.39 billion, respectively. The higher revenue on 2016 was due to 2.09 billion extraordinary items.
For the past three years, Thomson Reuters Corp looked just normal, but then came 2018 that made the company start thinking of downsizing.
The revenue in 2018 had decreased dramatically when compared to 2017. In 1Q18, the company booked $1.37 billion, decreased 51.4% from $2.81 billion YoY. In 2Q18, Thomson Reuters earned $1.31 billion, decreased 52.8% from $2.78 billion YoY. In 3Q18, Thomson Reuters' revenue was $1.29 billion, decreased 53.7% from $2.79 billion YoY.
At the same time, the company also faces a constant decreasing in the number of employees since 2011.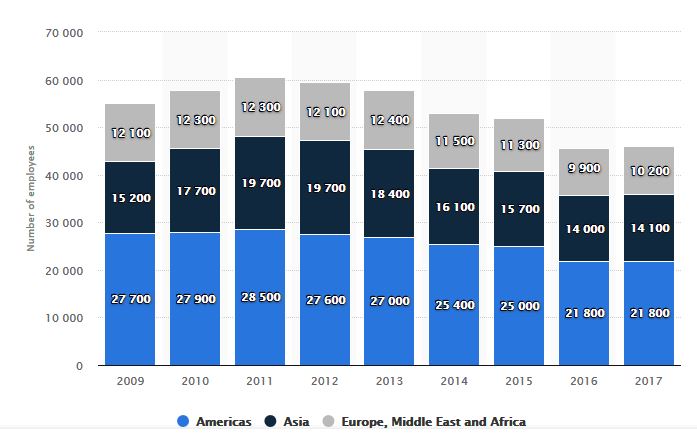 Whether Thomson Reuters foresees what is coming in the future by its one-year shaky revenue or it has other issues that keep bugging for years on end, downsizing will be happening within two years. When the time comes, we may see Thomson Reuters reaches its high time again.