Advanced Info Service Public Company Limited (ADVANC) has reported its yearly consolidated financial statement through the Stock Exchange of Thailand as follows;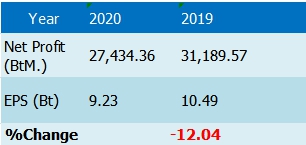 ADVANC reported a net profit of 27,434 million baht in 2020, decreased 12.04% compared to a net profit of 31,189 million baht in 2019. The decline was mainly due to a decrease in total revenue and lower operating profit for the year as the company had seen weak mobile revenue due to consumer spending optimization and loss of revenue from the traveler segment led to -6.5%YoY decline in mobile service revenue for FY2020.
However, AIS Fibre, fixed broadband business (FBB), continued growing strongly with subscriber growth of 29% vs overall market growth of 10-12% driven by demand to work from home. By leveraging mobile subscriber base and expanding coverage across 77 cities, FBB achieved 1.3 million subscribers in FY20 and reached 12% subscriber market share from 10% in FY19. However, intense price competition resulted in 11%YoY drop in ARPU. AIS Fibre revenue in FY20 grew 22%YoY and accounted for 5.3% of AIS core service revenue.
ADVANC stated that AIS 5G service has been deployed with 2600MHz since Feb 20 while the official 5G package for consumers launched in October. Given an early stage of 5G technology with limitation of ecosystem, the adoption rate was still limited as total subscribers registered on 5G package amounted to 239k or 2.4% of postpaid sub as of end 2020, doubling the target of 100k. With a 5G price plan geared toward larger data volume and added value of multiple SIMs, we saw an uplift in ARPU of 5G early adopters of approximately 10-15%.
Overall FY20 performance tracked in-line with all guidance. Core serviced revenue of 129,594 million baht, declined -5.1%YoY vs guidance of low to mid-single digit decline. EBITDA (pre-TFRS16) stood at 76,619 million baht, decreased –2.7%YoY with focusing on cost control and in-line with low single digit decline EBITDA guidance. Net profit (pre-TFRS 16) was 28,423 million baht, declined -8.9%YoY while CAPEX was 35 billion baht for 5G/4G network and FBB in-line with guidance.
For FY21, AIS aims to strengthen leadership with 5G service to capture high-value segment in both consumer and enterprise as well as build strong retention program and product/service differentiation. FBB targets to achieve 1.6mn subscribers and continues leveraging mobile subscriber base and capturing rising demand in home connectivity. Enterprise non mobile focuses on support need for digital transformation with telecom infrastructure and services in cloud, cyber security and ICT solutions. AIS expects service revenue and EBITDA in 2021 to grow low-single digit while CAPEX for 5G/4G network and FBB budgeted 25-30 billion baht.
In addition, the company's Board of Directors resolved the resolution to offer a dividend payment for the operating of 2H20 at a value of ฿3.68/share to be paid on April 20, 2021. The ex-dividend date will be on February 19, 2021.