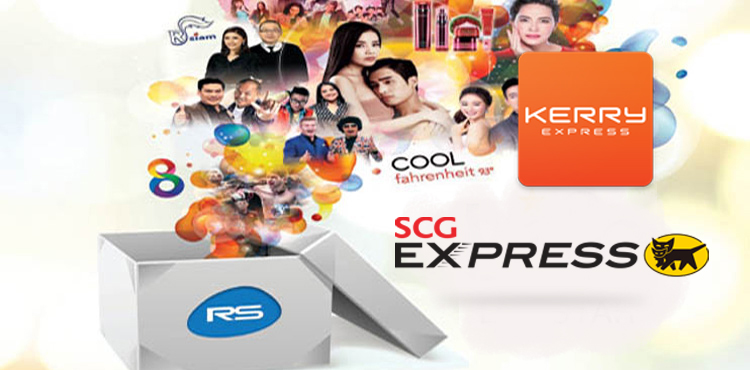 RS on the Rise! Proudly Present ฿0.25 Dividend after 230% Growth in 2Q18
RS shows 230% jump in 2Q18 and promises ฿0.25/share dividend, including Mr. Dam Nana's interview.
RS Public Company Limited or RS has announced their 2Q18 consolidated financial statements through SET. A 230% growth came unexpectedly with 172 million baht net profit, which rose from the same period in the previous year and from the previous quarter by 120.0 and 70.1 million baht or 230.6% and 68.8% respectively.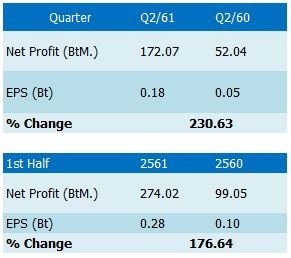 This was due to the increase in revenue from Multi-platform Commerce (MPC) business, which has a higher gross margin than other businesses. MPC has been continuously expanding, both in terms of adding more distribution channels and increasing product categories. On the other hand, revenue from Channel 8 increased, given its higher ad rates and higher spending season in second quarter, compared to first quarter.
Mr. Dam Nana, CFO of RS Public Company Limited, said that the company is fully on board with the new era of commercial business. It advertises and presents products on its strong RS platforms such as Channel 8, satellite TV, and COOL radio station. Together, these platforms reach 15 million people each day. The company no longer relies on traditional channels – now it focuses on communication and meeting the needs of its consumers, using new models that offer a competitive edge over others.
Its performance has witnessed growth in both revenue and profits. In Q2 of 2018, it earned a total of 955 million baht, a 12% growth from the same period last year. Its H1 income is 2 billion baht, a 20% increase from the previous year. Its net profits in Q2 are 172 million baht, a 230% increase compared to the same period last year, while its half year net profits are at 274 million baht, or a 177% growth. The company is confident that its total 2018 performance will reach an all time high, proving the success of its new business model which seamlessly fuses its commercial and media sides.
Its Multi-platform Commerce (MPC) is making great earnings. In the 2nd quarter of this year, it generated 504 million baht, a 68% increase from the same period last year, thanks to the selection of high quality products, great value for money, and excellent services. The Health and Beauty and Home and Lifestyle products such as appliances, household items clothes and accessories have been doing well since the launch in April, as they cater to modern consumers who value quality of life, health, and convenience. RS also enjoys growth from its media platforms such as Channel 8 which has strong contents and leading ratings in the country.
For the second half of 2018, for the MPC business, it has joined forces with many strategic partners to strengthen the business and achieve success faster to generate profits and income sustainably. There will be new SKUs in skincare, hair care and supplementary food categories, as well as Home and Lifestyle products, marketing services and insurance, and others. More products and services are added to increase its business opportunities. The management of its database, which has over 1 million customers in total, as well as its strong Call Center team which has more staff and higher success in closing deals, also attract new partners. Many businesses are now interested in selling their products on RS's telesales channel.
Channel 8, meanwhile, introduces new contents in all genres, such as Indian series, Thai dramas, news programs, boxing programs, and more, to reaffirm its concept of "In-Depth Content, Intense Flavors". The timing is just right as advertising starts to flourish once again. The new content plan attracts viewers nationwide, resulting in sky-high ratings. Magnetic contents in Q3 are two new Indian series "Ganesh" and "Iss Pyaar Ko Kya Naam Doon". "Ganesh" is a multimillion baht fantasy action series with amazing CG, and it has the highest rating in India. "Iss Pyaar Ko Kya Naam Doon" is a romantic drama which has won the heart of Indian viewers and received 13 awards, including Best Actor and Best Actress thanks to Barun Sobti and Sanaya Irani who are famous in Asia at the moment.
Additionally, RS has been invited by many securities companies to meet investors both in Thailand and overseas. Recently it attended Thailand Focus to meet Tha corporate investors and investors from Japan, Hong Kong and Singapore. From the 3rd quarter of the year onward, the company will travel to share its success story of changing from retail to MPC. It is confident that the roadshow will be as well-received by investors as always. After the roadshow, there will be more long-term corporate investors, adding stability to its share price. This guarantees the company's credibility.
"On August 8, we presented to the company's board of directors to gain approval for giving out interim dividend from the half year performance of 2018 at 0.25 baht per share, a total of 242 million baht. This signifies our liquidity and financial strength, as we are able to pay interim dividend to our shareholders," said Dam.