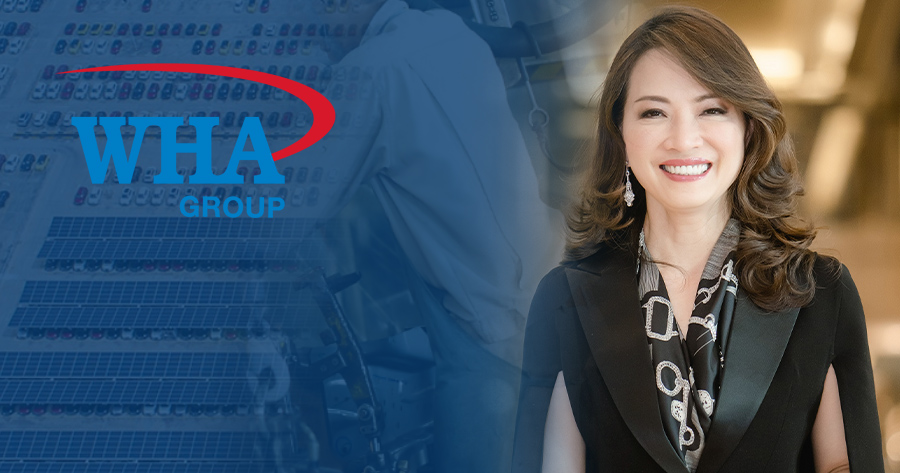 WHA Sees Strong Positive Signs for Expansion and Targets 30% Growth in 2021!
WHA Group unveiled its business plan for 2021 and beyond. Despite the challenging environment due to the Covid-19 pandemic, WHA recorded a series of achievements in 2020, including growth in its Logistics hub driven by booming E-commerce activities, the signing of new customer contracts in its industrial zone project in Vietnam, successful capital increases of WHART and HREIT, with more than THB 4,870 million fund raised, and credit rating maintained at A-.
The Group foresees new developments and growth in 2021 in its four business hubs, with its normalized total revenue and share of profits expected to increase at least 30% while maintaining a high EBITDA margin of over 35%. These will be supported by the reinforcement of its leadership in Thailand, the acceleration of its expansion in Vietnam, and the continuous development of high value-added products leveraging on new technologies.
WHA 2020 Key Highlights 
In 2020, WHA Group confirmed its status as Thailand's leading developer of Logistics Properties, Industrial Estates, Industrial Utilities, and Power and provider of Digital Platform. While the Covid-19 pandemic had an adverse impact on the Group's industrial land sales in Thailand due to temporary travel restrictions, industrial land customer enquiries have been resilient, with Thailand's economic fundamentals and investment attractiveness remaining strong.
Despite the situation, a number of WHA businesses showed excellent performance. The Logistics hub experienced growth, driven by E-Commerce and demand for industrial and warehouse facilities in Thailand, approximately 130,600 occupied square meters were added in 2020 with an additional 112,000 square-meters of lucrative short-term contracts.
In Vietnam, large FDI inflows led to significant industrial land sales at the Group's industrial zone in Nghe An province, where half of the project's Phase 1 Milestone 1, representing a gross area of 900 rai, has been secured.
As the risks resulting from the Covid situation gradually fade, a strong market recovery is expected. WHA Group prepared itself and introduced new products and services in collaboration with new partners. Among the new activities is the establishment of a joint venture with Tus-Holdings, a leading Chinese Science and Technology group, to launch Thailand's first TusPark WHA Incubation Center in downtown Bangkok. Another joint-venture company was established with Bangkok Industrial Gas (BIG) for the production and distribution of industrial gas to WHA industrial estate customers.
With Vietnam now tagged as one of the preferred destinations of international investors, and one of the major beneficiaries of supply chain relocations, apart from Thailand, WHA signed a Memorandum of Understanding (MoU) last December with Thanh Hoa Provincial People's Committee (Thanh Hoa PPC) for the development of another two industrial zones in Thanh Hoa province, representing a total gross area of nearly 7,500 rai, marking a new major milestone in WHA Group's international expansion. WHA industrial estates in Thailand have also developed and expanded further. WHA Eastern Seaboard Industrial Estate 3 (WHA ESIE 3), covering 2,200 rai, was completed, while the construction of WHA Rayong 36, the Group's 11th industrial estate in Thailand with an area of 1,281 rai, started in Q4 2020.
The Utilities and Power business is enhancing its offering of high-value products, with the commencement of the operation of WHA's Wastewater Reclamation Plant – the largest in Thailand with an annual capacity of 9,125,000 cubic meters – and its Demineralized Water Plant with an annual maximum capacity of 4,400,000 cubic meters to supply demineralized water to Global Power Synergy Plc (GPSC). Despite the drought and COVID situations, WHAUP managed to increase its water sales and managed volume by 3.7% year on year to 114 million cubic meters. Higher demand for renewable energy facilitated the development of the solar energy business, now totaling 50.8 MW in terms of signed contracts and resulting in a total installed capacity of 590 equity MW.
WHA Digital increased its activities as well, with the signing in June 2020 of an agreement with JasTel Network Company Limited (JasTel) for the use of 109 racks in WHA's data centers. WHA collaborated with major telecommunication players to conduct 5G network planning and 5G solutions in WHA industrial estates.
In 2020, WHA Group successfully issued 2 REITS, raising more than THB 4,870 million of capital. HREIT increased its capital for the second time to invest in 48,127 square meters of factory and warehouse rental spaces. Similarly, WHART raised capital for the fifth time, to invest in 3 mega logistics centers with a total area of 128,789 square meters.
The Group's estimated normalized total revenue and share of profits in 2020 amount to THB 9.4 billion, decreasing 14% from the previous year, with a total asset value of THB 83 billion. The Group was able to maintain its credit rating at A-.
"Despite last year's challenging environment due to the Covid-19 pandemic, our solid business model, the rigorous responses we anticipated, as well as the steps taken to protect the interests of our customers, allowed us to minimize its impact," declared Ms. Jareeporn Jarukornsakul, Chairman and Group CEO of WHA Corporation Pcl. "During these challenging times, we were able to increase our activities in many businesses, initiate high-value products and services, expand new projects both in Thailand and in Vietnam, as well as maintain strong financial position and financing capability. We have reached a number of key milestones and look forward to continuous innovations, higher investments, and an improved business environment for 2021" she said.
Outlook for 2021 and Beyond
To kick start the year, the Group inaugurates WHA Tower, its new headquarters located on Debaratna Road (Bangna Trad) KM 7. The 25-storey Grade A office building offers over 52,000 square meters of high-end office space for WHA employees and customers, and other tenants attracted by its convenient location and accessibility, its future-ready technology, and Asia-Pacific Property award-winning commercial high-rise architectural design.
WHA Logistics strives to capture high-growth industries' demand and increase value-added services through new technologies, especially in the E-Commerce sector, third party logistics, healthcare and other sectors which are experiencing a new wave of growth since the start of the Covid pandemic. Equipped with strategic locations around Bangkok, Samut Prakarn and in the Eastern Economic Corridor (EEC), WHA Logistics is well-positioned to continue its existing relationships with its blue-chip customers and establish long-term partnerships with both regional and global players. In 2021, WHA Logistics will launch 5 Mega Logistics Projects of 400,000 square meters. Furthermore, the use of new technologies such as 5G or robotics will enable WHA Logistics to further develop its "Smart Warehouse" concept. New projects and industrial building rentals in 2021 are targeted to reach a total of 175,000 square meters and an additional 50,000 square meters of high-margin short-term contracts.
WHA Industrial Development (WHAID) reinforces its leadership in Thailand and accelerates its expansion in Vietnam. Strategically located in the EEC, WHA Rayong 36 is ready to welcome investors, while pre-construction work will continue for 3 upcoming projects, specifically the expansion phase of WHA Eastern Seaboard Industrial Estate 4 (641 rai) and WHA Industrial Estate Rayong (2,152 rai) in Rayong, as well as WHA Saraburi Industrial Land 2 (1,907 rai) in Saraburi. WHA Smart Eco-Industrial Estates will reach a new milestone with the set-up of a centralized control room at WHA Tower, enabling operations monitoring from a single platform and location.
In Vietnam, WHA ID will accelerate necessary pre-construction work at WHA Industrial Zone Nghe An for the remaining of Phase 1 and additional Phases 2 and 3, which will total 7,800 rai upon completion. Preparatory steps will be undertaken at the 2 new Thanh Hoa projects of 7,500 rai, WHA Smart Technology Industrial Zone Thanh Hoa and WHA Northern Industrial Zone Thanh Hoa, with construction expected to start in 2022-2023. As a result of sustained customer development activities, 2021 total land sales are targeted to reach 1,000 rai.
WHAUP is focusing on growing its Utilities business inside and outside the Group's industrial estates, both in Thailand and Vietnam. Innovative renewable energy solutions will continue to be developed and initiated.
For Utilities, WHAUP will leverage its expertise to offer value-added water products such as wastewater reclamation and demineralized water to industrial customers both in WHA industrial estates and non-WHA industrial estates, as well as other industrial land developers and municipalities. It also has plans to roll out Smart Utilities Services Platform and Innovative Solution for customers in WHA industrial estates. In Vietnam, where it owns equity stakes in 2 water companies, WHAUP will continue to explore new projects as well as M&A opportunities. 2021 utilities sales and managed volume is expected to reach 153 million cubic meters, an increase of 34% year on year.
For Power, WHAUP will enlarge its customer portfolio with the development of renewable energy solutions, in particular solar rooftop projects for industrial customers with target signed contracts of 30 MW. WHAUP will progress initiatives involving new technologies including the testing of peer-to-peer energy trading system with a view to implement as soon as satisfactory. 2021 power capacity is expected to reach 650 equity MW, an increase of 10% year on year.
WHA Digital Platform is committed to support all activities of the Group across its business hubs. FTTx will be installed in the remaining industrial estates where it is not yet in place to enhance digital connectivity. Strong customer development activities will be implemented in its Data Center business. 5G opportunities will be further progressed inside WHA industrial estates.
"We enter 2021 with optimism, while maintaining an edge of caution. With the plans and strategies we intend to initiate, plus our upcoming projects currently under development, we expect a recovery within the coming months and positive financial performance. We anticipate our normalized total revenue and share of profits to increase by at least 30% from last year, while sustaining our high profitability level with an EBITDA margin of over 35%. To maintain sustainable growth in the future, our forecasted 2021-2025 investment plan totals THB 56,000 million while targeting interest-bearing debt to equity ratio of not more than 1.5 time. Despite the challenges, we continue to move forward with confidence, thanks to our established strengths and our capabilities to adapt to the new fast-changing world," concluded Ms. Jareeporn.