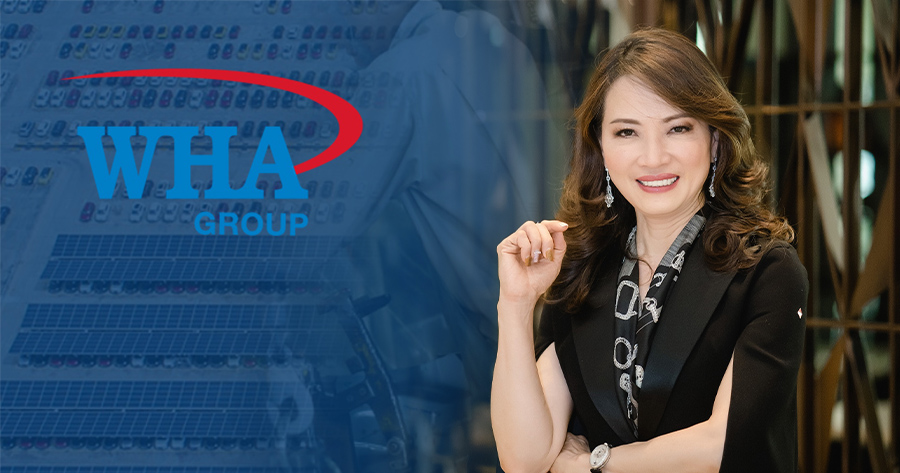 WHA Group Posts 2Q21 Normal Profit of ฿282Mn, 54% Growth QoQ
WHA posted 2Q21 earnings of 282 million baht, 54% growth QoQ, with water and solar businesses are growing tremendously.
WHA Corporation Public Company Limited (WHA), announced its Q2/2021 result with total revenue and share of profits of THB 1,873.1 million, and a net profit of THB 260.2 million. Total normalized revenue and share of profits reached THB 1,892.5 million and normalized profits amounted to THB 282.4 million. Chairman and Group CEO, Ms Jareeporn Jarukornsakul is confident on the robustness of WHA group's four business platforms despite the new wave of Covid-19, citing that logistics is still in high demand. Investors are urged to relocate to Thailand and Vietnam. The power and utilities business is growing. Demand for water and solar power are increasing. Adopting innovation and digital solutions as a path to future growth, the company targets to divest assets to REIT in Q42021.  
WHA Corporation Public Company Limited, or WHA Group, reported its Q2/2021 results with total revenue and share of profits of THB 1,873.1 million, and a net profit of THB 260.2 million, an increase of 33.3% and 92.3% from the previous quarter. Total normalized revenue and share of profits reached THB 1,892.5 million and normalized profits amounted to THB 282.4 million, an increase of 30.1% and 53.6% respectively. For the first 6 months of 2021, the company recorded total revenue and share of profits of THB 3,278.9 million, and a net profit of THB 394.9 million, an increase of 1.1% and decrease of 38.4% from the first 6 months of 2020. The company also realized total normalized revenue and share of profits equal to THB 3,346.8 million and normalized profits THB 466.2 million, an 1.9% increase and 31.1% decrease from the same period of last year.
The financial performance has reflected the strength of the company's four core businesses despite the challenges from the Covid-19 pandemic and the country's economic slowdown.  
Ms Jareeporn Jarukornsakul, Chairman of the Board of Directors and Group Chief Executive Officer of WHA Corporation PCL., revealed the operating results of the company's four core businesses during the first half of 2021. The logistics business grew in line with the demand for premium distribution centers and high-quality warehouses from e-commerce, and consumer sectors which have expanded continuously since last year. For Q2 and the first half of 2021, the company recognized revenue from property rental business equal to THB 279.9 million and THB 556.9 million respectively. Currently, the company has short-term lease contracts of 75,000 sq.m. substantially higher than the annual target of 50,000 sq.m. Strong demand for rental facilities also brought Q2 occupancy rate to achieve the average of 90% for Built-to-Suit assets across the portfolio.
In addition, the company has recently opened WHA Mega Logistics Center Laem Chabang 2, WHA Group's 38th project, spanning an area of 50,000 sq.m. The tenants are a leading electronic manufacturer and prominent 3L provider who will use the properties as the main distribution center for Thailand, Myanmar, Laos and Cambodia. The Covid-19 pandemic has accelerated the company to adopt digital technologies, both for its operations as well as product and service offerings to customers. At present, the company is discussing with start-ups in the logistics business and is expected to finalize deals by the end of this year. 
As for plans to sell assets and/or leasehold rights to REIT in 2021, unitholders have approved additional investment for the 7th time for 3 projects with total value not over THB 5,549.7 million. Assets consist of the WHA Mega Logistics Center (Wang Noi 62), WHA Mega Logistics Center Project (Bangna-Trad Road Km. 23 Project 3) and WHA E-Commerce Park Project, in Bang Pakong District, Chachoengsao Province, for a total area of 184,329 sq.m. These company assets are expected to recognize revenue within Q4/2021 as planned. Furthermore, the company is now exploring the potential issuance of digital assets both utility token and asset-backed token, in order to support its new business and future expansion.. 
In addition, to expand its property business, the company has recently launched "WHA Office Solutions", offering a total of 100,000 sq.m of world-class office spaces in 6 strategic locations in Bangkok and Samut Prakan province. These projects are WHA Tower Project, SJ Infinite I Project, @Premium Office Building, WHA Bangna Business Complex Project, TusPark WHA Innovation Incubator Center, and WHA KW S25 Project, currently under construction.
Industrial Estate Business – In the first half of 2021, the company recorded total land sales of 274 rai (241 rai in Thailand / 33 rai in Vietnam) and signed MoUs for 83 rai in Vietnam. The company recorded land transfer revenue during the first half at a total THB 691.8 million, declining from the same period last year. However, compared to revenue in Q1/2021 that reached about THB 154.1 million, the revenue from the industrial estate business in Q2 increased to THB 537.7 million, in line with Thailand's improving investment and export conditions. Q2/2021 started to show positive signs of recovery, especially among Japanese, European, Chinese and Taiwanese investors. In addition, Indian investors have expressed interest in moving production bases to Thailand, due to Covid-19 epidemic crisis at the beginning of this year. 
In Vietnam, the company recorded total Q2 land sales of 33 rai and MoUs of 83 rai due to well-reception of WHA Industrial Zone 1- Nghe An. The company has accelerated the construction of the remaining 2,100 rai of Phase 1B and is expanding the construction of Phase 2 and Phase 3 with an additional area of ​​4,700 rai. It is seeking necessary permission and approvals to develop two more industrial zones in Thanh Hoa Province, covering a total area of ​​​​over 7,500 rai. The company expects to start developing WHA Northern Industrial Zone and WHA Smart Technology Industrial Zone by the end of this year. The company has been closely monitoring vaccine production and distribution process in Thailand and neighboring countries. At present, it is in active discussion with more than 30 potential investors. Total land sales prospect both in Thailand and Vietnam account for over 2,000 rai. Once the vaccination roll-out is successful , it will help expand trade and investment in the region. 
WHA Group continues to implement the Smart Eco Industrial Estate that is equipped with the latest technology for production, transportation, communication and environment protection.  At present, the company and its partners are in the process of launching digital healthcare services to customers, employees/workers and residents of its industrial estates, through telemedicine, artificial intelligence (AI), and blockchain technology. The company has recently supported Perceptra, a Thai startup that uses AI to analyze x-ray images to assist medical professionals at field hospitals to diagnose and detect early signs of COVID-19 lung damage. 
In addition, the Unified Control Center (UOC) at WHA Tower, WHA Group's new head office, is now up and running. The UOC will act as a center of command with a real-time surveillance system that analyses data and supports the decision-making in daily operations or emergency situations. The system will send signals to the responsible units, as well as send out notifications via the LINE application, so that people in charge can take appropriate action in a timely manner. 
Utilities Business – The Group CEO announced that the performance of the water business in Q2 was outstanding. Total water sales and management in Thailand and Vietnam in the second quarter and the first half of 2021 reached 35.2 million and 67.3 million cubic meters respectively. For this period, the company recognized revenue representing THB 595.8 and THB 1,182.1 million respectively. 
Domestic water sales volume recorded stronger growth in all product categories. Water sales in the second quarter and the first six months of 2021 achieved a total of 29.3 million and 56.8 million cubic meters, respectively, increasing by 27.3% and 16.6% from the same period last year. This growth reflects rising water demand from both existing industrial customers and new petrochemical customers such as GC Oxirane, who inaugurated its commercial operations late last year and consumes 5,000 cubic meters of water per day, or power plant customers such as Gulf SRC, who expanded its production capacity and ramps up water consumption to 12,500 cubic meters per day. Besides, the sharp rise of value-added water product sales in the first six months of 2021 also contributed to overall higher water sales.
During the same period, water sales in Vietnam reached 5.8 million and 10.5 million cubic meters respectively, rising 28.9% and 25.0% from the same period last year. Duong River Surface Water Plant Co, one of the leading tap water providers in Hanoi, in which WHA Group holds a 34% stake, benefitted from the growing industrial areas in Hanoi and nearby cities of Bac Ninh and Hung Yen. In 2020, Duong River Surface Water Plant expanded its tap water network to Bac Ninh and will extend its network to Hung Yen to provide tap water services to customers in the three cities.
In addition, the company has developed new products such as demineralized water and premium clarified water, and innovative solutions such as wastewater reclamation, based on the concept of circular economy. The circular economy maintains the values of natural resources in the production and consumption process, through recycle or reuse. This innovative value chain allows the company to not only generate additional revenue from wastewater treatment service and the sale of premium water products, but also bring in sustainability for raw water resource management by reducing dependence on raw water suppliers and  uncertainties on water quantity and quality arising from drought, pollution and contamination.      
For power business, the company realized a share of normalized operating profit from investment in subsidiaries and joint ventures, excluding profit and loss from foreign exchange, equal to THB 271.5 million and THB 437.1 million in Q2 and the first six months of 2021, respectively. During the first half of this year, the IPP business recorded a lower than expected share of profits. This was due to the closure of Gheco-One power plant for the planned maintenance for 37 days in Q1 and unplanned maintenance for 20 days in Q2 which has led to a reduction of availability payment. However, after maintenance works were completed, the power plant resumed normal operations. Some of the lost availability payment will be compensated in the remaining period of the year and will eventually improve the total share of profit from Gheco-One for this year. Meanwhile, the eight SPP power plants still recorded strong performance.
In Q2, the company signed a new solar rooftop contract for 1.8 MW, bringing the total outstanding contracts to 63 MW. The new projects, which have already started COD, generate an additional 2.5 MW of electricity, bringing total COD capacity to 46 MW. The company now achieved a COD equity MW of 596 MW. The company is also expecting to sign a new solar deal of 20 MW, the company's biggest solar rooftop contract ever, with a leading manufacturer.
WHA Group is a fully integrated solar system provider under Solar Private PPA with a variety of product and service offerings comprising Solar Rooftop, Solar Carpark, Floating Solar, and Solar Farm.  The company has a plan to expand its solar business to generate electricity for customers at its industrial estates and distribution centers/warehouses, as well as for customers outside its industrial estates. The company is also exploring cross-border M&A opportunities to acquire solar and wind farm projects in Vietnam.
Digital platform business – The company will support customers and investors wishing to bring 5G technology into their businesses and enhance competitiveness. It has co-developed/ invested in 5G towers with leading telecom operators. For the remaining period of this year, the company will conduct 5G network trials along with the speedy installation of fiber optic cable system (FTTx) in its industrial estates. The Covid-19 pandemic has emphasized the importance of quality digital infrastructure, as a result, the Company's data center has received an overwhelming interest. Currently, WHA Digital is under negotiation with several potential investors and shall be able to announce the result by the end of this year..   
As the Covid-19 situation in Samut Prakan worsens and the number of infected cases is rising, two major hospitals in the province now have insufficient capacity to take care of Covid patients. WHA Real Estate Management Co, the manager of WHA Premium Growth Freehold and Leasehold REIT (WHART), offered its support to Samut Prakan, allowing the use of its 10,000 sq.m. warehouse at WHA Mega Logistics Center Chonlaharnpichit KM 4, to be used as a 1,300-bed field hospital, "Samut Prakan Ruamjai 5 (WHA)", during July 1-September 30, 2021. This site will be used for the treatment of asymptomatic COVID-19 patients. As the main hospital at the facility, Samut Prakan Hospital is ready to provide care and treatment for patients.