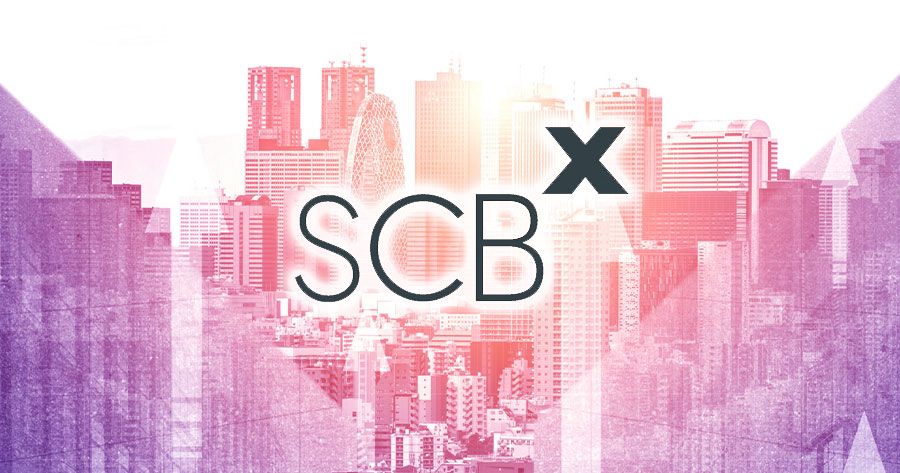 SCBX: Audacious Move to Meet 1 Trillion Baht Valuation
Portfolio companies strategically positioned to achieve bold targets set by mothership SCBX
The road to a 1 trillion baht company is just the beginning of a path to its success after the big announcement last week for being the first Thai bank to finally enable capabilities for an endless growth potential as a fintech company with SCBX taking the helm as mothership.
The business restructured from SCB to SCBX as a holding company at the top of the entire group with an increased capital to 34 billion baht by a 1:1 share swap, turning the once known banking company into a tech-driven group.
The restructuring comes as sustainable growth of traditional banks globally is under mounting pressure by disruptive fintech companies.
Over the years, SCB through strategic merger and acquisition and joint ventures expanded to various fintech and other technological businesses. However, regulatory limitations limit funding thus growth of the portfolio companies. The restructuring would not adversely affect the capital base of the banks, allowing the holding company to channel required funds to each of the portfolio companies. This would also ensure complete compliance and required focus needed for each strategic business unit under the holding entity.
From one entity, SCB expects to break down its businesses into each individual, notably naming; Card X, Auto X, Alpha X, AISCB JV, CPG-SCB fund, SCB ABACUS, and SCB10X.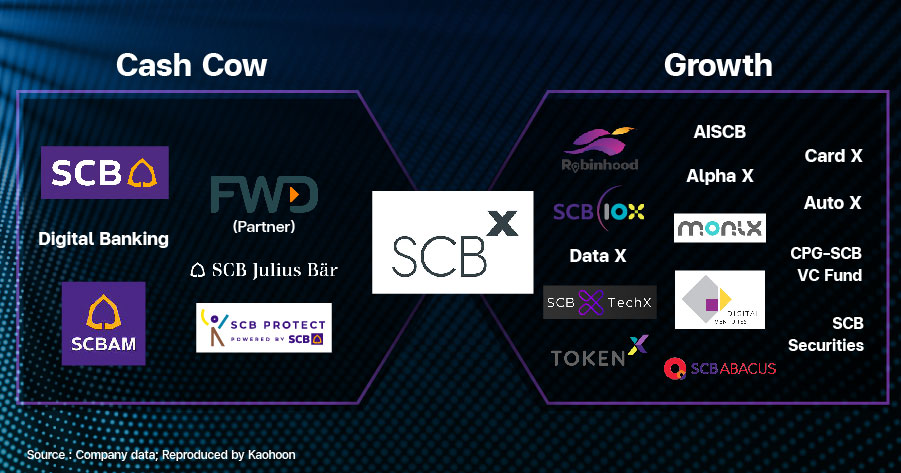 Dividend payout is the key to shape up its subsidiaries in the first few years. SCB will offer a one-off dividend payment at a total amount of 70 billion baht which will be divided into two portions. 70% of the total amount or 49 billion baht will be separately injected into its subsidiaries at a proper amount. After one or two years of going into the business, each of them will go through the process of raising funds from other investors with a premium to continue growing. The main objective is to strengthen each entity to be able to stand on its own feet.
As for the second portion of the dividend payout worth 21 billion baht or 30%, SCB will offer to current shareholders at a price around 6.18 baht per share, representing approximately a 5% dividend yield.
Timeline of this transaction is very essential for both the company, shareholders and investors. The Excluding Meetings (XM) date is October 5, followed by an EGM on November 15 for approval. The tender offer will begin in January 2022, and if everything goes according to the plan, SCBX will be listed in the Thai stock market in February 2022 and a dividend payment within the second quarter of the same year.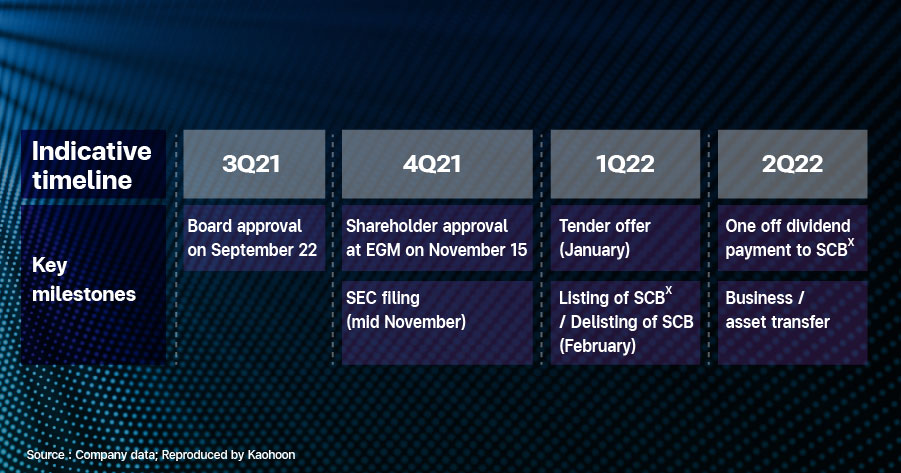 Three business pillars that SCB introduced are cash cow, growth in consumer finance and digital financial services, and growth in digital platforms and technology services.
The group aims to reach a customer base of 200 million both domestically and internationally with a core focus in the ASEAN region. Meanwhile, earnings are expected to increase by 1.5 times over the course of five years as one-third of the revenue to be contributed by the growth businesses.
The valuation for each business may not be visible now, but comparing them to its competitor in the market could give some insight to how these entities could be compared with their peers in the market.
Card X will be one of the two entities with a confirmed timeline for a spinoff. The business will separate itself from SCB's credit card business to compete with Krungthai Card Public Company Limited (KTC) and Aeon Thana Sinsap (Thailand) Public Company Limited (AEONTS) that are currently trading in the Thai stock market.
As one of Thailand's largest consumer loan providers in the industry, Card X has 120 billion baht of outstanding loan, more than 3.7 million loan accounts and 2.7 million credit cards on the back of 13% market share.
Compared to its competitors in the same sector, KTC's credit card receivable market share was 13.6% as of 2Q21, while AEONTS had credit card and personal loan segments at a range of 9-11% as of the end of 2020.
In terms of valuation, ROE of KTC and AEONTS as of 2Q21 are 26.35% and 26.36%, respectively. Meanwhile, P/BV for both companies as of September 23 are 6.36x and 2.64x, respectively.
Card X is expected an IPO in the next 3-5 years.
Another entity with a certainty of listing in the Thai stock market is SCB ABACUS. The business will focus on personal and nano finance in Thailand and regional under the flagship "money thunder" as well as already raised Series A worth of 400 million baht. The app has 5 million downloads, 5x growth YoY and is expected an IPO in 2025.
Auto X is a car-title loan business, expecting to offer its service to the public in the first quarter next year. Primarily, the business model is expected to be similar to those of MTC, AMANAH, TIDLOR and SAWAD.
The auto leasing market is a very competitive landscape in Thailand due to high gross profit margin with SAWAD and MTC as current leaders in the market. MTC is a well-known title loan and personal loan company.
SAWAD has strengthened its power by joining the Government Saving Bank to enhance the business. Meanwhile, the newly-listed TIDLOR has Bank of Ayudhya Public Company Limited (BAY) as its backup.
The ROE of these aforementioned auto-loan companies as of 2Q21 are 26.43% for MTC, 22.56% for SAWAD and 13.34% for TIDLOR. Although this is a tough market to compete with, BAY has shown that there are rooms for growth by sending its subsidiary, TIDLOR, to the field.
Auto X is expected to be listed in the next 3-5 years.
Similar to Auto X but with an upgraded version, Alpha X has a registered capital of 300 million baht and a partner of MGC-Asia (owner of BMW, Mini, Honda, Harley, Royce, and many other brands), will focus on hire purchase upper tier, refinance, expensive car and big bike, as well as yachts and river boats. This client base could link to SCB wealth management in the future, same target, easily access by variety of products.
SCB 10X is a venture capital financing startups, blockchain and digital assets. The business has a current port size of USD400 million with 40 investments and 6 unicorns. SCB ABACUS is the first venture building with a successful fundraising. This entity will become the digital technology investment and innovation arm for SCB group.
Under SCB 10X, Charoen Pokphand Group (CPG), Thailand's largest private company and one of the world's largest conglomerates, also joins hand with SCB to form a venture capital primarily used to fund financial tech businesses such as blockchain, decentralized finance and other emerging technologies in fin tech. The size of the fund is reported to be USD 600-800 million.
Purple Venture mainly operates the Robinhood application, which has 2 million accumulated users and more than 140,000 merchants. The goal is to become a super app and sync the application (similar to grab) across the platforms to maximize the transactions.
It is possible that the company will raise funds in the future if the number of active users reaches a certain level. On the other hand, Grab is expected to go public through a SPAC deal at the valuation of USD40 billion.
AISCB will provide a digital lending service. The entity has a registered capital of 600 million baht with a shareholding of 50:50 with Advanced Info Service Public Company Limited (ADVANC), Thailand's leading telecommunication company. The business will leverage AIS' 43.2 million users for customer insights, strength of digital technology and large customer base nationwide with decent access to customers and 12.5 million users of SCB Easy with expertise in data analytics, product development with strong brand value and financial know-how to develop underwriting models and proper risk management.
Concluding thoughts:
What SCB did is to liberate itself from the same old traditions run by generations to generations since 1904 and giving independence to its entities to drive their own business while establishing SCBX as a tech-driven mothership.
Each company will have endless growth potential with top executives taking the helm. Think of how Mr. Arthid Nanthawithaya, the bank's CEO, has driven SCB to this point. From 2022 onwards, there will be more than 10 of Mr. Arthid Nanthawithaya-like in each company under SCBX.
The restructure is a very audacious move that must be monitored closely, especially the timeline of the spinoff of the entities under SCBX into the stock market. Under the three pillars where all subsidiaries are listed, the Cash Cow may not be required to be a listed company.
In the meantime, the banking business, credit card and leasing business will be the driving force for SCBX as a whole to reach its target.
The spinoff into the Thai stock market will increase the market capitalization and book value of themselves, which will return to the mothership, SCBX, in the end. A significant growth in the stock market will guide SCBX to a 1 trillion baht company as Mr. Arthid Nanthawithaya has introduced in the 5-year plan.