Airports of Thailand Public Company Limited (AOT) has reported its 2Q20 consolidated financial statement ending March 31, 2020, through the Stock Exchange of Thailand as follows;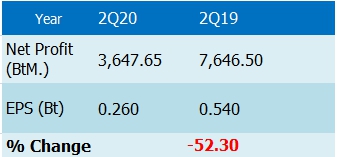 In the second quarter of FY 2020 (January 1st, 2020 – March 31st, 2020) AOT generated net profit of 3,647.64 million baht, decreased by 3,998.86 million baht or 52.30%, compared to the same period last year. Total revenues decreased by 5,219.99 million baht or 30.48% as a result of a decrease in aeronautical revenue of 2,984.39 million baht or 30.68% and non-aeronautical revenue of 2,234.95 million baht or 30.22% because of decreasing in number of flights and passengers.
Total expenses decreased by 196.62 million baht or 2.48%. The main reason was a decrease in outsourcing expenses which mostly caused by expenses from advance passenger checking service (APPS) which paid to service providers was decreased by 159.01 million baht. Income tax expense decreased by 1,007.93 million baht or 51.90%, which was in line with decrease in net profit.
For the three-month period ended March 31, 2020, aeronautical revenue of 6,742.66 million baht decreased by 2,984.39 million baht or 30.68% comparing to the same period last year due to a decrease in departure passenger service charges of 2,588.40 million baht or 34.27%. This was because of a decrease in the number of passengers in six airports by 30.35%. Moreover, landing and parking charges decreased by 372.53 million baht or 19.04% due to a decrease in number of fights by 18.54%. T
The overall air traffic volume of AOT during October 2019 to March 2020 decreased compared to the same period last year. This is because the number of flights and passengers (especially Chinese) decreased due to the Coronavirus Disease 2019 (COVID-19) pandemic at the beginning of 2020 still intensifying all over the world.
Each country has intensely increased preventive measures including screening and prohibiting travel in and out of the country. Moreover, airlines began to temporarily cancel international flights which greatly affect the overall global economy and the tourism industry of Thailand.
Although the Thai economy has been negatively impacted by the COVID-19, both direct and indirect, the government has issued measures to remedy the economic effects of the virus and also enhance liquidity for operators, labour, and self-employed workers that are not in the social security system.
AOT has issued measures to assist the concessionaires at the six airports under AOT's responsibility, by offering a discount on fixed monthly concession fees from 1 February 2020 to 31 January 2021 at the rate of 20%, offering a discount on percentage-based concession fees and waiving collection of monthly/annual minimum guarantees. The percentage-based fees will only be collected from 1 February 2020 to 31 March 2022.
In addition, to help the liquidity of the concessionaires during the crisis period, if requested by the concessionaires, AOT will extend payments for February 2020 to July 2020 concession fees for another six months. These measures are to lighten the burden of concessionaires affected by the crisis.