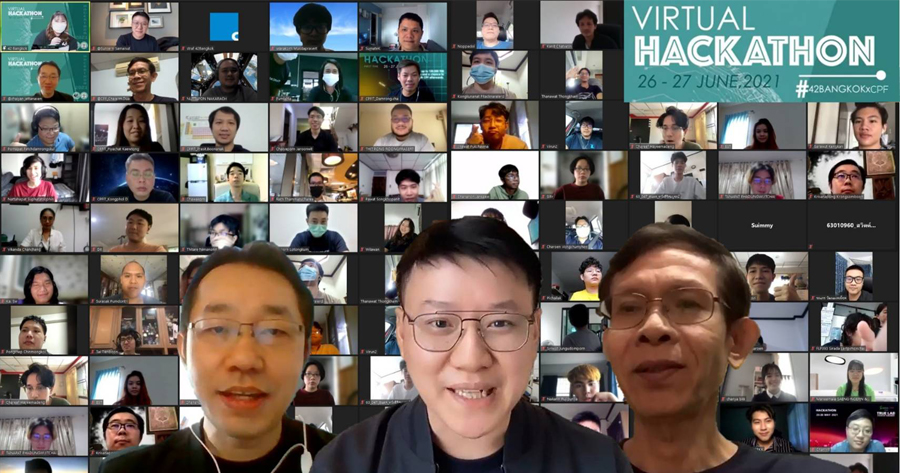 CPF Co-hosts Hackathon with 42 Bangkok to Develop Talented Innovators for Agri-Tech
CPF joins hands with 42 Bangkok to host a "Virtual Hackathon by 42 Bangkok X CPF" to develop talented innovators for agri-tech in Thailand.
Charoen Pokphand Foods Public Company Limited (CPF) joins hands with "42 Bangkok", a Thailand campus of 42 Network, a world-renowned coding and programming school, to host a "Virtual Hackathon by 42 Bangkok X CPF" in an effort to find more talents for accelerating the agricultural and food sector toward digital transformation.
Mr. Sunsern Samaisut, Managing Director of CPF IT Center, said the partnership with a worldwide reputation coding school like 42 Bangkok will help Thailand to develop much needed prospects for Thailand's agricultural sector. The competition also allows Thai programmers, software developers, coders, engineers to exhibit their digital solutions or innovation for agriculture and food production.
"CPF collaborates with 42 Bangkok to drive both the company and agriculture sector toward a digital age. This program is aimed to develop young agri-tech programmers to meet the demand of agricultural sectors in Thailand. If we can develop digital solutions domestically, the price of tech-solutions will be more accessible for farmers and allow more efficient and more sustainable farming," said Sunsern.
The participants had to take on one of the six challenges that responded to the business of CP Foods and come up with a digital solution to upgrade the agriculture process. The challenges included an application of Machine Learning (ML) and Artificial Intelligence (AI) to improve farming process, Agriculture GIS Visualization, Smart Shrimp Farming, On-Shelf product availability with image processing, Document type classification and data extraction for automated data entry, and real-time Food Supply Chain (Conceptual) Model.
Mr. Sunsern says the Virtual Hackathon helped them to use their ideas and skills to solve real-world challenges. This way, the company can find young prospects for the future of the sector.
The Hackathon took place virtually on 26 and 27 June 2021 with a total of 24 teams and 96 people participating in the competition.
"Corn – Lab" application from the "Popcorn" team has won "the Best Award", the highest prize of this event. They outlined the winning idea: "Making corn farming fun, easy and efficient". The team developed an all-about-corn knowledge center. There, the corn grower can learn about how to apply machine learning and AI in farm management, helping them to grow corn efficiently and sustainably.
The application also provides solutions to common problems found in corn farming. The team also created a community network of corn growers to share their expertise to the others.
Mr. Sansern added that this cooperation is a great opportunity for CP Foods for achieving the kitchen of the world's vision. Technologies can upgrade agriculture processes for farmers, helping develop Thailand in line with the CP Group's "3-benefits" philosophy , which are benefits to the country, the people and the company, that CP Foods has always adhered to.
42 Bangkok is a Thailand campus of "42", a world-class education coding school originally from France, jointly found by King Mongkut's Institute of Technology Ladkrabang to be a provider of free knowledge in the field of programming as the demand for programming skills is rising and will continue to rise for many years to come.