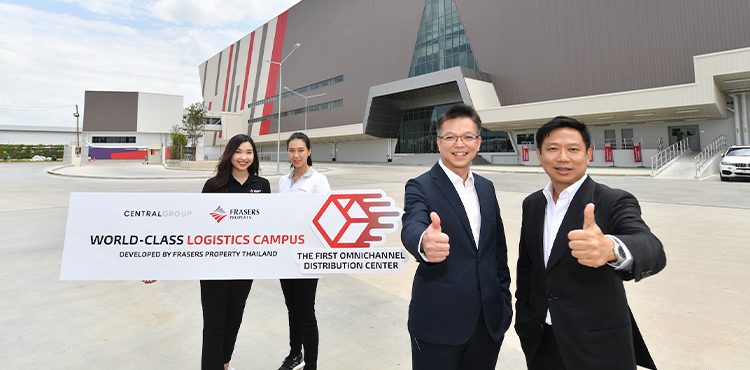 FPT Unveils Thailand's First Omnichannel Distribution Center for Central Retail
Frasers Property Thailand marks a new success for Thailand's first Omnichannel Distribution Center for Central Retail Supporting the growth of e-commerce trend with the handover of 75,000 sqm leasable area.
Frasers Property (Thailand) Public Company Limited (FPT), a leading provider of integrated real estate platform, announced today that Frasers Property Industrial (Thailand) Co., Ltd, a subsidiary of FPT,  recently completed and handed over the development of the 75,000 sqm Omnichannel Distribution Center for Central Retail, Thailand's leading retailer.
This achievement is a continued development of its partnership with Central Group. In 2018, FPT completed Power Buy's built-to-suit distribution center (DC) which spans 34,300 sqm, the largest DC of Power Buy in Asia. The project is strategically located next to Central Retail's campus. Combining both accomplishments of FPT's development, Central Group logistics campus now occupies more than 100,000 sqm of FPT's leasable area.
This facility which is aimed at enhancing the efficiency of Central Retail group's logistics and distribution operations is poised to be the largest logistics campus for Central Retail group in Thailand.
Leveraging on its expertise in industrial property development, FPT successfully delivered Thailand's first world-class logistics campus for Central Retail in a timely manner despite the COVID-19 pandemic.
The Omnichannel Distribution Center features a high storage zone of 25-meter clear height with a hybrid design for future expansion supporting up to 10 tons per square meter and a 15-meter clear height area supporting the cross-dock operation. With the well-thought-out design of the high storage zone, advanced operational technologies such as automated storage and retrieval systems (ASRS) and other automation systems can be flexibly installed or augmented.
Central Retail's campus is strategically located in Frasers Property Logistics Center Bangplee cluster which is an ideal location for nationwide distribution. The project is situated close to major road linkages to the highways and the industrial ring road which will enable Central Retail to maximize their efficiency in logistics operation.
This DC hub will facilitate logistics activities of multi-category products through cross-channel for the affiliates of Central Retail Group, namely Central Department Stores, Robinson Department Stores, Supersports, B2S, Central Marketing Group (CMG) stores, MUJI and Power Buy.
Distinguishing this flagship project as the first pioneering distribution center campus for sustainability in Thailand, Central Retail's campus fulfills the customer's pathway to sustainable operations in a holistic view: social sustainability and eco-sustainability.
The human-centric approach has been applied to the project design since the beginning. Highlighting the work-life balance concept, the architecture and atmosphere at the campus are designed to improve end user's quality of life.
There are a fitness center, a breakout area, a running track, a futsal court and a canteen and etc. at the facility promoting a wellness lifestyle for the on-site employees. A link bridge connecting the warehouse to the canteen helps to ensure that end-users can access these amenities conveniently and safely. The state-of-art distribution center campus also has rooftop solar panels installed to provide captive power production. The modern built-to-suit facility was designed and built to meet LEED (Leadership in Energy and Environmental Design) certified 'Green Building' standards.
Mr. Sopon Racharaksa, President of FPT, said: "Our commitment to customers is always our key priority. With our capabilities and experiences in industrial property development, we are proud to deliver the first and finest omnichannel distribution center to Central Retail. This world-class built-to-suit development project reflects FPT's ability to understand customers' needs under its customer-centric approach. FPT provides services and solutions that cater to the specific requirements of each customer. Through the distinctive concept of work-life balance with human-centric design, the campus' uniqueness will set a new standard for other distribution centers in Thailand. This facility offers high flexibility to meet evolving supply chain trends, logistics systems, and future innovations."
Dr. Piyapong Thanyasrisung, Chief Operating Officer of Central Department Store, said: "Central Retail is the first retail company in the industry with the omnichannel platform offering the best shopping experiences to customers through online and offline channels seamlessly. To ensure satisfying customer experiences, we partnered with FPT in developing Thailand's first world-class Omnichannel Distribution Center to support warehouse operations for the non-food products of all Central Retail's business units. Besides, it will support sales activities at Central Retail's physical stores and online platforms such as Central's online store, Chat & Shop, Click & Collect, and E-ordering services. With the warehousing and logistical capabilities, the Omnichannel Distribution Center will support Central Retail's mission to deliver every order to customers within an hour and will carry our key strategy to drive business growth through omnichannel retailing."