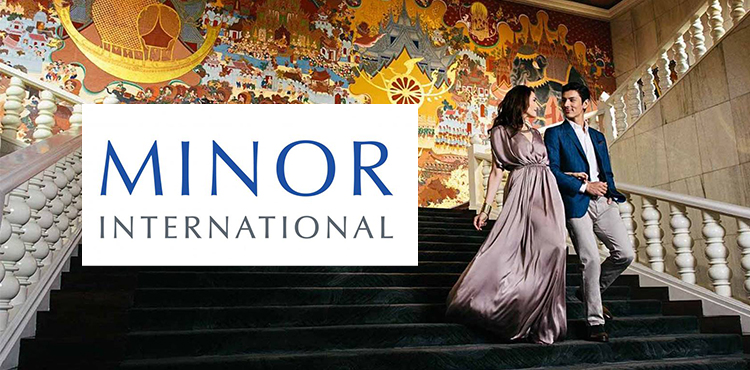 MINT Approaches 2021 Cautiously, Expecting Positive Earnings amid Pandemic Crisis
MINT announced its third quarter financial results for the year 2020. Recovering from its all-time low financial performance amidst the COVID-19 outbreak,
Minor International Public Company Limited (MINT) today announced its third quarter financial results for the year 2020. Recovering from its all-time low financial performance with net losses of Baht 8.4 billion in 2Q20 amidst the COVID-19 outbreak, MINT reported a significant reduced net loss of Baht 5.6 billion in 3Q20. On a like-for-like basis (core and before the effect of TFRS 16 accounting impact), MINT's net loss was Baht 4.4 billion in 3Q20, compared with a net loss of Baht 6.7 billion in 2Q20.
For the first nine months of 2020, MINT reported core loss pre-TFRS 16 of Baht 14.1 billion, with no directly comparable period due to the impact of COVID-19. Amidst the ongoing difficult environment, MINT continues to actively manage its business by maximizing revenue opportunities, aggressively reducing costs, including lease costs of NH Hotel Group, minimizing CAPEX, and closely monitoring its balance sheet and cash flow position.
Mr. Dillip Rajakarier, Group CEO of Minor International said, "Third quarter results have proven how MINT has been able to be agile and adapt to the ever-changing external environment. As we all know, the pandemic has not only had a severe health humanitarian impact, it is also affecting the global economy. As countries around the globe started to relax the lockdown since May and businesses resumed operation in the third quarter, we started to see positive recovery across the businesses and geographies, all at different pace. It is worth highlighting that all hubs of Minor Food have turned profitable at the net profit level in the third quarter, with China hub taking the lead. Minor Hotels has seen good recovery in Australia and its mixed-use business, both of which generated positive EBITDA (before TFRS 16) in the third quarter. In Europe, although the recovery has been slower than we expected as a result of the surge in COVID-19 cases, NH Hotel Group has clearly outperformed their closest competitor in terms of financial performance, including revenue, EBITDA and net profit recovery. Although recovery to the normal level, especially for the hospitality industry will take time, we are encouraged by the improving signs, particularly with the likely arrival of vaccine. The resilient food business has been a substantial support to our overall performance."
Minor Food's financial performance recovered to net profit of Baht 208 million in 3Q20 following net losses in the first two quarters of the year. The net profit in the quarter was back to the pre-COVID level, as compared to net profit of Baht 207 million in the same period last year. The turnaround was primarily attributable to the exceptional performance of China hub with same-store-sales turning positive to a growth of 3% and total-system-sales growth of 8.1%.
In addition, strong delivery and takeaway business in Thailand, the robust contribution of Bonchon, together with aggressive cost control across all geographies which resulted in 14% cost reduction compared to 3Q19, led to improved profitability of Minor Food in 3Q20 compared to 3Q19.
With gradual reopening during 3Q20, over 80% of the hotel portfolio were operational at the end of the quarter. Consequently, Minor Hotels' average occupancy of the entire portfolio improved from only 9% in 2Q20 to 32% in 3Q20, whilst RevPar decline recovered from -91% in 2Q20 to -63% in 3Q20.
Among the regions, Australia has seen the fastest recovery with RevPar decline of only -32%, bringing it above break-even point and generating positive EBITDA during the quarter. Maldives hotels have seen good traction since hotel reopening at the end of September with Anantara Kihavah Villas, MINT's flagship hotel, boasting an average occupancy of almost 70% in November, as the high season approaches.
Moreover, NH Hotel Group has seen a turnaround to positive gross operating profit in 3Q20 vs negative gross operating profit in 2Q20. NH Hotel Group's negotiation with landlords led to potential lease and rental-related savings of up to EUR 90 million for the full year. Furthermore, Minor Hotels continued to cautiously expand its portfolio, with the launch of 12 new hotels during the quarter, including the luxury Anantara Maia Seychelles and 7 hotels in Europe previously known as the prestigious Boscolo hotels. Minor Hotels will launch its first fully integrated scientific wellness and medical retreat, RAKxa in Bangkok, in the fourth quarter.
In addition, the performance of Minor Hotels has been supported by residential sales and the recovery of Anantara Vacation Club, which drove mixed-use business to report positive EBITDA during the quarter. This has helped alleviate the adverse impact of the COVID-19 pandemic on other parts of the portfolio, including Europe, the Americas and Asia.
With the aggressive cost cutting coupled with savings from leases, of which the combined amount resulted in a reduction of 40% of costs compared to 3Q19, Minor Hotels reported an improvement in its core losses (pre-TFRS 16) from Baht 6.4 billion in 2Q20 to Baht 4.5 billion in 3Q20.
At the consolidated level, MINT's financial performance was consistently better month-on-month since its peak core loss of Baht 2.7 billion in April to Baht 1.4 billion in September. Reflecting its strong on-going cost control measures, MINT's monthly cash burn, defined as operating cash flow, lease obligations and net capital expenditure, nearly halved from an average of Baht 2.9 billion per month in 2Q20 to Baht 1.5 billion per month in 3Q20.
Throughout this challenging time, MINT continues to focus on preserving liquidity and actively managing its balance sheet. As at end of October, MINT had approximately Baht 30 billion of cash on hand and Baht 25 billion of unutilized credit facilities, which combined are sufficient to support its operations going forward. In addition, MINT's comprehensive capital plan comprising the issuance of USD perpetual bonds, rights and warrants was successful with a high degree of investors and shareholders' confidence.
As a result, MINT's equity base was strengthened by almost Baht 20 billion as at end of 3Q20, with a potential of another Baht 5 billion of equity from warrant conversion over the next three years. This has significantly helped mitigate the continued challenging trading conditions during the quarter, resulting in a slight increase in MINT's debt-to-equity ratio from 1.63x as of the end of 2Q20 to 1.67x at the end of 3Q20.
As the company entered the fourth quarter, MINT is looking ahead into 2021 and planning for the continued challenges from the COVID-19 pandemic as the situation is volatile by country with the different lock down or restrictions imposed. It is anticipated that the overall business trend will improve as most countries are trying to reduce and control the spread of the virus with the likelihood of the availability of the vaccine, but the situation remains very fluid and volatile.
As a result, MINT remains cautious in its approach. MINT continues to maximize and seek new revenue opportunities, from being one of the first to operate as alternative state quarantine hotels in Thailand, to expanding the domestic market to capitalize on the demand and strengthening Minor Food's digital and delivery capabilities. Stringent cost control and capital expenditure reduction programs are being implemented throughout all three businesses and across all geographies.
In addition, MINT continues to closely monitor its balance sheet and cash position. MINT expects to post positive cash flow and profit in 2021 as a group, with the likelihood of the vaccine and the planned asset rotation strategy.
Mr. Rajakarier further commented, "We find ourselves in a unique and unprecedented situation where the key focus has been to manage our P&L, cash flow and balance sheet. With our businesses across the globe being impacted, we remain agile, yet focused on driving our business. Minimizing cash outflows and maintaining liquidity remain our priority, and we continue to monitor our balance sheet position closely while proactively mitigate any potential downside risks. Fundamentally, our various businesses are well-positioned within our core industries, with key assets in great locations resulting in customer goodwill, trading partner relationships, reputation, best-in-class intellectual properties and brand values. We have a portfolio of quality assets which continue to be in high demand even in this challenging environment, and therefore we can easily implement an asset rotation strategy to strengthen our balance sheet further. As always, I would like to thank all stakeholders and our team members who have given us great support during these unusually difficult times. We are committed to work hard to ensure that we all get through this together and come out stronger."