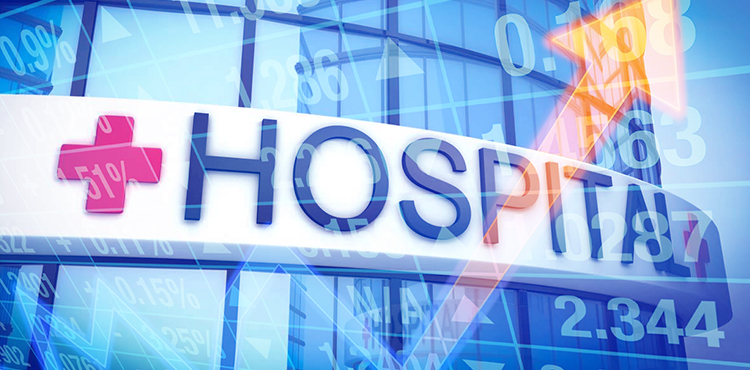 Healthcare Stocks Make a Strong Rally to Battle Covid-19
Healthcare-related stocks continued to edge higher in response to higher revenue from Covid-19 testing and anticipation of a Vaccine Import.
The share price of healthcare-related stocks edged higher last week, in response to higher revenue from Covid-19 testing and anticipation of a collaboration with the Thai government to import Covid-19 vaccines. However, those soaring stocks were shot down by investors for profit-taking as investing in the risk assets grew riskier amid rising Covid-19 cases in Thailand. Still, the decline on Monday did not erase the momentum for more revenue generation for healthcare sector during the third outbreak.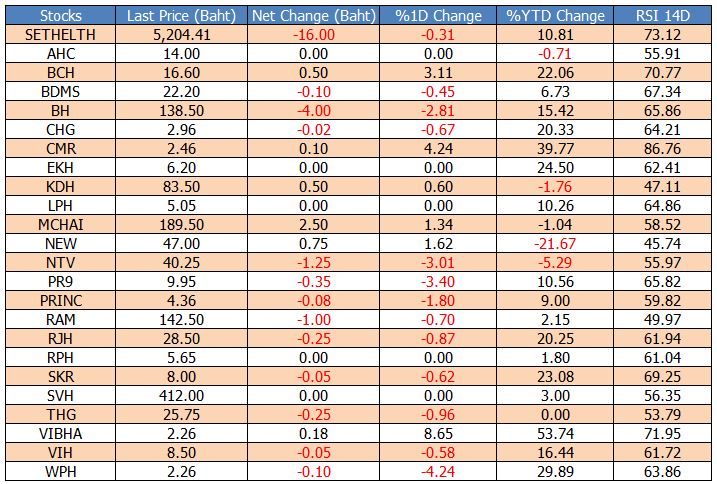 KGI Securities stated that on Friday, The Thai PM said the government was ready to simplify the import procedures for privately procured vaccines, providing they were in line with global standards. This resulted from a discussion with operators of private hospitals regarding collaboration with the government to import Covid-19 vaccines.
KGI viewed this as a positive news flow for Thailand's healthcare sector as private hospitals would have chances to import more vaccines from various brands globally to help reduce COVID-19 infection rates in the future.
The security company maintained Overweight rating for the sector. Currently, BDMS and BCH remain top picks considering i) potential earnings recovery in 2022F and ii) solid business platform for both domestic and international patients.
The key positives are i) potential revenue source from vaccination and ii) potential re-opening for international patients flying to Thailand for medical treatment. Earlier, Thailand's FDA approved requests of four private hospitals (Bangkok Dusit Medical Services (BDMS), Bangkok Chain Hospital (BCH), Ramkhamhaeng Hospital (RAM) and Thonburi Healthcare (THG)) to import vaccines to the country.
Currently, AstraZeneca, Sinovac and Johnson & Johnson COVID-19 vaccines have been approved by the FDA for private purchase. KGI believed the government would facilitate the process of the private sector to buy "alternative vaccines".
Despite the third wave of COVID-19 outbreak in Thailand, KGI believed the recovery for international hospitals would be supported by a return of international patients to Thailand at a rapid pace by 2H21.
KGI gave securities rating and target price to the healthcare sector as follows;
BCH – Outperform (TP at Bt23.00)
BDMS – Outperform (TP at Bt26.50)
BH – Neutral (TP at Bt136.00)
CHG – Outperform (TP at Bt3.40)
EKH – Outperform (TP at Bt6.20)
LPH – Neutral (TP at Bt4.90)
Meanwhile, Maybank Kim Eng expected the third wave of Covid starting in early April 2021 to have a similar impact as the second wave and hence, the 2Q21 outlook could be similar to 1Q21 with BCH and CHG benefiting from Covid testing and could report strong results. Nevertheless, all hospital operators could be impacted by lower patient traffic in 2Q21.
Given the high base in 4Q20, from Respiratory Syncytial Virus (the mild flu infecting children) and the Covid impact in 1Q21, we expect lower revenue in QoQ for BDMS, BH and CHG. Only BCH saw revenue growth of 1% QoQ, driven by Covid testing. CHG also earned about THB70m in hospital management revenue in 1Q21 (a new business) but this was not enough to offset the decline in revenues QoQ due to lower traffic.
Maybank raised BCH as its top pick, expecting the company to be the most beneficiary from Covid testing, starting from 2H December 2020, meant two things in 1Q21: 1) more Covid testing income for hospitals; and 2) lower traffic as patients avoided going to the hospital, especially for minor illnesses. Social-security operators (BCH and CHG) should book higher income from Covid testing as people at risk could test for free while the government reimbursed the hospitals at THB2,300 per test.
Maybank estimated there were 120,000 tests in 1Q21 (the highest growth QoQ in the sector), compared to 54,000 tests in 4Q20, and earned THB308m in Covid testing income in 1Q21 (THB141m in 4Q20) and was the main driver of its 11% QoQ and 19% YoY EPS growth. This should be a catalyst to the share price.
In addition, Maybank stated that Thailand's vaccination rollout is slow, as the government aims to vaccinate only about half of the population by the end of the year, and this is a key downside risk for the sector as prolonged Covid will hurt patient traffic.
In this regard, it may delay borders from reopening and incoming international patients that contribute to 67% of BH's normalized income and BDMS's 30%. Maybank preferred social-security hospital operators BCH (WACC 7.8%, 3% growth) and CHG (WACC 7%, 3% growth) who could continue to benefit from Covid testing.
Maybank gave securities rating and target price to the healthcare sector as follows;
BCH – BUY (TP at Bt18.00)
BDMS – BUY (TP at Bt25.00)
BH – Hold (TP at Bt150.00)
CHG – BUY (TP at Bt3.25)