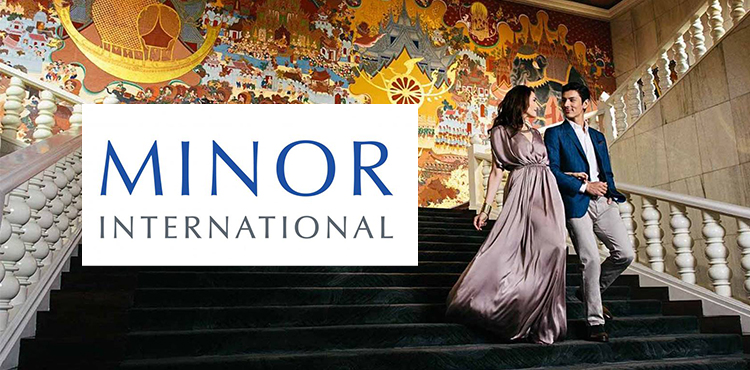 MINT Reports a Recovery in Core EBITDA, Expecting Clearer Recovery to Start in 2H21
Minor International Public Company Limited (MINT) has reported its 1Q21 consolidated financial statement through the Stock Exchange of Thailand as follows;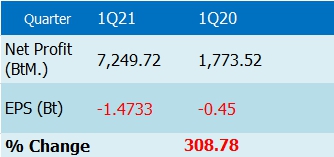 MINT reported a net loss of 7,249 million baht in 1Q21, compared to a net loss of 1,773 million baht in 1Q20 where the coronavirus outbreak first began.
The company reported 1Q21 core revenue of 12,499 million baht, a decrease of 44% compared to the same period last year. The resilient operations of management letting rights business and robust sales of residential units in the quarter could not fully compensate for the softer revenue of other businesses, especially hotels, when compared to 1Q20 where the first two months were still the pre-COVID-19 base.
Nevertheless, when compared to the previous quarter, the company still maintained its performance at the same level, though slightly lower than the previous quarter. In 4Q20, MINT reported core revenue of 14,128 million baht due to the challenging environment from COVID-19 pandemic on overall business operations, especially the second wave in Europe.
Core EBITDA in 1Q21 declined by 83% YoY to 521 million baht, attributable to lower sales flow-through from revenue shortfall, mainly from hotel operations despite the continuous cost reduction program.
Nevertheless, this was a positive development from core EBITDA loss of 51 million baht in 4Q20. Management letting rights, mixed-use, restaurant and lifestyle businesses posted positive EBITDA in the quarter.
MINT's owned and leased hotels portfolio (including NH Hotel Group), which accounted for 52% of core hotel & mixed-use revenues in 1Q21, reported YoY organic revenue per available room (RevPar) decline of 76% in Thai Baht term.
On a QoQ basis, RevPar of hotels in the Maldives and Latin America showed positive development from 4Q20 but still could not fully compensate for the RevPar shortfall in other regions, especially Thailand and Europe which faced a challenging environment with the reemergence of COVID-19.
In 1Q21, total core restaurant revenue fell by 10% YoY. The YoY top-line growth of China hub from robust operational recovery and Australia hub from positive impact of the foreign exchange rate, together with lower discount offerings helped ease the impact from the softer sales performance of Thailand hub, as well as loss contribution from joint ventures. Meanwhile, franchise income decreased by 12%,compared to the same period last year. The increase in local initial franchise income of Swensen's from renewed franchise contract was not sufficient to offset lower franchise revenue from other brands in Thailand.
Despite a decrease in revenue, core EBITDA in 1Q21 grew by 17% YoY to 1,079 million baht. The strong performance of Riverside restaurants in China, driven by robust sales flow-through and lower fish purchase price, together with disciplined cost management on manpower, rental and administrative expenses across Minor Food drove the overall operating profit. As a result, core EBITDA margin increased to 21.1% in 1Q21, compared to 1Q20 EBITDA margin of 16.2%.
In addition, MINT stated that positive development of vaccine rollout globally is an encouraging progress for 2021. Nevertheless, the situation remains very fluid in the short term with uncontrollable external factors such as new waves of COVID-19 pandemic and renewed mobility restrictions in many regions of the world. Despite the ongoing volatility, MINT foresees promising long-term outlook and will continue to focus on the sustainability of the businesses. MINT expects clearer recovery to start in the second half of this year, with the businesses ramping up throughout 2022.