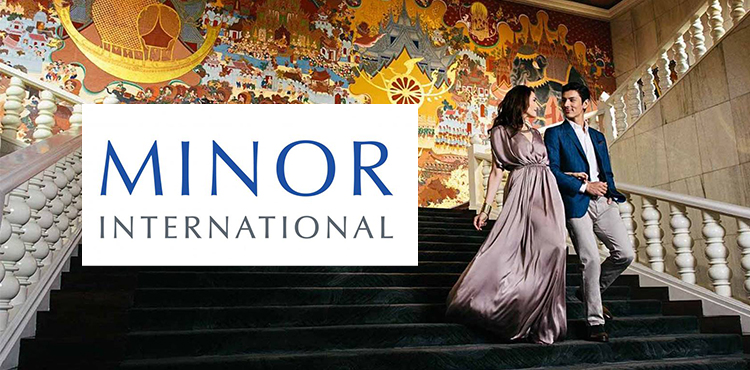 MINT Shows Improvement in 2Q21, Signalling Recovery Underway
MINT announced its second quarter 2021 financial results, posting a core loss of Baht 3.4 billion, improving both QoQ and YoY, signalling recovery underway.
Minor International Public Company Limited (MINT) today (August 13) announced its second quarter 2021 financial results, posting a core loss of Baht 3.4 billion, improving both q-q and y-y, from a core loss of Baht 5.2 billion in 1Q21 and Baht 7.2 billion in 2Q20, respectively. The y-y improvement was a result of the recovery of MINT's hotel business, principally in Europe, together with its food business. 
MINT reported better m-m performance throughout the second quarter of 2021 and returned to positive net profit in June, primarily due to the reopening and positive business trends of its hotel portfolio in Europe. 
Concurrently with its business recovery, MINT has successfully executed a number of important balance sheet management initiatives, both in terms of refinancing as well as asset rotation, in order to reinforce liquidity and continue to strengthen its balance sheet position. 
On a reported basis, including non recurring items, MINT posted a loss of Baht 3.9 billion in 2Q21 compared to a loss of Baht 8.4 billion in 2Q20 and a loss of Baht 11.2 billion in 1H21, compared to a loss of Baht 10.2 billion in 1H20. 
Minor Food reported core profit of Baht 103 million in 2Q21, a y-y turnaround from a net loss of Baht 385 million in 2Q20, but a q-q decline from a core profit of Baht 160 million in 1Q21. The q-q net profit decline was primarily attributable to Thailand hub, which was impacted by the restrictions following the third wave of COVID-19 that has been in effect since mid-April 2021. 
Despite the pandemic, Minor Food remained profitable for the fourth consecutive quarter, with all three main business hubs generating profit. Group-wide same-store-sales returned to positive growth of 6.2% y-y for the quarter, driven by China and Australia hubs with stronger domestic consumption in the two countries as economic activities recovered, together with the low base effect in 2Q20 due to the global lockdown. Same-store-sales of Thailand hub, on the other hand, remained weak amidst the pandemic. 
Nevertheless, Minor Food's revenue increased by 31% in 2Q21 compared to 2Q20, with more outlets in operation during the quarter of this year. The revenue increase, together with continued cost control measures, resulted in higher profitability for Minor Food in 2Q21. 
Minor Hotels posted significantly improved financial performance, with net losses reducing by almost half y-y, to a core loss of Baht 3.4 billion in 2Q21 from Baht 6.7 billion in 2Q20, and also improving significantly q-q from a core loss of Baht 5.3 billion in 1Q21. In fact, performance improved in each month of the financial quarter and returned to positive net profit for the first time in 18 months in June 2021. 
This y-y improvement was attributable to stronger trends across all geographies and all businesses, most notably the European portfolio with the relaxation of mobility restrictions in Europe starting in mid-May 2021, which resulted in reopening of hotels and increasing occupancy and room rates. 
Furthermore, hotels in Australia continued to perform well, with average occupancy of 74% in the second quarter and RevPar that is already 13% above 2019 pre-COVID levels. The Maldives also maintained its strong performance with RevPar nearly reaching 2019 pre-COVID levels in May and June, ahead of the industry, due to the efforts of the commercial team and the hotels' high service standards. Sales momentum of the real estate and Anantara Vacation Club businesses continued to be strong, with the two businesses remaining profitable during the quarter. 
Liquidity has remained MINT's key priority during uncertain times. Average monthly free cash flow turned positive to Baht 0.9 billion during 2Q21, as a result of improving operational results together with the proceeds from asset rotation of NH Collection Barcelona Gran Hotel Calderon in June. 
With an increase in cash on hand to Baht 27 billion and total unutilized credit facilities of Baht 31 billion as at end of July 2021, MINT currently has sufficient liquidity to sustain its operations going forward for a foreseeable future should the current situation persist. Nevertheless, the company believes this scenario to be unlikely, as MINT is already seeing material and sustained improvements in business conditions since May. 
Over the course of the past 12 months, MINT has demonstrated its strong commitment to balance sheet management, through prudent capital increase, liability management and asset rotation initiatives. In July 2021, MINT successfully issued corporate bonds in the amount of Baht 10 billion, which were used to repay some of the short-term debt and for liquidity purposes, and has also issued USD 300 million 5-year callable perpetual bonds to refinance its existing perpetual bonds. 
NH Hotel Group has issued EUR 400 million bonds to refinance its existing bonds, extended the maturity of most of its debt to 2026 and obtained covenant waivers through the end of 2022. 
Furthermore, two major asset rotation transactions were completed for a combined selling price of EUR 273.5 million, which was used to repay debt and further boost liquidity reserves. These transactions include the sale-and-lease back of NH Collection Barcelona Gran Hotel Calderon in Spain and sale-and-manage back of Tivoli Marina Vilamoura and Tivoli Carvoeiro hotels in Portugal. 
Entering the second half of 2021, recovery is evident in many geographies. Europe, the biggest geographic contributor to Minor Hotels, began to reopen in mid-May, in large part enabled by a strong vaccination program. 
Demand is increasing in European hotels, with a strong bookings outlook as MINT enters the summer high season. In addition, Australia operations will continue to be supported by robust domestic demand, while the Maldives restrictions have already been relatively relaxed compared with other destinations. For Thailand, although the rest of the country is facing the third wave of the pandemic, the Phuket Sandbox and Samui Plus models are paving the way for the reopening of the country to tourism. 
For Minor Food, solid consumption in China and Australia are expected to continue to drive business, while Thailand remains focused on delivery business for the time being amidst the third wave of the pandemic. In the longer run, cost controls that were introduced in response to the pandemic have become embedded in the businesses, which will allow the company to operate more cost-efficiently going forward. 
Mr. Dillip Rajakarier, Group CEO of MINT commented, "During this long journey through such a challenging time, MINT has taken a number of proactive steps to ensure the sustainability of our business. We have successfully completed most of the balance sheet management initiatives that we announced to the market earlier, ahead of schedule. On the back of a strong balance sheet and strong liquidity position, we can now turn our full attention to seizing demand recovery. We are cautiously optimistic, as we are fully aware that there are still uncertainties in the global markets. Looking ahead, I am excited to be finally getting back to driving our business operations through this recovery phase, with a leaner, more focused business model to deliver stronger results to stakeholders."