NR Instant Produce Public Company Limited (NRF) has announced its 2Q20 consolidated financial statement through the Stock Exchange of Thailand as follows;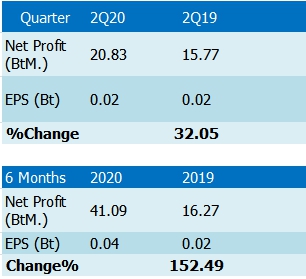 NRF reported a net profit of 20.83 million baht in the second quarter of 2020, increased 32% when compared to a net profit of 15.77 million baht in the same quarter last year. For the six-month period ended June 2020, the company had a net profit of 41.1 million baht, increasing by 24.8 million baht from the same period of the previous year. The rise in net profit was due to an increase in exporting sales in all regions, productivity, and cost management, and a decrease in finance cost.
In Kaohoon Live Program, broadcasted through FM 96Mhz, Facebook Fan Page and YouTube Channel, Mr. Dan Pathomvanich, CEO of NRF, stated that the company is a manufacturer and distributor of sauces, seasoning mixes, condiments, ready to eat meals, plant-based food, fruit juices, snacks and beverages for exports to 25 countries worldwide.
NRF's business is divided into three main groups: (1) Ethnic Food, which consists of OEM products and products under the company's brand (2) Plant-Based Food, and (3) Functional Products. The company sells its products to many continents including America, Europe, Asia, Australia, and Africa.
Currently, around 90% of its revenue came from ethnic OEM, while another 8-9% came from its own product, such as plant-based foods. Nevertheless, Mr. Pathomvanich believed that the business model for plant-based food will account for 40% of NRF's revenue.
NRF's CEO also stated that the coronavirus pandemic also benefited the company in some way as Americans and Europeans have not been out of the first wave, and NRF's products will provide consumers an additional option while staying and cooking at home as the company offers a variety cuisine in different nationality as well as ingredients.
Mr. Pathomvanich projected NRF's sales revenue to reach 3,000 million baht within 3-4 years as he believed in a solid demand from consumers for ethnic products. Moreover, the company also invested in other manufacturers, which would reflect in NRF's consolidated financial statement. Meanwhile, the newly constructed factories in the U.S. and UK to support flooding demand from consumers will have a significant impact on the company as well.
In addition, Mr. Pathomvanich stated that the company is lacking strategic partners, causing the company to gain less access to global markets. However, from next year onwards, the company will join hands with leading ethnic food importers in Europe and China as strategic partners. From this point onwards, the company will focus on online marketing and advertising to support the company's partners.
NRF will kick off its first trading day in the Stock Exchange of Thailand (SET) Index on 9 October, 2020, with an IPO price of ฿4.60/share.