Charoen Pokphand Foods Public Company Limited (CP Foods or CPF) pledges its contribution to a national-level program to ensure decent work in the poultry industry and raise Thailand's chicken processing supply chains to the international level. The pledge was given at the launch of the Train the Trainer training program for poultry supply chains organized by the International Labour Organization (ILO), Employers' Confederation of Thailand and Thai Broiler Processing Exporters Association under an innovative EU-funded training programme.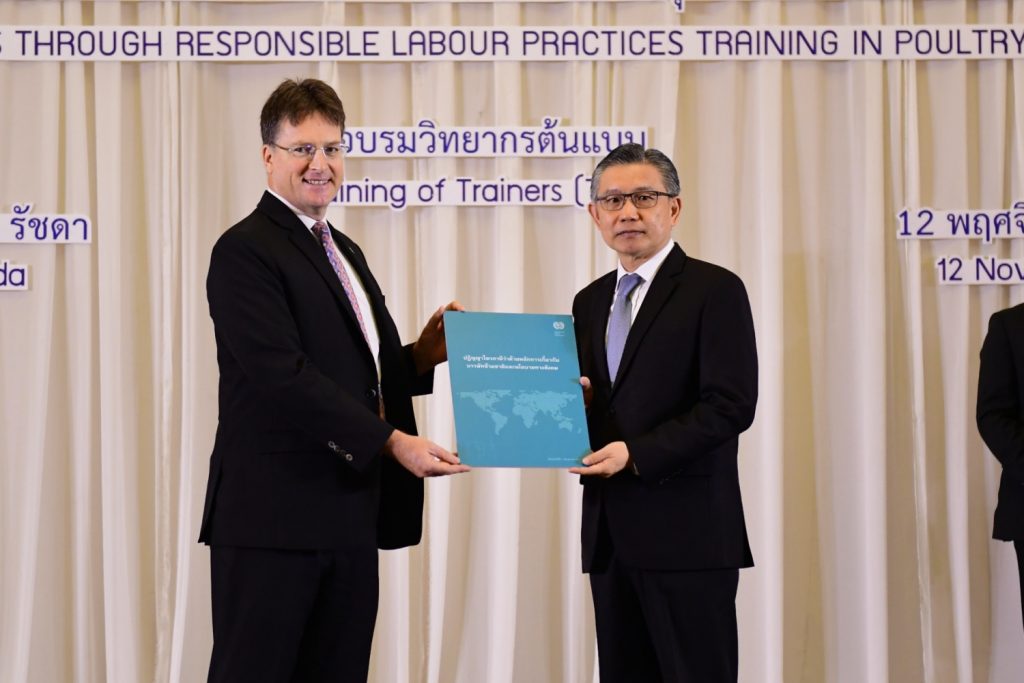 At the ceremony held at Swissotel Bangkok, Mr. Siripong Arunrattana, CPF's chief operating officer for livestock business, received the MNE Declaration from Graeme Buckley, Director, ILO Country Office for Thailand, Cambodia and Lao PDR.
Presiding over the launch, Mr. Surachai Chaitrakulthong, Vice Minister for Labour, said the Thai government and the Labour Ministry have  emphasized and ensured labour protection and human rights. Thai Broiler Processing Exporters Association and three leading companies – CPF, Betagro and Cargill – today demonstrated that they realized the importance of labour laws, the creation of decent work and international standards. In addition to being able to produce quality products in line with the expectations of society and buyers, they also ensure a well-being of workers and advance the economy of Thailand without leaving anyone behind.
Ms. Pimonrat Reephattanavijitkul, executive vice president for human resources of CPF, said that CPF has adhered its labour management to human rights principles. Workers at all premises, factories and farms are treated fairly and equitably, regardless of their nationalities and titles and CPF's practices were granted the Labour Ministry's TLS 8001 standard. Meanwhile, farmers at contracted farms have been encouraged to adopt Good Labour Practice (GLP) since 2016 and subjected to annual assessment by CPF.
CPF stated that the company is pleased that an international organization like ILO is involved with Thai private companies' human resources capacity enhancement efforts, by promoting knowledge and understanding about international labour laws and helping Thailand's supply chains to meet international standards particularly those of the European Union which is a major importer of broilers from Thailand.
After the training, the company's trainers will transfer the knowledge and international labour practices to other relevant employees, so that CPF's labour practices comply with international standards in a sustainable way.
Ms. Pimonrat added that CPF's trainers will share their knowledge with relevant employees at 4 processing plants – 3 chicken processing plants in Nakhon Ratchasima, Saraburi and Minburi and a poultry processing plant in Bangna. The knowledge will be further extended to CPF's animal farms and farmers,to ensure that their labour treatments in CPF's supply chain meet human rights principles. CPF also promotes understanding and respect in diversity and vows not to employ forced labour, child labour and all kinds of illegal labour. CPF also supports collaboration with all parties including the public sector and civil society in continually promoting the quality of life of workers throughout the supply chain.