Charoen Pokphand Foods Public Company Limited (CPF) vows to maintain maximum disease control throughout the supply chain that involves feed mills, farms, processing plants, transportation, suppliers, distribution channels and Thai and migrant workers, to further deliver safe food in light of the pandemic.
Mr. Prasit Boondoungprasert, chief executive officer of CPF, said that the company set up the COVID-19 management center in early 2020, to implement the most stringent safety measures accordingly to the government and Charoen Pokphand Group's guidelines. These measures have perfectly safeguarded the company's operations as Thailand is facing a new wave of coronavirus (COVID-19) infections. Additional measures have been imposed for multi-dimensional control, particularly those concerning employees' health condition and safety as it is the heart of the production and delivery of quality and safe food to consumers.
Regarding farms and processing plants, CPF has raised cleaning and disinfectant standards throughout the premises, from offices, raw materials, production lines and packing rooms to equipment and tools. All staff must strictly comply with prescribed measures including compulsory face-mask wearing, temperature check prior to entering premises and handwashing with alcohol gel before starting work. All trucks must be cleaned and all wheels must be sprayed with disinfectant solutions. Pickup and delivery points at plants and distribution centers are clearly specified.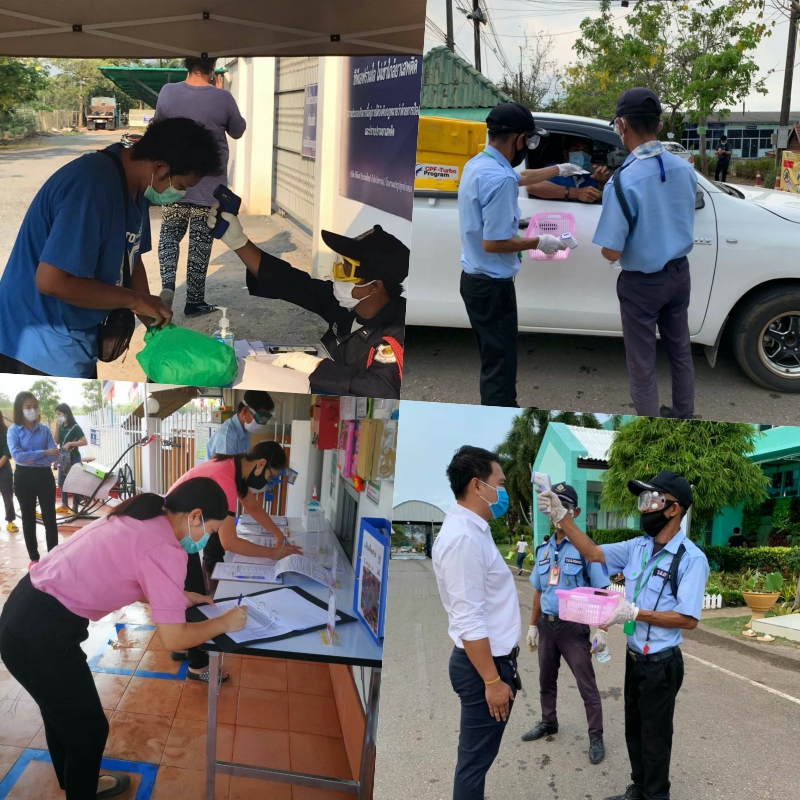 Ms. Pimonrat Reephattanavijitkul, executive vice president for human resources of CPF, added that workers themselves are watchful and alert for maximum safety and production continuity. Meanwhile, farmers as well as suppliers comply with international disease control standards, to ensure traceability throughout the supply chain.
CPF also implements a work from home scheme depending on employees' job assignments and imposes measures that warrant employees' hygiene no matter when they are at home, travel to and from office, work or eat. They must also exercise social distancing and physical distancing. They are thoroughly informed about current situations and must fill their travel records in CPF Connect application, for prompt risk assessment.
Production lines' workers are subjected to temperature checks. Cleaning and disinfectant frequency for frequently touched surfaces is raised. More materials are moved by conveyor belts, to reduce human touch. Dormitories are prepared for migrant workers and transported to workplaces by company buses. Emphasis is also placed on distribution channels, to guarantee consumers of safety.
In this regard, CP Freshmart shop maintains hygienic standards at all outlets, subjecting staff and customers to the 9 preventive measures under "CP Freshmart's cleanliness and safety against COVID-19" project. Staff must wear face masks and gloves while cleaning high-touch areas such as money trays and doorknobs. Customers are kindly asked to wear face masks, wash hands with alcohol gel and have their temperature checked prior to entering. Customers are also encouraged to order products and pay online and use delivery services rather than physical visits.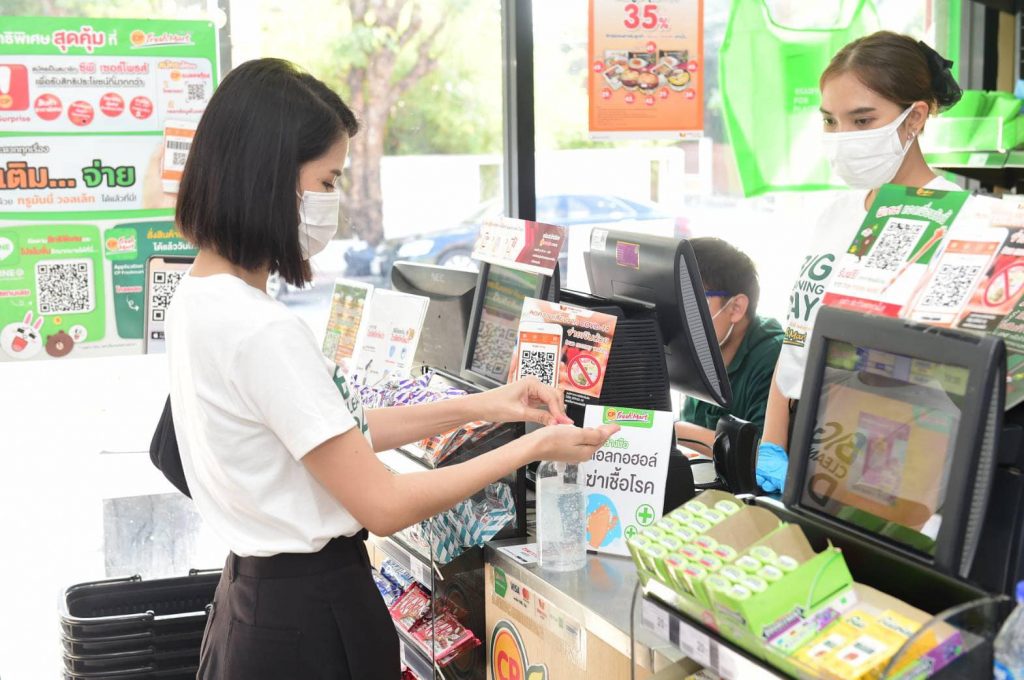 As Thailand is witnessing the new wave of COVID-19 infections, CPF will play a part in helping the country deal with the crisis. As a good corporate citizen, CPF vows to "never stop" producing fresh, clean and safe food to "stop" public concerns.