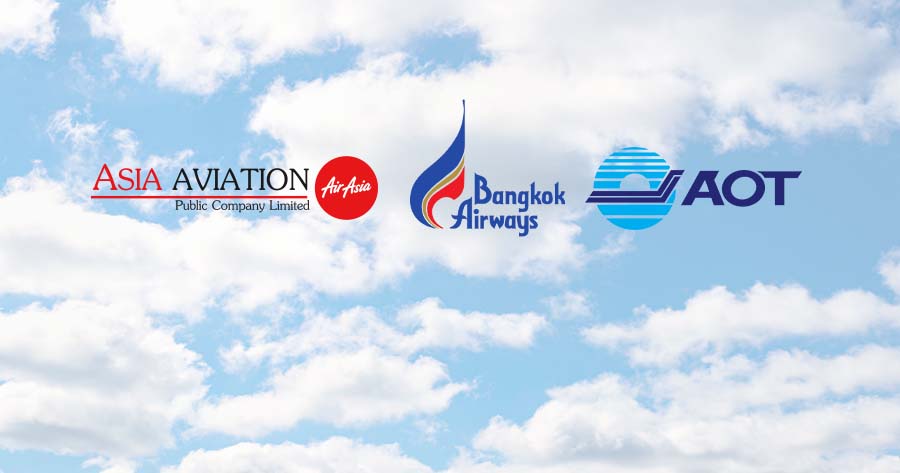 Can AAV and BA Continue to Outperform as Global Airlines Set for Sharp Loss Reduction?
The share prices of AAV and BA have risen higher than pre-Covid level, possibly due to reopening anticipation. Can they still perform well in 2022?
Global airline industry could see a sharp reduction in losses next year as the impact from Covid-19 crisis has bottomed out and demand should recover by 61% of pre-Covid level (2019), especially the air cargo business, reported International Air Transport Association.
The International Air Transport Association (IATA) published the report on Monday, October 4, 2021, stating that net industry losses are expected to reduce to $11.6 billion in 2022 after a $51.8 billion loss in 2021, up from $47.7 billion loss estimated in April as demand (measured in RPKs) is expected to stand at 40% of 2019 levels for 2021, rising to 61% in 2022.
Total passenger numbers are expected to reach 2.3 billion in 2021. This will grow to 3.4 billion in 2022 which is similar to 2014 levels and significantly below the 4.5 billion travelers of 2019.
However, a robust demand for air cargo is expected to continue with 2021 demand at 7.9% above 2019 levels, growing to 13.2% above 2019 levels for 2022.
Airlines have had a dramatically cost cutting and adapted their business to match whatever opportunities were available to survive during this period. Still, the industry continues to record losses as their core business has yet to operate properly.
Even though the infection rate of Covid-19 in many countries remains high, more nations are moving forward to a reopening, starting with domestic flights and allowing inbound from green lists.
Global airlines have been on a rise recently. In the past month, the share price of Delta Air Lines gained 11% in a month,  American Airlines rose 9.50%, United Airlines increased 10%, China Airlines gained 7%, Cathay Pacific Airways advanced 5.50% and International Consolidated Airlines Group jumped 18%.
In the Thai stock market, the share price of Asia Aviation Public Company Limited (AAV) rose 8% in one month, Bangkok Airways Public Company Limited (BA) gained 5.3%, while Airports of Thailand Public Company Limited (AOT), Thailand's airport operator, edged slightly higher by 2%.
Amid rising share prices in airline stocks expecting a significant loss cut in 2022, there is one key difference between the western airline stocks and Thai airline stocks, which is the pre-Covid level.
Currently, the share prices of Delta Air Lines, China Airlines, Cathay Pacific Airways and other international airlines mentioned above other than Thai airlines are still being traded way below their pre-Covid level. However, the current share prices of AAV and BA are well above their pre-Covid level. AAV closed at Bt2.24 on December 30, 2021, the last trading day of the year, while BA closed the day at Bt6.95 per share. Surprisingly, the closing share prices for AAV as of October 5, 2021 is Bt2.88 and for BA is Bt11.90 per share, representing 28.5% and 71% increase from pre-Covid level, respectively.
Why did Thai airline stocks perform better than other airlines?
The Thai airlines were actually on a slump before Covid-19 hit in early 2020. Due to an increased competition in the business, especially fare for low-cost airlines. Once the Covid-19 hit, everything went south. Thai Airways International Public Company Limited (THAI) and Nok Airlines Public Company Limited (NOK) went into rehabilitation, while AAV and BA are lacking liquidity.
Looking into financial statements for the first half of 2021, AAV's net loss increased to 3,556 million baht in the first six months of 2021, compared to a net loss of 1,812 million baht in the same period in 2020. Meanwhile, BA cut its net loss by more than half, reporting a net loss of 1,431 million baht, compared to a net loss of 3,313 million baht in the first six months in 2020.
In the third quarter this year, Thailand went into another lockdown due to the spread of the highly contagious Covid-19 Delta variant, which limits transportation in the country. Both operators also announced a cessation on some routes during the period as well.
This left the reason for outperforming share price in AAV and BA to only an anticipation of the reopening in the fourth quarter, which has yet to happen.
Does this mean that the share price of both Thai airlines may not get a leap next year on higher demand as IATA anticipated since the prices have already risen above their pre-Covid level? Strangely, two airlines are flying higher and higher while the airport operator itself like AOT has yet to recover, trading at 13% lower than the pre-Covid level.