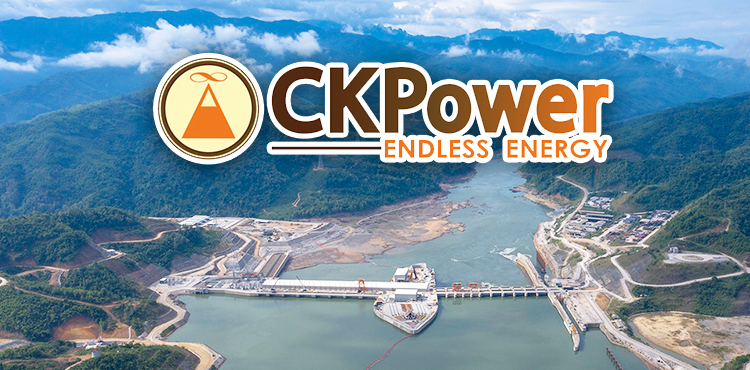 CKP Announces the Commencement of 1,220 MW Xayaburi HPP, Feeding to EGAT!
CK Power continues to grow strong as Xayaburi ready to sell 1,220 MW on time for strengthening clean energy stability to Thailand today.
Making shareholders and financial institutions happy for huge returns after over 135,000 million baht investment and 8 years of construction as Xayaburi will meet Thailand's continuously increasing energy consumption demand.
Thanawat Trivisvavet, Managing Director of CK Power Public Company Limited (CKP) in SET, also the developer of Xayaburi Hydroelectric Power Plant, announced that on 29 October 2019 onwards, Xayaburi Hydroelectric Power Plant is ready to commence the official Commercial Operation Date (COD) and generate power from its 7-unit turbine generators to supply 1,220 MW to the Electricity Generating Authority of Thailand (EGAT) after receiving the Certificate of Readiness for Operation earlier. EGAT will buy the electricity from Xayaburi Hydroelectric Power Plant at an average rate of 2 Baht per unit.
With the installed capacity of 1,285 MW, the Power Plant could generate electricity up to 7,600 GWh on an annual basis from the 7 units of 175 MW turbine generators. The electricity from Xayaburi HPP will reach Thailand via 500 kV transmission line from Lao PDR to Tha Li, Loei province. The 60 MW turbine generator will provide electricity to Electricite du Laos (EDL) via 115 kV transmission line for Lao PDR's domestic consumption.
Xayaburi Hydroelectric Power Plant (XHPP) is under the Concession Agreement by the Government of Lao PDR for the production and distribution of electricity for a 31-year concession period. XHPP is a large Run-of-River power plant on the lower Mekong River located in Sayaboury Province, Lao PDR. With the total investment of 135,000 million baht, the construction began on 2011 and took 8 years to complete.
In this regard, XHPP overcame series of consecutive test runs before started selling electricity from the first generator to EGAT in April 2019. All 7 turbine generators have gone through strict standards of both Individual and Joint Tests to provide a highly reliable supply to support the demand of the country during normal hours and daily peaking. Moreover, Xayaburi Hydroelectric Power Plant will be able to stand for emergency situations during an outage of large power plants nearby.
Mr. Thanawat said CKP, as the developer of the first and largest hydroelectric power plant on the lower Mekong and the Southeast Asia, focuses on the importance of sustainable development. Therefore, XHPP has invested more than 19.4 billion Baht on the researches, and studies, the developments and selections of the most modern technology to mitigate the impacts on the environmental concerns such as surface spillways and low-level outlets for various types of sediments, Multi System Fish Passing Facilities and year-round navigable Navigation Lock. To be more specific, the research on fish monitoring of XHPP has been one of the most continual studies done directly on-site over the Mekong Riverbank. The design of Fish Passing Facilities has been carried out with the most comprehensive analysis and sustainable way.
"As the project developer, CKPower is very thankful to the Government of Lao PDR, the Royal Thai Government, EGAT , EdL, relevant organizations, officials and all the people including financial institutions and shareholders for the support through out the 8 years of construction. We are very proud to be the first Run-of-River power plant on the lower Mekong that achieved the COD right on time. With our vision and mission, the company will continue our business practice and investment in the most sustainable manner." Thanawat added.
About Xayaburi:
The Xayaburi Hydroelectric Power Plant is a project of Xayaburi Power Company Limited, a company registered on 22 June 2010 in Lao PDR with a registered capital of USD 790,000,000. The shareholders comprise of CK Power Public Company Limited (37.5%), Natee Synergy Company Limited (25%), EDL-Generation Public Company (20%), Electricity Generating Company Limited (12.5%), and PT Sole Company Limited (5%).
About CKP:
CK Power Public Company Limited (CKP) engages in the production and sales of electricity generated from three types of energy. The Company owns in 13 projects with the total installed capacity of 2,167 MW, consisting of two hydroelectric power projects, namely the Nam Ngum 2 Hydroelectric Power Plant with 615 MW installed capacity, operated by Nam Ngum 2 Power Limited (46% owned by CKP through its shareholding in SouthEast Asia Energy Limited) and the under-construction Xayaburi Hydroelectric Power Plant with 1,285 MW installed capacity, operated by Xayaburi Power Company Limited (37.5% owned); two cogeneration power projects, operated by Bangpa-in Cogeneration Limited (65% owned); and nine solar power projects, 7 of which are under Bangkhenchai Company Limited (100% owned) with total installed capacity of 15 MW, one solar power plant with 8 MW installed capacity under Chiang Rai Solar Limited (30% owned) and one solar power plant with 6 MW installed capacity under Nakhon Ratchasima Solar Limited (30% owned).