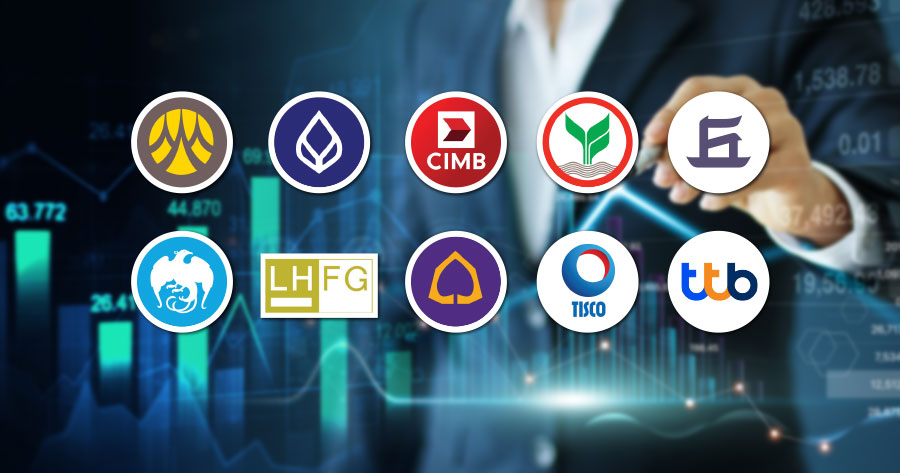 Earnings Season Summary of SET Banking Index
Thai banks show signs of resilience in current quarter signaling forthcoming quarter's earnings to rebound sharply with resumption of economic activities
The Thai economy continued to contract throughout July and August 2021 compared to second quarter due to resurgence of COVID-19 leading to lockdown restrictions in 29 dark-red provinces which accounts to 77% of the GDP. Given the rationale Thailand being a bank-based economy along with the banking sector highly correlating with the economy, performance of the banking sector has been under continued pressure since last year.
Major factors that are to undermine the banking sectors performance in third quarter includes, uncertainty in economic recovery led to glooming business sentiment and private consumption, troubled tourism sector adversely effecting employment and household income and slower vaccination rate.
Given the staggering economic conditions banks had set aside sizeable amount of provision on their books since last year. However, earnings should see significant improvement in third quarter with some banks lowering their provisions. Closure of bank branches in the malls not only affected core business, non-core segments such as brokerage of mutual funds and bancassurance also came under pressure since the preferred channel for such transactions are face-to-face.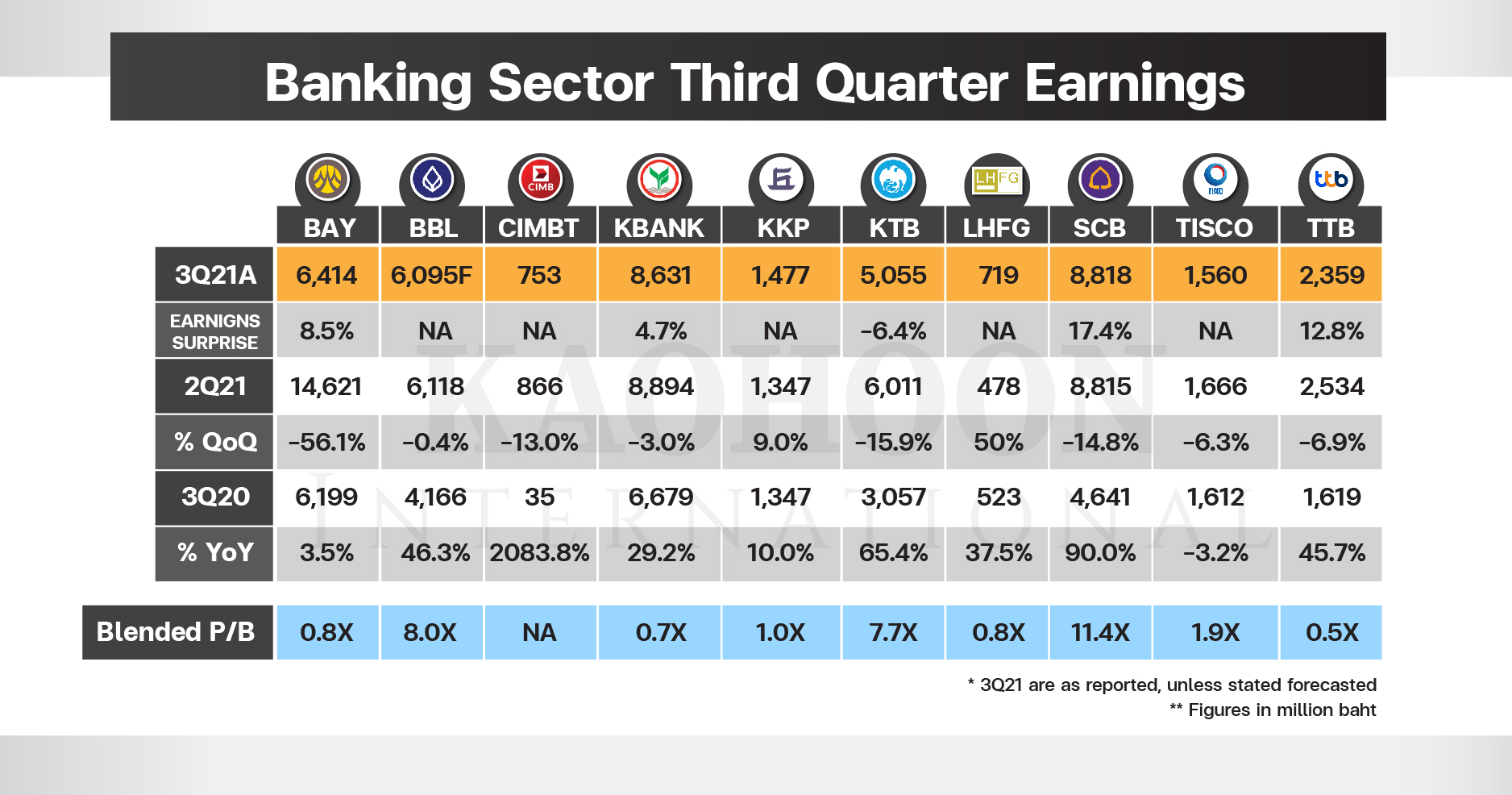 Among the top tier banks Krungthai Bank (KTB) started off the announcement of the current earnings season with 3Q21 net profit decreased by 15.9% to 5.06 billion baht translating to an increase of 65.4% YoY. Recognition of lower provision compared to last year led to improvement in earnings compared to the same quarter last year. However, the disappointing QoQ earning growth is attributed to higher operating expenses by 7% and higher impairment loss on foreclosed assets.
In line with the consensus Bank of Ayudhya (BAY) reported most disappointing QoQ and YoY earning among top tier banks, with net profit standing at 6.41 billion baht a drop by 54.1% and increase by 3.5% YoY. BAY's management pointed towards large decrease in non-interest income and absence of gain from IPO of TIDLOR in 2Q21. However, earnings are expected to improve significantly in 4Q21 with the assumption of higher loan growth as the economic activities picks up.
Kasikornbank (KBANK) lead the scoreboard in this earrings season with QoQ earnings inched up by 4.7% to 8.63 billion baht and an improvement of 29.2% YoY. According to the bank's earnings report, the quarterly performance is mainly driven by non-interest income accountable to loan growth by 3.45% and slight decrease in operating expenses. However, the bank has set aside higher provision than last quarter by 4.53%.
The Siam Commercial Bank (SCB) on Thursday reported net profit of 8.82 billion baht which is flat compared to last quarter and inched up by 90% compared to same quarter last year. The robust YoY growth is attributed to 24.3% increase in non-interest income on YoY basis driven by wealth, insurance brokerage, gain on investment and gain on sale of non-performing assets.
Kiatnakin Phatra Bank (KKP) beat earnings estimate forecasts primarily due to lower expected credit loss. The bank's 3Q21 net profit stood at 1.48 billion baht an increase by 9% QoQ and 10% YoY. The improvement was largely attributed to lower credit loss by 59bps QoQ while hire purchase loan growth and strong non-interest income inched up by 11% leading to higher YoY earnings growth.
Earnings for Tmbthanachart Bank (TTB) beat consensus forecast by 13%, reporting earnings of 2.36 billion baht an increase of 12.8% QoQ and 42.8% YoY. Lower growth in net interest income and non-interest income lead to contraction in QoQ earnings while lower provision led to improvement in earnings compared to same quarter last year.
Net earnings of Tisco Financial Group (TISCO) contracted relatively lower by 6% QoQ and 3% YoY booking net earnings of 1.56 billion baht. Earnings inched down mainly due to contraction in loan portfolio both quarterly and yearly basis along with lower core income amid strict lockdown measures during July-August.
CIMB Thai Bank (CIMB) reported the worst quarterly performance among smaller sized banks inching down by 13% to 0.72 billion baht. Earnings was largely influenced by lower interest income amid lower loan and hire purchase growth. However, the bank saw higher income from insurance and mutual fund brokerage.
LH Financial Group (LHFG) saw significant improvement in both net interest income and net non-interest income inching up by 18.2% and 17.2% this quarter respectively. The bank booked earning of 0.72 billion baht this quarter up by 50.5% QoQ and 37.4% YoY.
Top tier bank Bangkok Bank (BBL) are yet to release their earnings. According to consensus, BBL is expected to report 6.10 billion baht down by 0.4% QoQ and 46.3% YoY amid lower fees from non-core business such as mutual funds and insurance brokerage due to closure of malls. Lower quarterly earnings are also expected to be driver by higher operating expenses, according to Capital Nomura Securities. The broker also added lower provision on yearly basis would likely book higher YoY figures.
Solely looking at the consensus blended price to book value of BAY, KBANK, KKP, LHFG, TCAP and TTB are value plays relative to peers. Comparatively with lower forward P/BV reflects scope for higher growth along the economy recovery earnings should improve significantly translation to higher upside on price.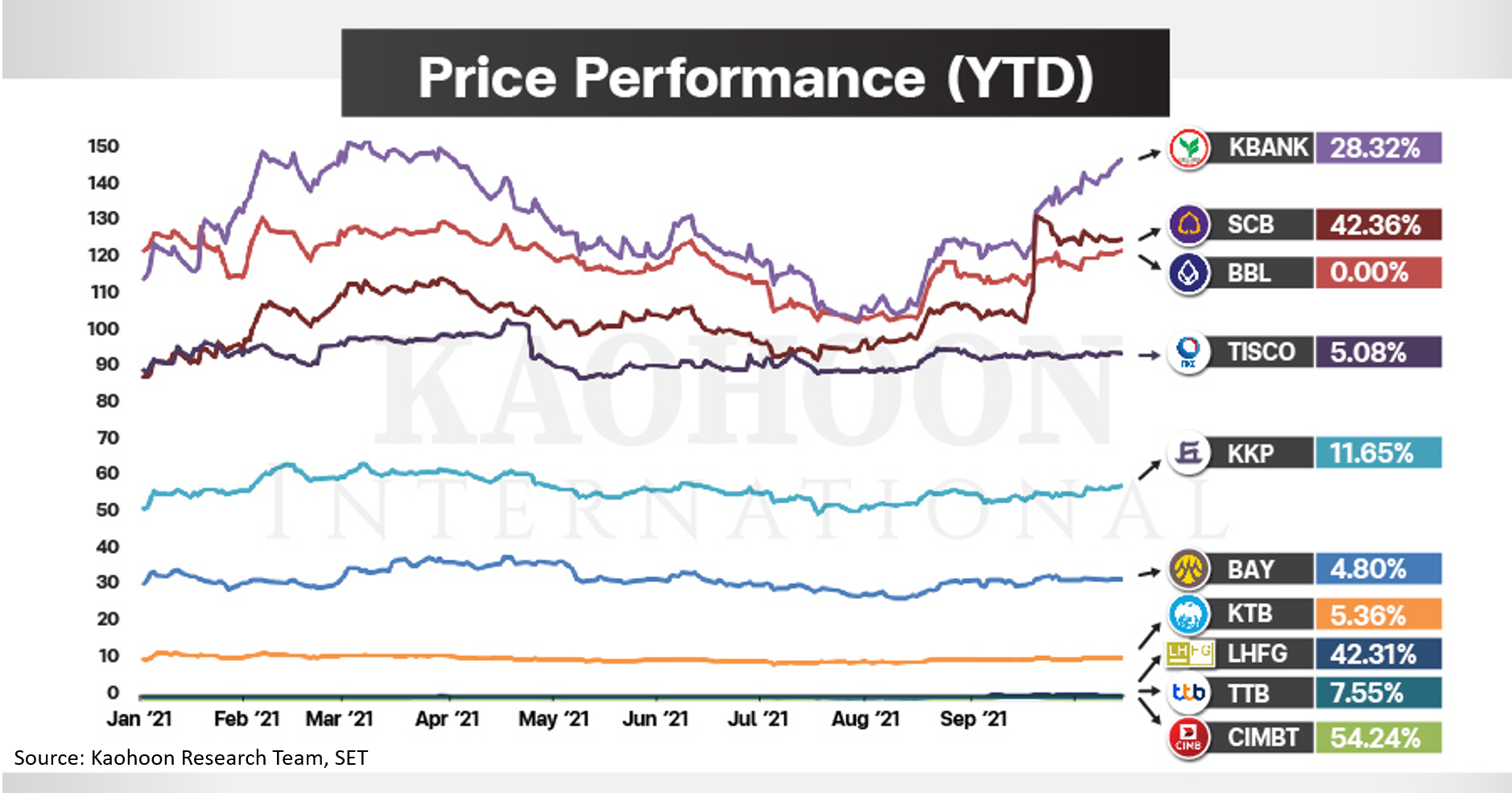 In terms of price performance top tier banks KBANK and SCB dominated smaller players when looked at year-to-date. TISCO however stands out in terms of higher asset quality posing higher growth prospect.
**** The figure for SCB 3Q20 is restated to 4,641 million baht.