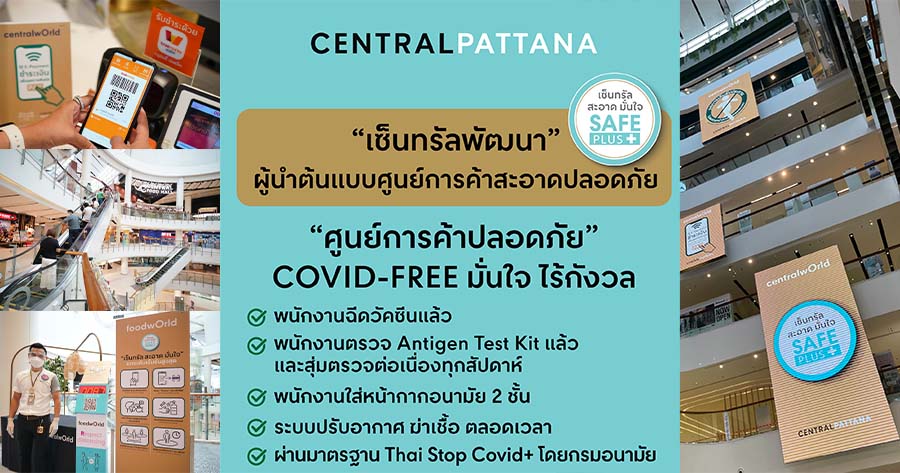 CPN Reopens with COVID-FREE environment and 'Central Hygiene & Safe Plus+' measures
Central Pattana's first day of the reopening of its shopping centers with COVID-FREE environment under the highest standard of 'Central Hygiene & Safe Plus+' measures
Central Pattana Public Company Limited (CPN), led by centralwOrld, reopens its shopping centers today in response to the government's mandate to ease lockdown. The shopping centers operate under the highest standard measures of 'Central Hygiene & Safe Plus+', emphasising its leading position in hygiene and safety. CPN aims to enhance customer confidence through its professional proactive prevention management in order to ensure the shopping centers are COVID-FREE. CPN is willing to strictly comply with the standards of the Ministry of Public Health in every aspect and encourage a clean and safe society.
Central Pattana's shopping centers are open at regular hours: 
Bangkok and perimeter areas and Hat Yai are open everyday from 11:00 – 20:00 hrs. 

Rayong and Nakhon Ratchasima are open everyday from 10:00 – 20:00 hrs.

Chonburi is open on Mon – Fri from 11:00 – 20:00, Sat – Sun and public holidays from 10:00 – 20:00 hrs.
The businesses that were allowed to reopen are conducted under the strict measures of 'Central Hygiene & Safe Plus+':
Extra Screening+: Vaccination and ATK screening 
For customers:
– All customers are required to scan QR Code through the 'Thai Chana' app before entering the shopping center and shops on every visit. 
– CPN encourages everyone to maintain hygiene and promote a clean and safe environment by being vaccinated or being tested with ATK *(subject to voluntary).
– Mask-wearing is ensured at all times, along with temperature measurement, and hand-washing with alcohol.
For employees:
– Employees who work in Central shopping centers have three options as follows:
Shop staff and employees of shopping centers must have at least one dose and proof of vaccination.

Employees who have been infected and recovered from COVID-19 must present a medical certificate not older than three months.

Employees who are waiting to be vaccinated must take the ATK test on the first day, and a periodic ATK test will be applied weekly.
– On the first day of re-opening, 100% of employees must take an Antigen Test Kit (ATK) and a random ATK test is required every week.
– Any employee with potential COVID-19 symptoms must stop working and immediately take an ATK test. 
– The employee's ATK test results must be certified by their employer.  The certificate is valid for three days from the date of the test.
– ATK tests must be FDA approved brands only. 
– 1 person per 5 m2 is allowed
– Air-conditioned restaurants may allow dine-in customers 50% of the total space to reduce crowding; 75% of the total space for non-air-conditioned restaurants.
– Food courts require a customer counting system to limit the number of users to 50% of the total space.
– Advanced booking and online transactions are encouraged.
– During break time, each staff must eat separately.
– The distance between people on escalators is set to at least 2 meters, or four escalator steps.
– Disinfecting the air conditioning system in the shopping center with UV-C light at all times, controlling the air circulation system at 5-6 ACH and cleaning the air conditioning filters every two months. 
– Cleaning touch points every 30 minutes.
– Big cleaning daily after the shopping centers are closed.
– Shopping centers and shops must register for assessment on 'Thai Stop Covid Plus'.
– Employees of shopping centers and shops must perform daily self-assessment on 'Thai Save Thai'.
– Double Protection: employees are required to wear double masks or a mask and a face shield.
– Eating or drinking while walking in the shopping center is not permitted.
– Water quality checked at all times by controlling the level of chlorine in the water to at least 0.5 ppm.
Some businesses are open under certain conditions, including:
Restaurants, beverage outlets and food courts: dining-in allowed at 50% of capacity for air-conditioned restaurants; dining-in allowed at 75% of capacity for non air-conditioned restaurants; alcohol serving is not allowed. 

Hair salons and barber shops are open for hair washing and haircuts by appointment only with no more than 1 hour per customer.

Massage parlors can be open for foot massage by appointment only.

Beauty clinics are open by appointment only.
The 'Central Hygiene & Safe Plus+' measures are in line with the standards of the Ministry of Public Health. The focus is particularly on social distancing as well as ensuring that employees are vaccinated and with 100% ATK screening on the first reopening day and weekly ATK screening afterward, systematic quarantine, all-time hygiene and safety. CPN has received well cooperation from both shop tenants and staff in the shopping centers who are ready to cooperate and fully comply with the measures such as assessment through 'Thai Stop Covid Plus', and daily self-assessment through 'Thai Save Thai', following the procedures of the Ministry of Public Health in order to strengthen the confidence of visitors.